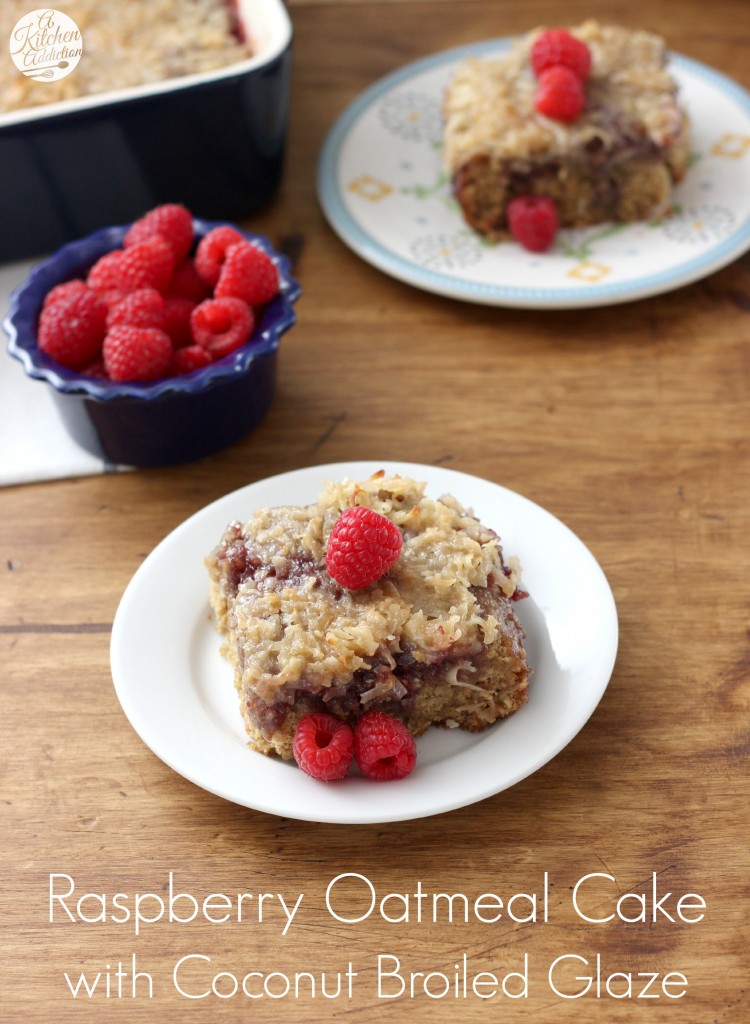 I love trying recipes from old cookbooks. However, when I first saw a similar recipe to this raspberry oatmeal cake with coconut broiled glaze, I was slightly skeptical. I don't usually think of putting an entire cup of oats into a cake!
I was afraid that the cake would be heavy and dense. While it is more dense than your typical cake, you'd never know that all of those oats are hiding in it!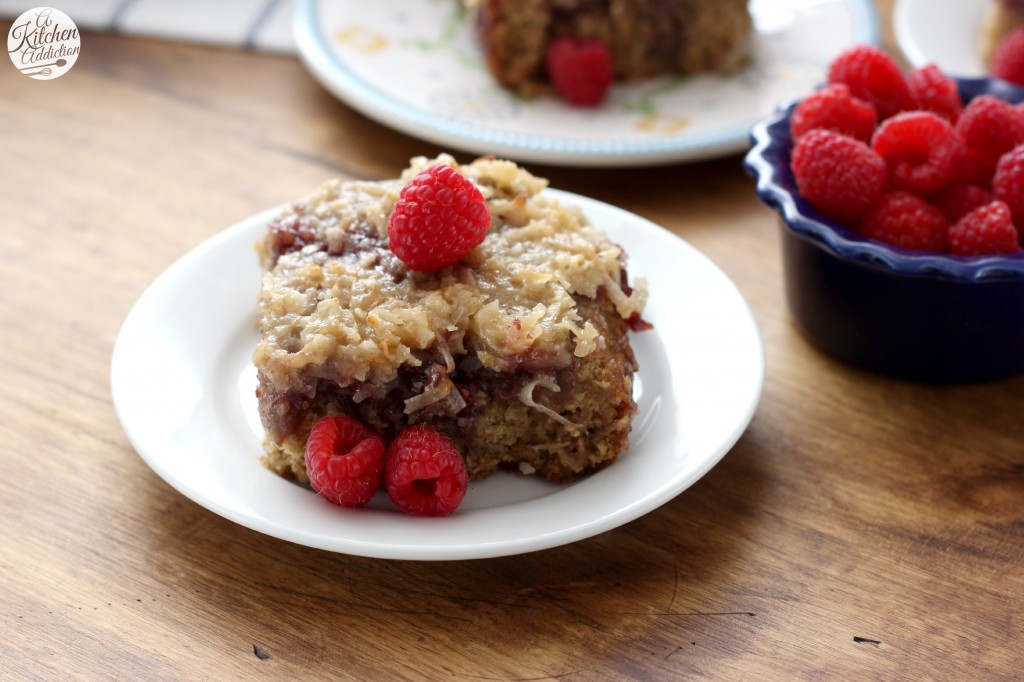 The cake itself is soft and moist. Along with the oats, yogurt and whole wheat flour are tucked away in it to give it a bit more nutritional value, too.
Your favorite homemade or store bought raspberry preserves are swirled throughout the batter, so you get a bit of fruit in each bite! I think this cake would work wonderfully with strawberry or blueberry preserves as well.
Since I'm all about strawberries, it probably won't be long before I give it a try!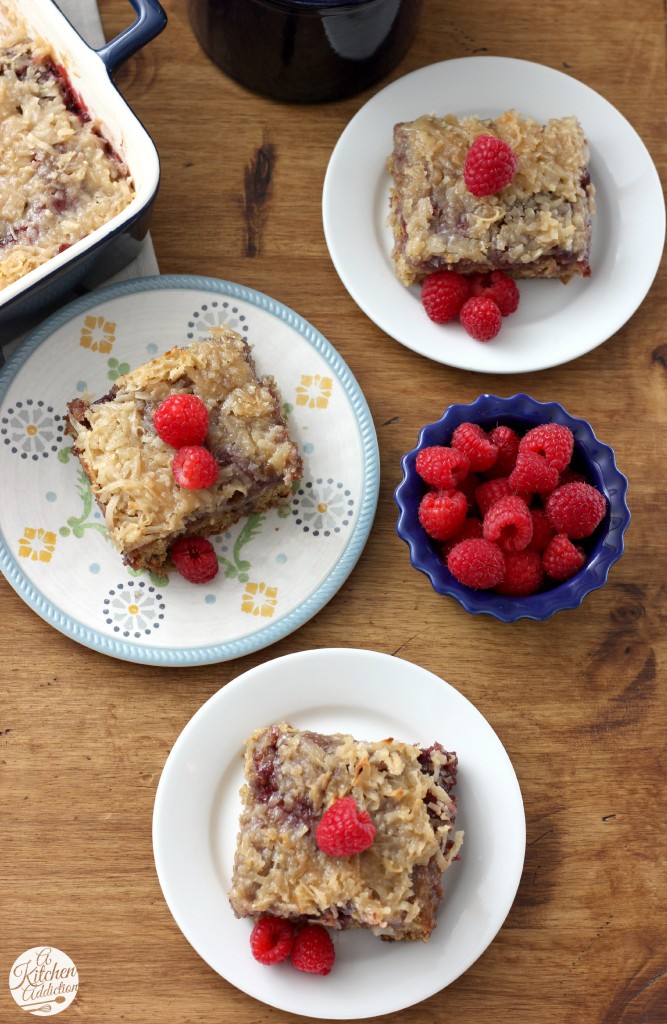 The glaze is added to the cake in the last little bit of cooking. Shredded coconut is combined with brown sugar, butter, and half & half to create a gooey caramel-like topping with a toasted coconut top.
Rich and sweet, this glaze adds great flavor to the nutty oatmeal cake!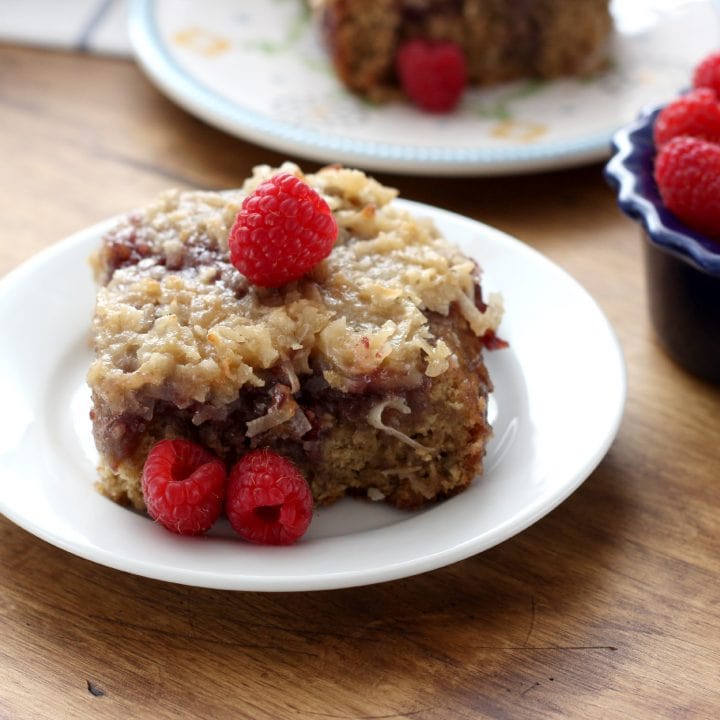 Raspberry Oatmeal Cake with Coconut Broiled Frosting
Ingredients
For the Cake
1 1/2 Cups boiling water
1 Cup old-fashioned oats
1/2 Cup sugar
1/2 Cup brown sugar
1/4 Cup butter, softened
1/4 Cup non-fat plain yogurt
2 eggs
1 Cup whole wheat flour
1 Cup all-purpose flour
1 teaspoon baking soda
1 teaspoon salt
1 teaspoon vanilla extract
1/2 Cup raspberry preserves
For the topping
1 3/4 Cups shredded coconut (sweetened or unsweetened depending on preference)
2/3 Cup brown sugar
1/3 Cup butter, melted
1/4 Cup half & half
Instructions
Preheat oven to 350. Spray with non-sticking cooking spray and flour a 9x11 or 9x13 inch baking dish. (I used a 9x11)
In a small bowl, stir together boiling water and oats. Set aside.
In the bowl of a stand mixer, or with an electric mixer, beat together sugars and butter on medium speed until well-combined. Scrape down sides occasionally.
Beat in yogurt and eggs until smooth. Add flours, baking soda, salt, and vanilla extract. Beat until combined. Reduce speed to low and add in oat mixture. Beat until combined.
Pour batter into prepared pan. Spread preserves over the top. With a knife, swirl preserves through the batter.
Bake for 30-35 minutes or until a toothpick inserted in the center comes out clean. Remove from oven and turn oven to broil.
Combine all ingredients for the topping in a medium bowl. Spread over hot cake. Return to oven and broil until bubbly and lightly browned. This should take about 2-4 minutes. Watch closely to prevent burning. Remove to a wire rack to cool for at least 10 minutes before serving.
Serve warm or cooled.
Recommended Products
As an Amazon Associate and member of other affiliate programs, I earn from qualifying purchases.


This recipe is adapted from Land O' Lakes.