Muffins are great to have on hand. Have you ever noticed that? Need breakfast, have a muffin. Need a snack, have a muffin. Need a meal, have a muffin. Okay, so you probably wouldn't eat muffins for a complete meal, but they do supplement a meal on the go! They are just great to have, and the sky is the limit when it comes to flavors! These muffins can best be described as coffee cake muffins. I gave my husband a piece of one (because, yes, I ate the rest of it!) as soon as they were out of the oven and his response was, "This is good coffee cake!"
The almonds mixed in with the cinnamon makes the swirl thicker, giving you more flavor in each bite, and the raspberry preserves add a tart sweetness. Don't let the number of ingredients scare you away. These muffins come together in no time. Plus, they make the house smell amazing when baking, so it is well worth turning on the oven for those 15 minutes of baking. 😉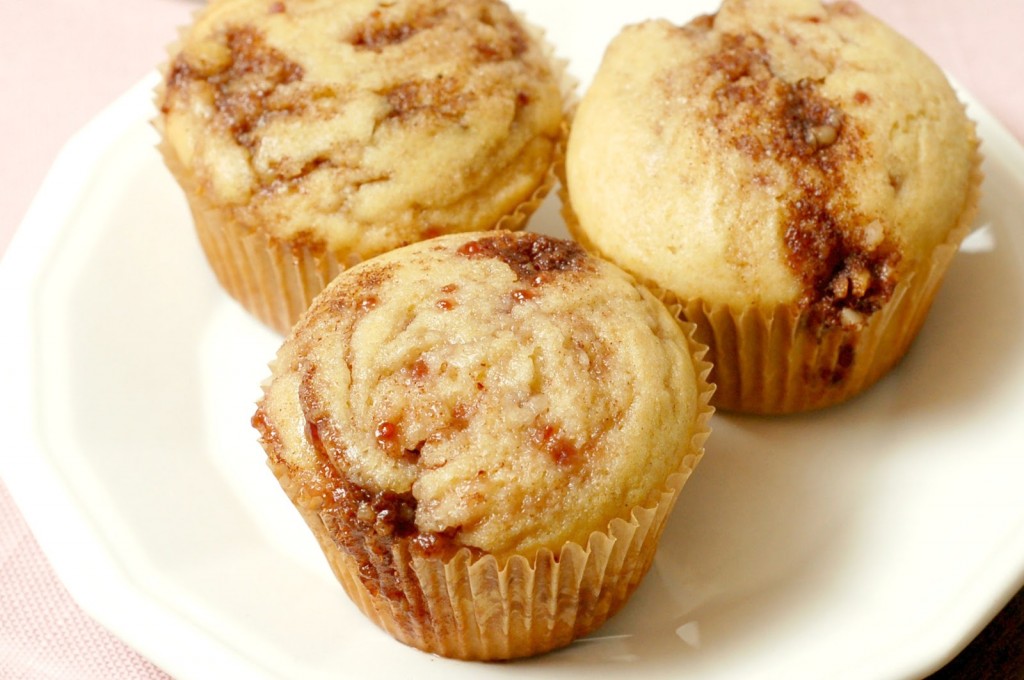 I'm thinking this would also make a great quick bread if you don't feel like making muffins. Just layer the batter and filling like the muffins and swirl with a knife. Slice some for breakfast. . .Slice some for a snack. . . I think you get the idea! 🙂
Raspberry and Cinnamon Almond Swirled Muffins

Yield: 12 muffins
Ingredients
For the Muffin Batter
1 C white whole wheat flour
1 C all-purpose flour
1 tsp baking powder
1/2 tsp baking soda
1/2 tsp salt
1/2 C sugar
1/4 C sugar substitute
1/4 C butter, softened
1 egg
1 tsp vanilla extract
1 C low-fat buttermilk
For the Swirl
1/4 C brown sugar
1 tbsp cinnamon
1/2 tsp nutmeg
1/4 C almonds, finely chopped
2 tbsp butter, melted
1/4 C natural raspberry preserves
Directions
Preheat oven to 350. Place liners in muffin tin and lightly spray with non-stick cooking spray.
In a bowl, whisk together flours, baking powder, baking soda, salt, sugar, and sugar substitute until well-combined. Add in butter, egg, vanilla, and buttermilk. Whisk until just combined.
In a small bowl, stir together, sugar, cinnamon, nutmeg, almonds, and butter until completely mixed.
Spoon one tablespoon of batter into the bottom of each cup. Spoon one teaspoon of cinnamon mixture and one teaspoon of preserves on top of batter. Spoon the remaining batter over the top of each cup, about one tablespoon each. With a toothpick, gently swirl the layers together.
Bake for 15-20 minutes or until toothpick inserted into the center comes out clean.
Store leftovers in an airtight container.