Football season is here. That means football is on, well, basically all week. Are you a fan? Whether you're a fan of the game or not, you can at least be a fan of the food! I don't know why football brings out all of the snacks and desserts and other sports don't. But since football's here, that means all of the snacks and desserts that go with it are, too! And since it's time for pumpkin, I'm taking the classic soft pretzels and turning them into pumpkin pretzel bites for our football snacking!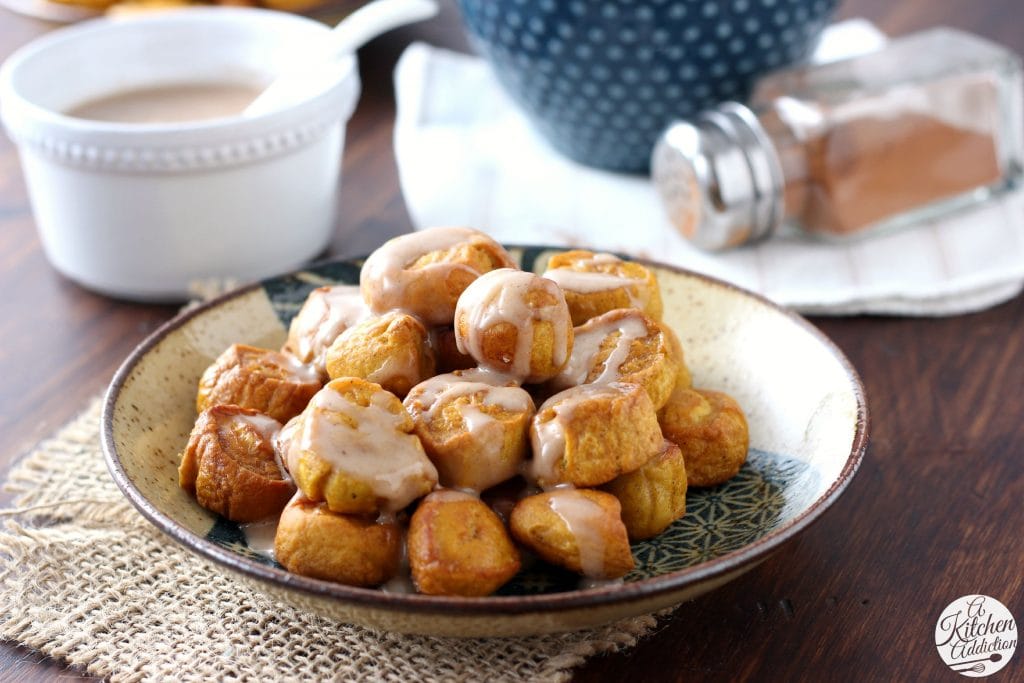 Along with adding pumpkin to our favorite soft pretzels, I also swapped out all of the dairy for alternatives because plant-based diets are not only good for you, but they can taste great, too. Instead of dairy milk, I used Silk Almondmilk for both the pretzel bites and the pumpkin spice glaze.
You can't even tell the difference in the bites and the slight nuttiness that it adds to the glaze pairs perfectly with the pumpkin spices! Instead of butter I used melted coconut oil. I was a little wary of this swap since this was the first time I haven't used melted butter, but found that it didn't affect the dough at all. Just make sure that you use melted coconut oil and not solid. These simple swaps make it easy to sideline meat and dairy one night a week, and since it's football season, why not make Monday #MeatlessMondayNight?!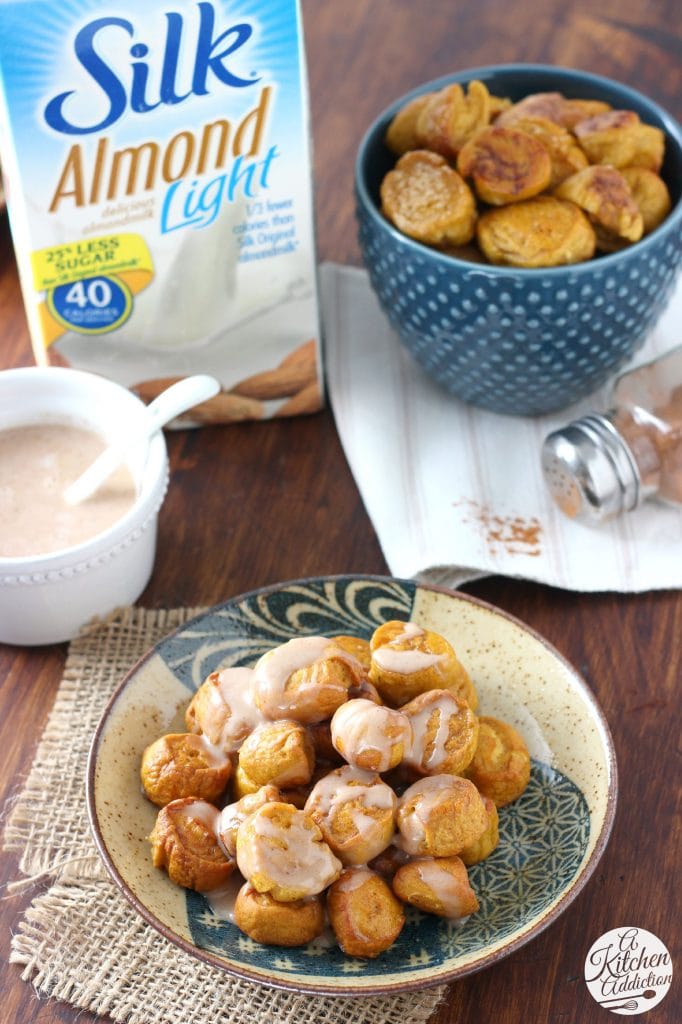 If you've never given pretzel bites a try before, don't let the longer list of instructions scare you! They really are quite simple, the longest parts are waiting for the dough to rise and cutting the dough into bite-size pieces.
Since good football food has a dip to go with it, these pumpkin pretzel bites are no different! A simple glaze with pumpkin spices can either be drizzled over the top when served or served alongside the bites for dipping!
Be sure to check out www.silk.com/sidelinemeat for more recipe inspiration and a chance to win a giveaway! Also, check out their store locator to find products near you!
Pumpkin Pretzel Bites with Pumpkin Spice Glaze
Author:
Ingredients
For the Pretzel Bites
4 1/2 C-5 C bread flour
1 pkt (2 1/4 tsp) active dry yeast
2 tbsp sugar
1 tsp salt
1 tsp pumpkin pie spice (or 1 tsp cinnamon, 1/2 tsp nutmeg, 1/4 tsp ginger, 1/8 tsp cloves)
1 C Silk Almondmilk, warmed to 120-130 degrees F
1/2 C pumpkin puree (not pumpkin pie filling)
5 tbsp melted coconut oil
For the Water Bath and Glaze
10 C water
1/3 C baking soda
1 egg
1 tsp water
coarse sugar
For the Pumpkin Spice Glaze
3/4 C confectioner's sugar
1/2 tsp pumpkin pie spice (or 1/2 tsp cinnamon, 1/4 tsp nutmeg, 1/8 tsp ginger, 1/8 tsp allspice)
1 tbsp Silk Almond Milk
1 tsp vanilla extract
Instructions
In the bowl of a stand mixer, combine 3 cups bread flour, yeast, sugar, salt, cinnamon, nutmeg, ginger, and cloves. Add almond milk, pumpkin puree, and melted coconut oil. With mixer on low, additional cup of flour. If mixture is still too wet, add up to an additional 1/2 cup of flour. Beat with paddle attachment until dough starts to form.
Switch out paddle attachment for dough hook and knead dough on medium speed for 5-7 minutes or until dough is smooth and pulls away from edges of bowl.
Shape dough into a ball and place in a large bowl sprayed with olive oil or non-stick cooking spray. Roll dough in bottom of bowl to coat all sides. Cover and let rise in a warm, draft-free place for an hour or until dough is doubled in size.
Bring water and baking soda to a boil over medium heat. Beat egg and water in a small bowl.
Preheat oven to 425. Line a baking sheet with parchment paper or a silicone baking mat.
Turn dough out onto a lightly floured surface. Divide into 8 equal pieces. Roll each piece into approximate 10 inch ropes. Cut each rope into 1 inch pieces.
Gently place 15-20 bites into boiling water at a time. Allow to boil for 30 seconds.
Remove to a baking sheet lined with parchment paper or a silicone mat. Brush with beaten egg mixture. Sprinkle with coarse sugar. Bake for 12-15 minutes or until pretzel bites are golden brown.
Remove to a wire rack. Prepare glaze by stirring together confectioner's sugar, spices, almond milk, and vanilla extract until smooth. Add additional almond milk to reach desired consistency.
Serve glaze with fresh pretzel bites.
This conversation is sponsored by Silk. The opinions and text are all mine.