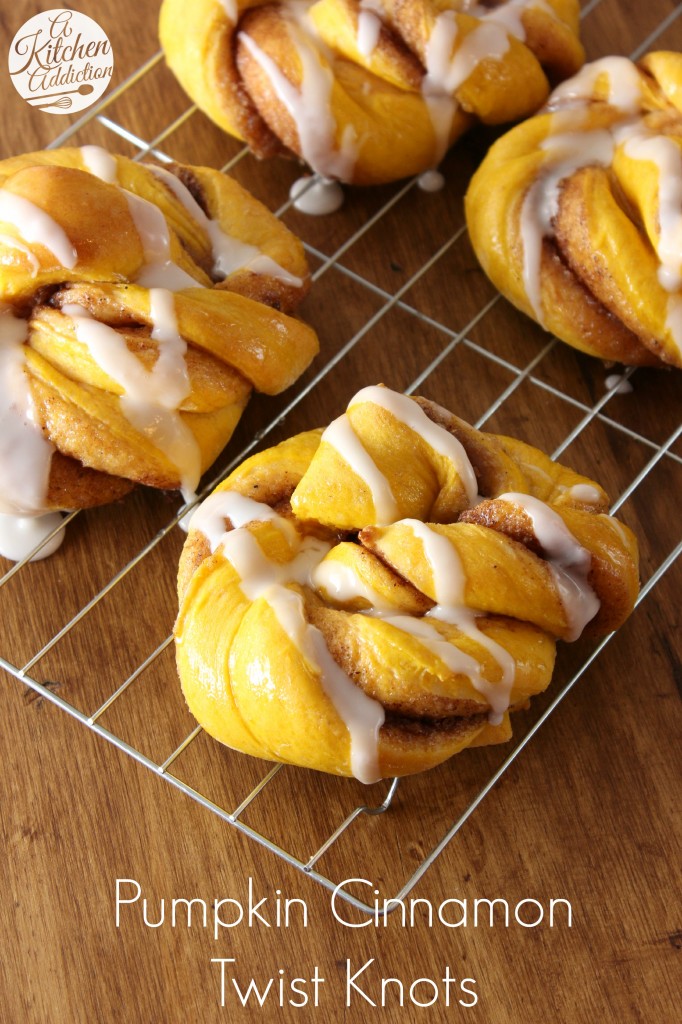 When I first made cinnamon twist knots this summer, I knew that I wanted to make a pumpkin version when fall arrived.
I had almost forgotten about them until a few days ago when I found myself staring at a partial can of pumpkin wondering what to do with it before it went bad. I had just enough left to give these pumpkin cinnamon twist knots a try.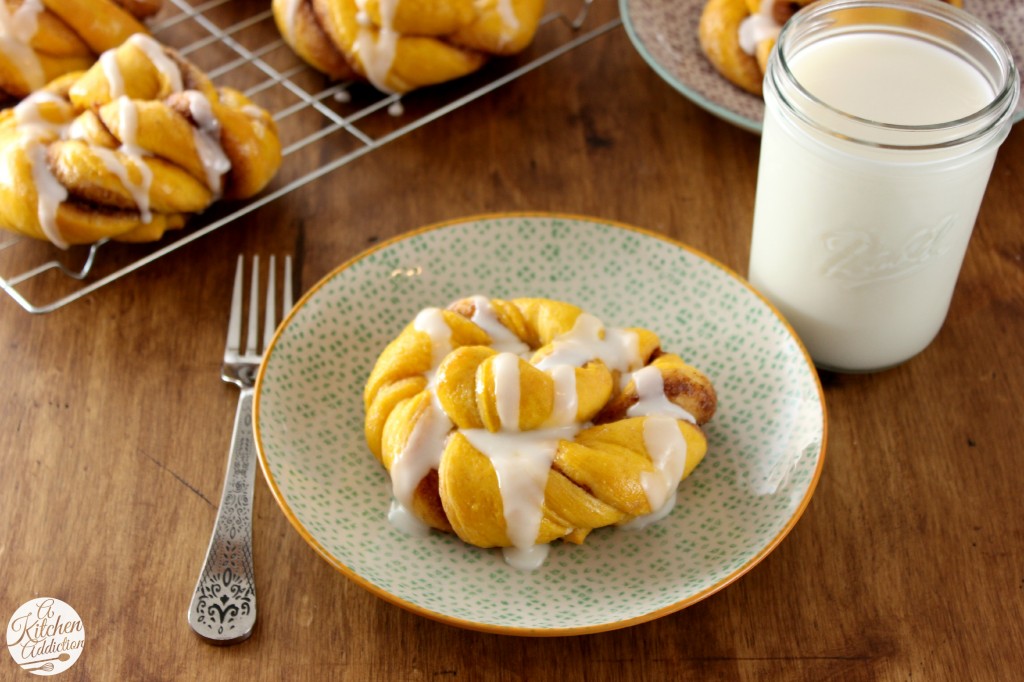 I was a little worried that the addition of pumpkin puree would make these pastries dense, but even with almost a cup of pumpkin in them, they still are tender and flaky.
Along with the traditional cinnamon and sugar filling, brown sugar, nutmeg, cloves, and ginger are added to intensify the pumpkin flavor (Even though they take about 10 minutes to bake, these spices make the house smell amazing while they're baking and make 10 minutes seem like a really long time!).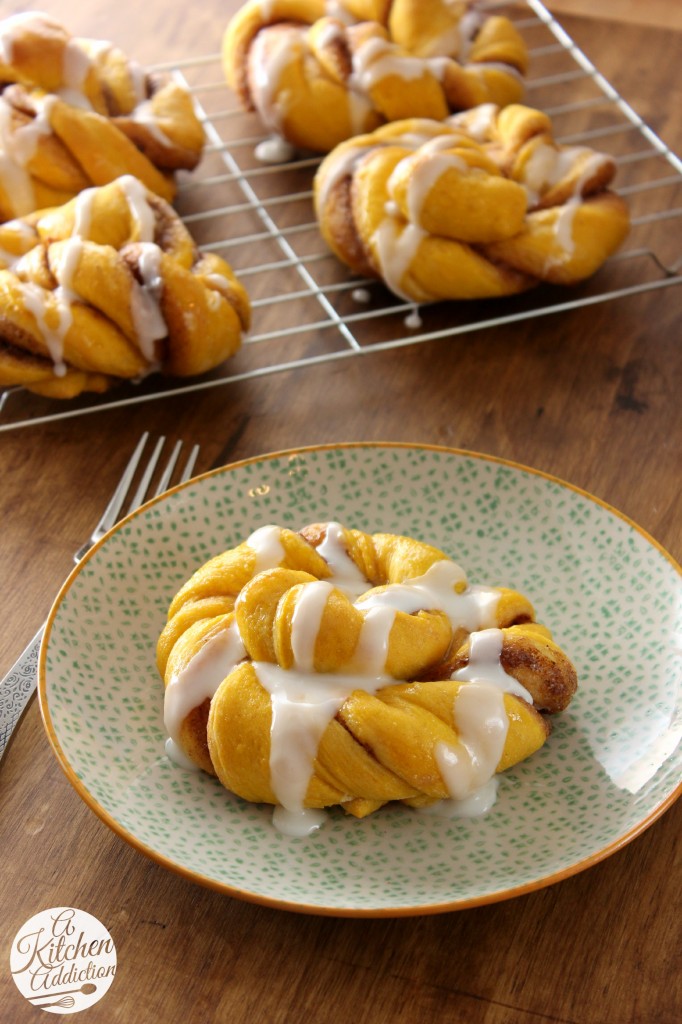 A clear glaze is brushed over the pastries while they are still warm and lock in moisture so that they stay fresh for several days.
This is great for people like my husband and myself. We usually end up having cinnamon rolls go dry on us before we can eat them all.
Don't let the extra steps in the instructions stop you from trying this fun twist to a traditional cinnamon roll. The actual process isn't that hard, and the results are worth the wait!

Pumpkin Cinnamon Roll Twist Knots
Author:
A Kitchen Addiction
Ingredients
For the Twists
6 C bread flour
⅓ C sugar
1½ tsp salt
1½ tbsp active dry yeast (I used Red Star yeast)
2 eggs, room temperature
¾ C pumpkin puree, room temperature
⅓ C butter, melted and cooled
1½ C milk, warmed to 120 degrees F
For the Filling
¼ C butter, softened
1½ tbsp cinnamon
½ tsp nutmeg
¼ tsp cloves
¼ tsp ginger
3 tbsp sugar
2 tbsp brown sugar
For the Glaze
¼ C sugar
2 tbsp water
½ tbsp honey
For the Drizzle
1 C confectioner's sugar
2 tbsp milk
Instructions
In the bowl of a stand mixer, stir together 4 cups flour, sugar, salt, and yeast. Add in eggs, pumpkin, butter, and milk. Stir until just starting to combine. With mixer on low, slowly add remaining 2 cups of flour.
Replace paddle with a dough hook and beat for 5-8 minutes or until dough is smooth and starts to pull away from the edge of the bowl when mixing. Dough will be sticky.
Transfer dough to a large bowl that has been sprayed with non-stick cooking spray. Cover with a clean towel and allow to rise until doubled in size, about 45-60 minutes.
Turn dough out onto a well-floured surface and punch down. Roll dough out to a 24x12 inch rectangle. Spread dough with softened butter. Sprinkle dough with spices and sugars. Gently fold dough in half width wise.
Cut dough into about 1 inch strips along the length side. Twist each strip and tie in a knot.
Place knots on a parchment paper lined or non-stick sprayed baking sheet. Cover with a clean towel and allow to rise for another 20-30 minutes or until knots puff and dough is very soft to touch.
While dough is rising, preheat oven to 375.
Bake knots for 10-12 minutes or until they just start to turn golden brown.
While knots are baking, prepare glaze. Stir together sugar, water, and honey in a small saucepan. Bring to a boil over medium-high heat. Reduce heat to medium-low and allow to simmer for 5 minutes, stirring constantly to prevent scorching. Remove from heat and cool.
Brush glaze over the tops of warm knots.
Prepare the drizzle by stirring together confectioner's sugar and milk until smooth. Drizzle over the tops of slightly cooled knots.
Serve warm.