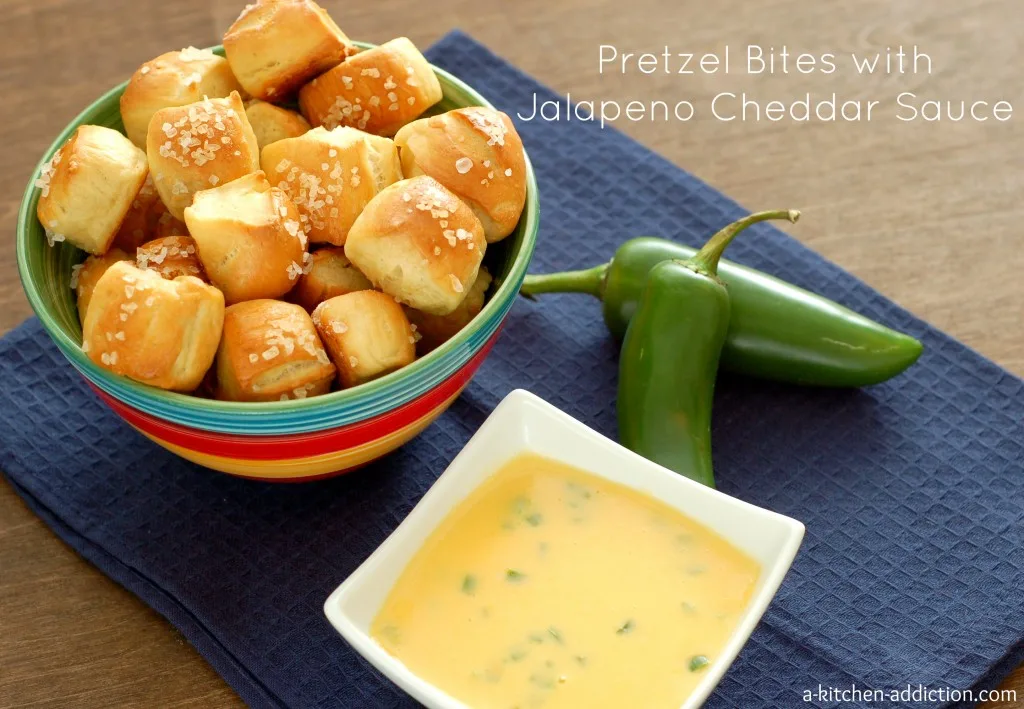 After traveling 2150 miles over the past few days, all I really wanted to do yesterday was go for a nice, long run to stretch my legs and get my body back in alignment!
As soon as I woke, however, I realized that I had caught the cold that my husband and adorable niece had been fighting over the weekend. It's hard to run when walking across the house makes you start coughing!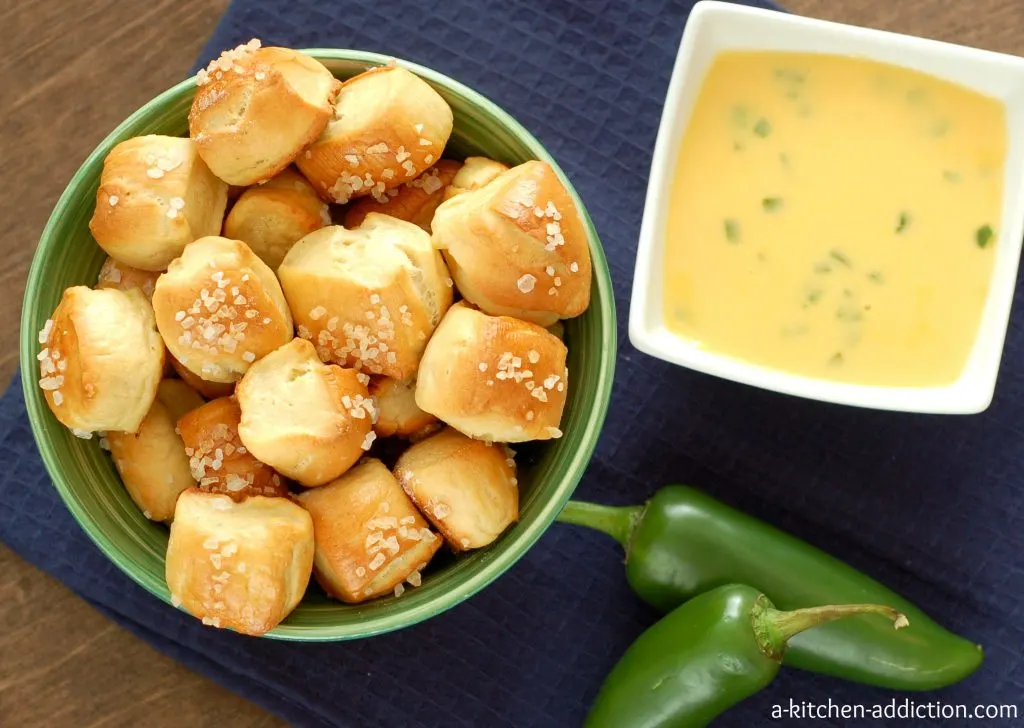 So, what did I do instead? Make pretzel bites and cheese! Basically the same thing as exercising. . . Chewy on the outside and soft on the inside, pretzel bites are a great snack.
Dip them in a creamy, cheddar cheese sauce that has a spicy kick from jalapeno peppers and you can munch away all afternoon!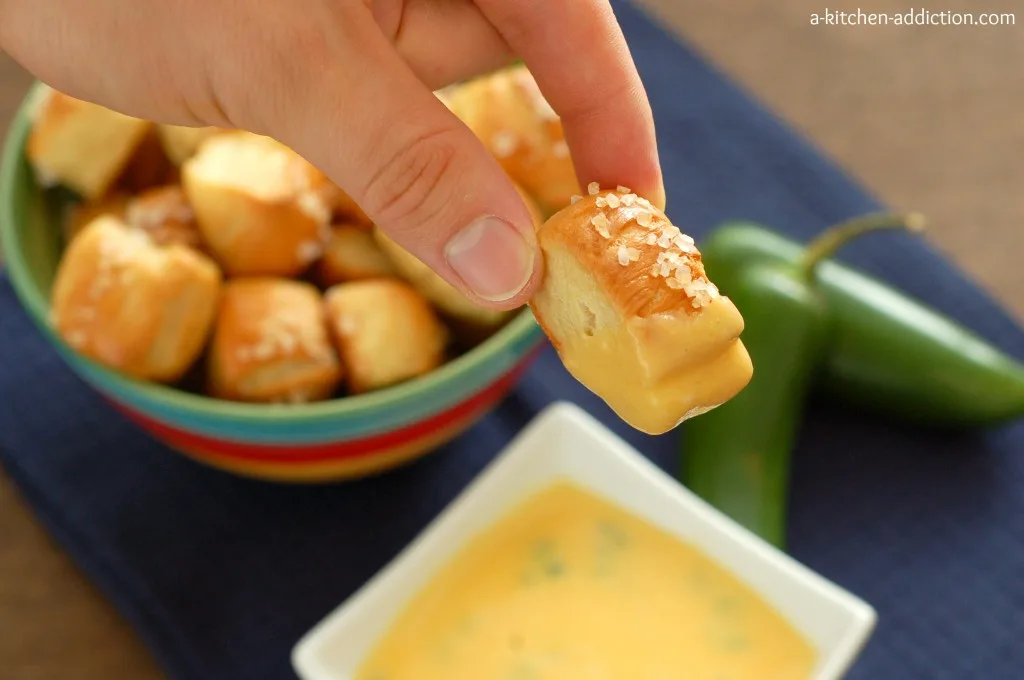 While pretzel bites take a little extra work compared to the large, regular pretzels, I think they are more fun to dip and eat.
If you prefer to make big pretzels, just take the 8 pieces of dough, make them into one pretzel each and extend the cooking time.
Pretzel Bites with Jalapeno Cheddar Cheese Sauce
Yield: about 13 dozen bites
Ingredients
For the Pretzel Bites
1 1/2 C warm water
2 tbsp light brown sugar
2 1/4 tsp active dry yeast
6 tbsp butter, melted
2 1/2 tsp salt
4 1/2 -5 C all-purpose flour
1/4 C baking soda
3 quarts water
1 egg white
1 tbsp cold water
coarse salt
For the Cheese Sauce
1 tbsp butter
1 tbsp all-purpose flour
3/4 C milk
1 tsp garlic powder
1/2 tsp white pepper
1 large jalapeno pepper, finely chopped
1 1/2 C cheddar cheese (I used a combination of regular and sharp cheddar)
Directions
Combine water, sugar, yeast, and butter in the bowl of a stand mixer and mix until combined. Let sit 5 minutes.
Add the salt and 4 1/2 cups flour and mix on low-speed (using dough hook) until combined. Increase the speed to medium and continue mixing until dough is smooth and begins to pull away from the side of the bowl. This will probably take about 3-4 minutes. If dough appears too wet, add more flour a tablespoon at a time.
Remove the dough from bowl, place on a flat, floured surface and knead into a ball.
Coat a bowl with olive oil, add the dough and roll to coat with oil. Cover with plastic wrap, place in a warm draft-free spot and allow to rise until doubled in size. While dough is rising, preheat oven to 425.
Bring water to boil in a large sauce pan, add baking soda.
Turn dough out onto a floured surface. Divide dough into eight equal pieces.Roll each piece into a rope about 22 inches long. Cut dough into about 1/2-1 inch pieces.
Boil the pieces in the water solution in small batches, about 10-15 at a time. Boil for about 30 seconds. Remove with a slotted spoon.
Place pretzel bites on a baking sheet that has been sprayed with non-stick cooking spray or lined with a baking mat. Try to keep the bites from touching. Brush the tops with the egg wash and sprinkle with salt.
Bake for 15-20 minutes or until golden brown. Remove to a wire rack for cool for 5 minutes before eating.
To make the cheese sauce, melt the butter in a medium saucepan over medium heat. Add flour and cook 1 minute. Whisk in the milk, garlic powder, white pepper, salt, and jalapeno pepper, and cook until slightly thickened, about 10-15 minutes.
Remove from heat, stir in the cheese until smooth and all of the cheese is melted. Serve immediately.
This recipe is linked with Pin It Thursday, Strut Your Stuff Saturday, Taste and Tell Thursdays, Trick or Treat Tuesday, Two Cup Tuesdays, Weekend Potluck, What's Cookin' Wednesday, What's in Your Kitchen Wednesday.