These Peppermint Cream Brownies are made up of a rich, fudgy buttermilk brownie topped with a peppermint cream filling and a layer of ganache! A sprinkling of crushed peppermints finishes off these decadent brownies!
Every year my husband and I have our own Thanksgiving dinner, just the two of us. Sometimes we have it on Thanksgiving, sometimes not. This year we had it this past weekend and had a mini version of a classic meal. Except for dessert.
By the time we got around to having our Thanksgiving, we were tired of Thanksgiving/fall desserts. So, we switched things up and had peppermint cream brownies instead!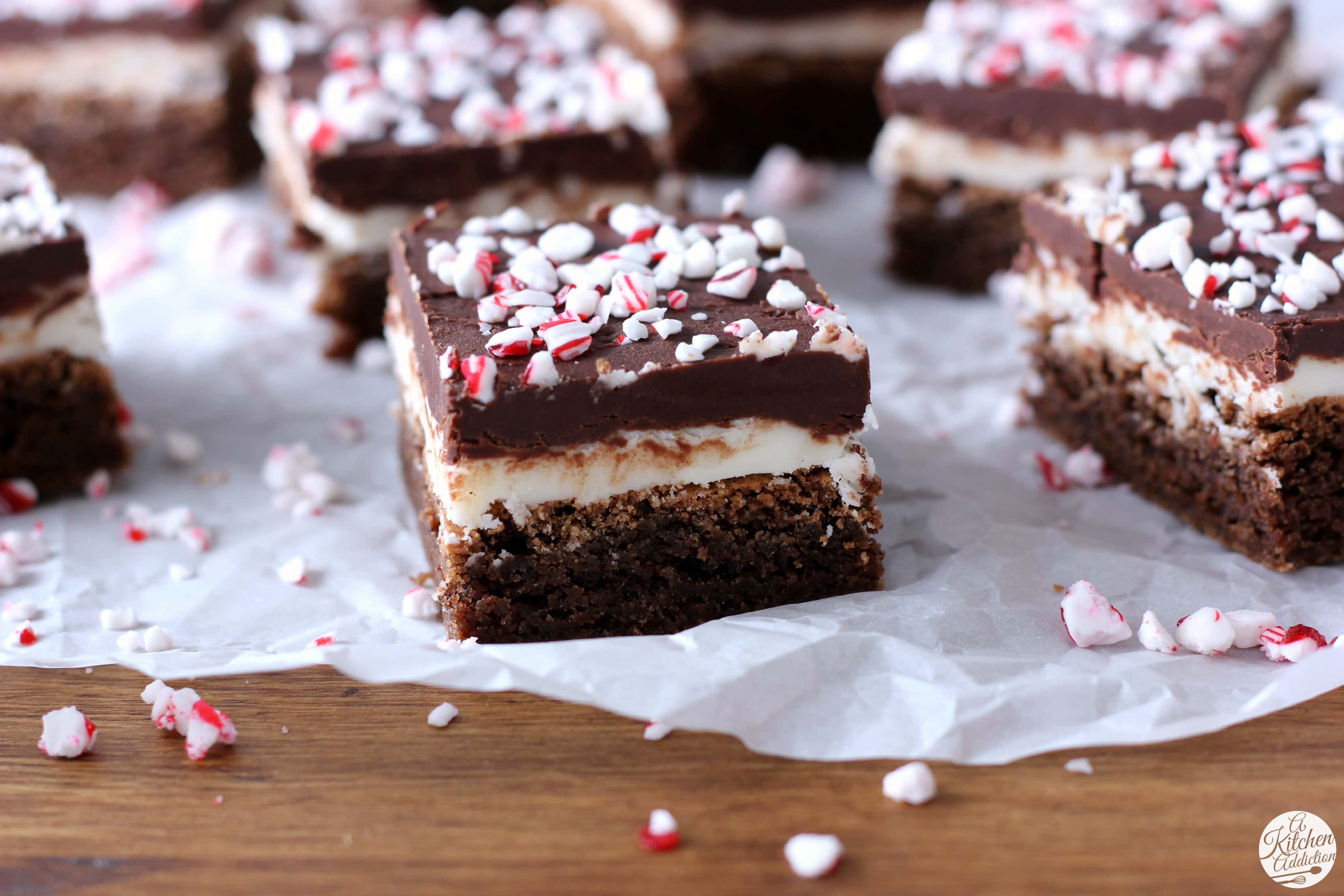 They were so good we might just have to have them for our Thanksgiving dessert next year! A rich, fudgy buttermilk brownie is the base of these festive brownies.
The peppermint cream filling tastes a lot like a york peppermint patty, especially since it's topped with a layer of chocolate!
A sprinkling of crushed peppermint candies adds a bit of color and crunch to these decadent brownies.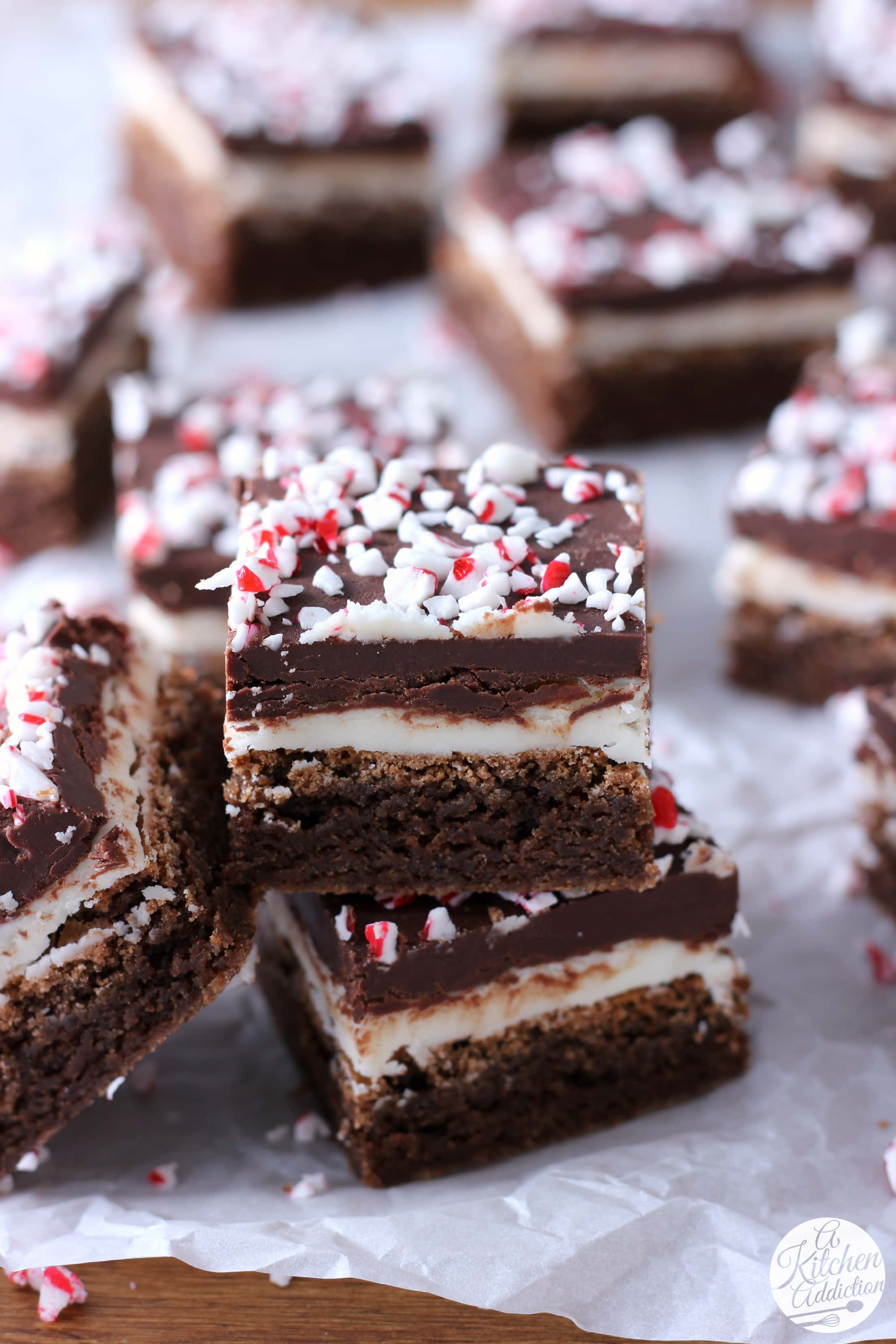 While these brownies have three layers, they are pretty easy to make, and definitely worth every minute it takes to make them. If you like the peppermint and chocolate combination, these bars will test your willpower!
Their rich chocolaty flavor will have you digging into the pan of brownies each time you walk by it!

Peppermint Cream Brownies
Author:
A Kitchen Addiction
Ingredients
For the Brownie Layer
½ C butter
¼ C unsweetened baking cocoa
½ C canola oil
2 C all-purpose flour
1 tsp baking soda
½ tsp salt
2 C sugar
¼ C buttermilk
2 eggs
½ tsp vanilla extract
For the Peppermint Cream Layer
2½ C confectioner's sugar
7 tbsp butter, melted
1½ tbsp half and half
1 tsp peppermint extract
For the Ganache Layer
12 oz semi-sweet chocolate, chopped or 2 C semi-sweet chocolate chips
¼ C unsalted butter
¼ C crushed peppermint candies
Instructions
Preheat oven to 400 degrees F. Line a 9x13 inch baking dish with parchment paper.
In a medium saucepan, combine butter, baking cocoa, and oil. Over medium heat, bring mixture just to a boil, stirring constantly to prevent scorching. Set aside to cool until just warm.
In a small bowl, whisk together flour, baking soda, and salt.
In a large bowl, whisk together sugar, buttermilk, eggs, and vanilla extract. Whisk in cooled chocolate mixture. Stir in dry ingredients until just combined.
Spread batter into prepared baking dish. Bake for 20-25 minutes or until toothpick inserted in the center comes out mostly clean. Remove to a wire rack to cool.
While brownies are cooling, beat confectioner's sugar, melted butter, half and half, and peppermint extract until smooth and creamy. Spread over cooled brownies. Refrigerate for 30 minutes or until chilled.
Melt together chopped chocolate and butter in a small saucepan over medium-low heat. Stir until completely melted and smooth. Spread chocolate mixture over the peppermint cream layer. Sprinkle crushed peppermint candies over the top. Allow chocolate layer to set. Cut into pieces and serve.
Peppermint layer and idea from McCormick.