Well, since you just read about my love for peanut butter frosting
yesterday
, it should come as no surprise to you that today's recipe would feature peanut butter frosting! 🙂 Actually, peanut butter frosting has been on my mind for the last week and I just had to do something about it! I also had some brown bananas lying around (who doesn't?!). My solution to these two problems. . .make a cake, because cake is good! While this frosting is nowhere as sweet and unhealthy as the frosting from our wedding cupcakes, it did the trick in satisfying my peanut butter frosting tooth!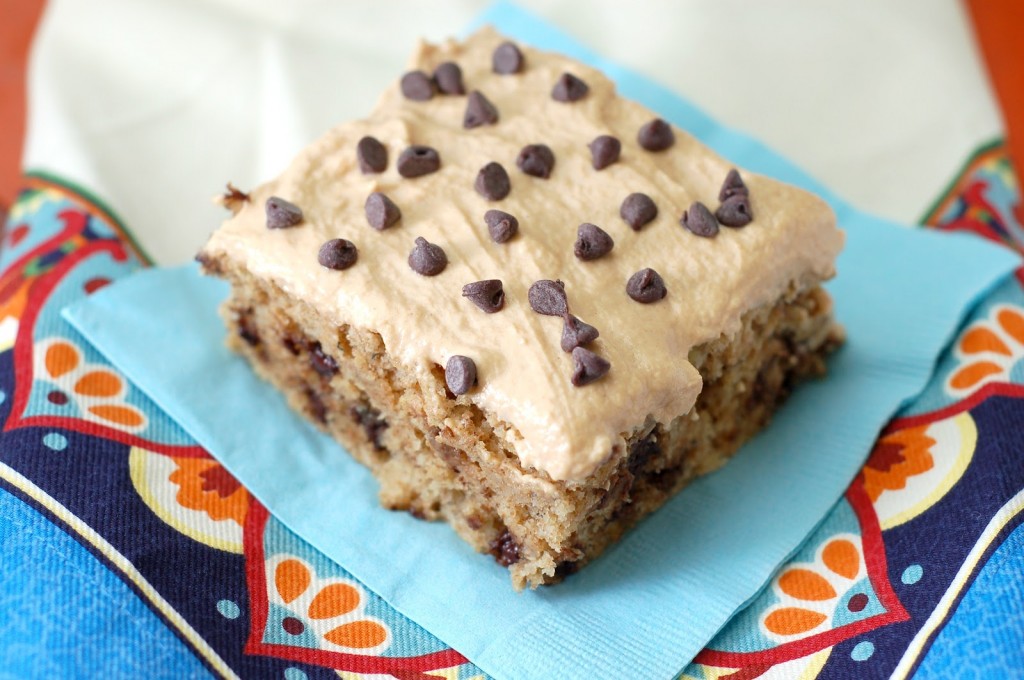 This cake is a perfect combination of banana, chocolate, and peanut butter. It is sweet and satisfying without being overly sweet and dense. I once again used mini chips. I'm sure you have figured out by now that I prefer using mini chips over regular chips because you can use fewer but the chocolate flavor is still spread throughout the cake.
I also used very little sweetener in the frosting because I enjoy a nice rich peanut butter frosting. This frosting is nice and creamy so even if you do prefer a sweeter frosting you may be surprised at how you like this. If not, adjust away! 🙂
Enough talk about the cake! Go and make it! It will be time well spent! 🙂 Have a great day!
This post is linked up with Weekend Potluck, Sweet Tooth Friday, and Foodie Friday
Peanut Butter Frosted Chocolate Chip Banana Cake

Yield: 9 pieces
Ingredients
For the Cake
1 C whole wheat flour
1/2 C all-purpose flour
1 tsp baking powder
1 tsp baking soda
1/8 tsp salt
1/4 C granulated sugar substitute
1/4 C maple syrup
1 tsp vanilla extract
1/2 C banana puree
1/2 C non-fat plain yogurt
1/4 C water
1 egg, slightly beaten
1/4 C mini chocolate chips
For the Frosting
1/2 C no-stir natural peanut butter
1/3 C plain non-fat yogurt
3 1/2 tsp granulated sugar substitute (or more if you like a sweeter frosting)
2 tbsp water
2 tsp vanilla extract
Directions
Preheat oven to 350. Spray 9×9 pan with non-stick cooking spray.
In a large bowl, sift together flours, baking powder, baking soda, and salt.
In a small bowl, stir together sugar substitute, maple syrup, vanilla extract, banana puree, yogurt, water, and egg until well-combined. Stir wet ingredients into dry ingredients until combined. Stir in chocolate chips.
Spread batter into pan. Bake for 25-35 minutes or until toothpick inserted in the center comes out clean.
Remove pan to wire rack to cool.
To prepare frosting, stir together all frosting ingredients until smooth. When cake has cooled, spread frosting over the top.
Best served the same day. So eat up! 🙂 If any leftovers remain, store in refrigerator.