Start of your day with rich Mocha White Chocolate Chip Donuts and a cup of freshly brewed coffee!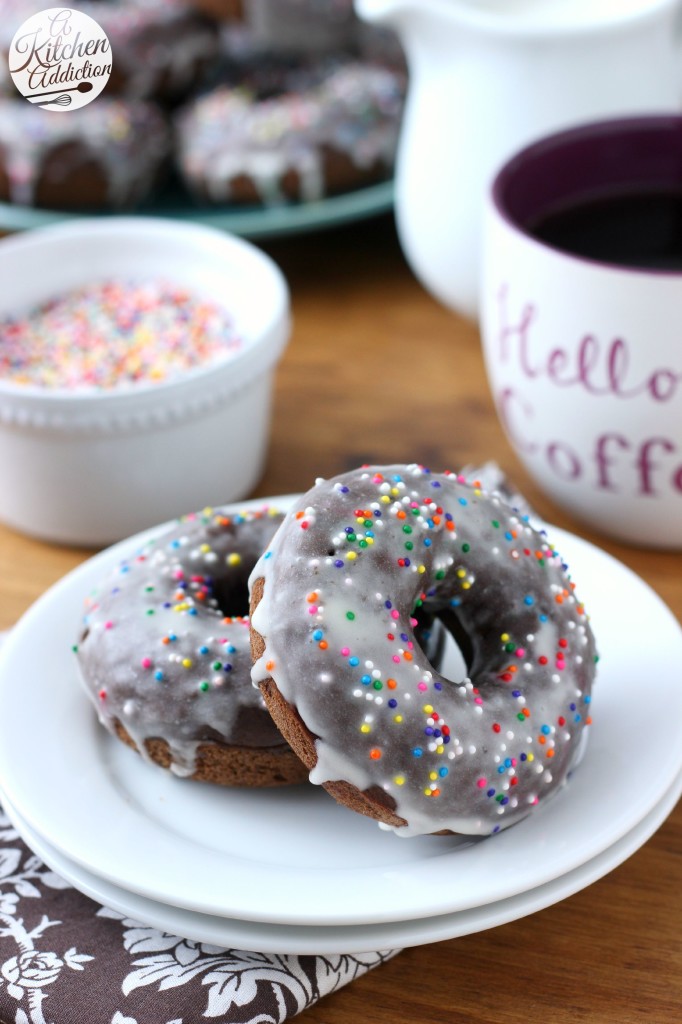 My husband and I were just commenting last night about how we have spent just about every Saturday since we've moved at a home improvement store. I've lost track of how many hours have been spent in Lowe's and Home Depot.
Thankfully, there's a Dunn Bros (and can I just say how good it is to live within driving distance to a Dunn Bros again?!) in the same parking lot as Lowe's, so I can at least have an iced coffee while wandering around looking for just the right track lighting, the perfect faucet, table saws, and all sorts of home improvement items!
The list just keeps growing of the things that need to be done and the items that need to be purchased. Fortunately, along with good iced coffee, I have baking to retreat to when I need a break from thinking about the next item on our "HOUSE" list.
The most recent baking episode involved these mocha white chocolate chip donuts. And while they're donuts, they were made in the afternoon and promptly enjoyed as soon as they were photographed!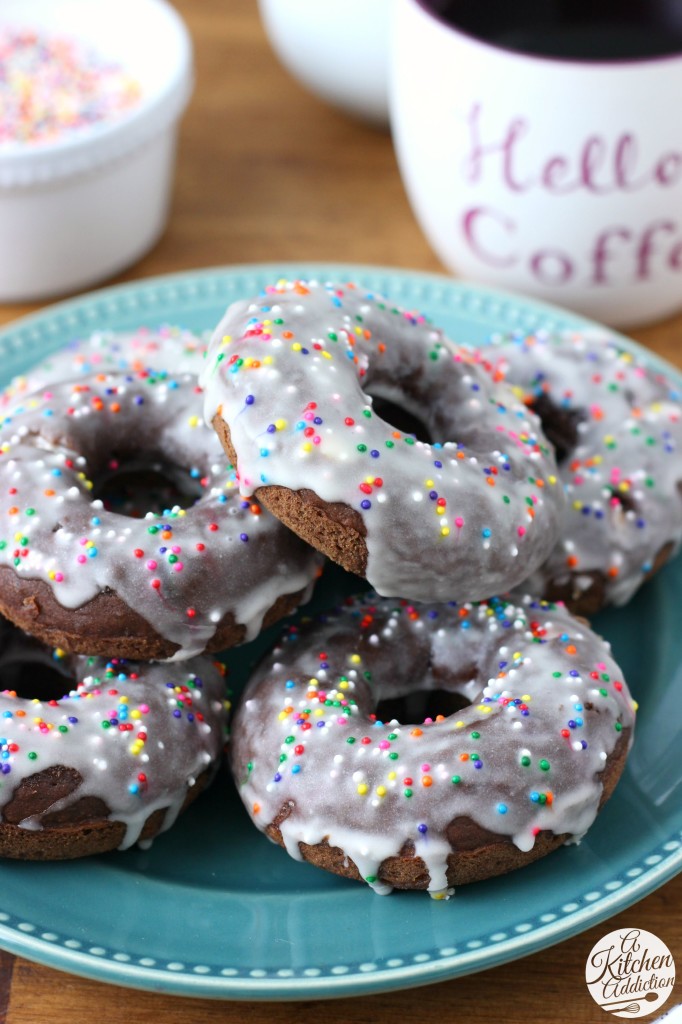 These are rich, chocolate donuts infused with coffee and studded with white chocolate chips. A sweet coffee glaze and a smattering of sprinkles finishes them off.
This makes them the best way to start a morning, or make a long afternoon better, or satisfy an evening craving, or. . .well, you get the picture.
These donuts are too good to be reserved just for breakfast!

Mocha White Chocolate Chip Donuts
Author:
A Kitchen Addiction
Ingredients
For the Donuts
1 C white whole wheat flour
⅓ C sugar
3 tbsp unsweetened baking cocoa
1 tsp baking powder
¼ tsp baking soda
¼ tsp salt
⅓ C milk
¼ C strongly brewed coffee, cooled
3 tbsp butter, melted and cooled
1 egg
1½ tsp vanilla extract
¼ C white chocolate chips
For the Glaze
1 C confectioner's sugar
1 tbsp strongly brewed coffee, cooled
½ tbsp milk
¼ tsp vanilla extract
Instructions
Preheat oven to 350. Spray a donut pan with non-stick cooking spray.
In a medium bowl, whisk together flour, sugar, unsweetened baking cocoa, baking powder, baking soda, and salt.
In a small bowl, whisk together milk, coffee, butter, egg, and vanilla extract. Add wet ingredients to dry ingredients and stir until just combined. Stir in white chocolate chips.
Transfer batter to a pastry bag or plastic bag with corner cut off. Pipe batter into donut pan filling each cavity about ⅔ full.
Bake for 8 minutes. Transfer pan to a wire rack to cool.
While donuts are cooling, stir together all ingredients for the glaze until smooth. You may need to add up to another ½ teaspoon of milk to reach desired consistency. Dip tops of donuts into glaze.
Allow glaze to harden and serve.