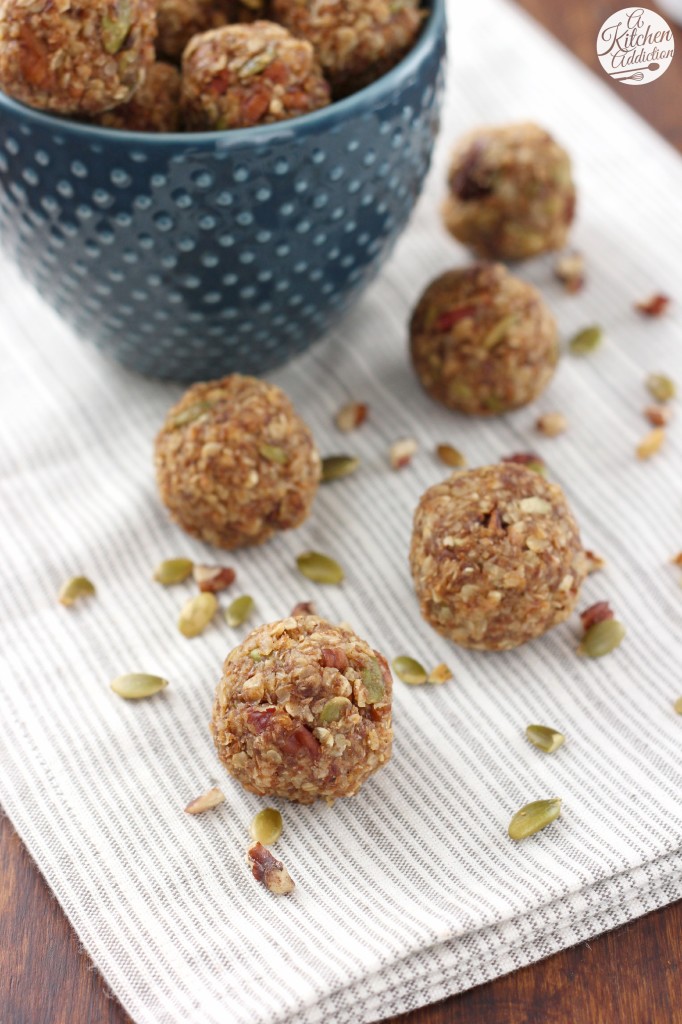 I'm sure you've figured out by now that I'm all about quick and easy recipes. The more time you can spend with friends and family while still providing wholesome food, the better.
Even when it comes to whipping up a batch of snacks for the week, I like to find ways to make it easy and use ingredients that are easy to find and relatively inexpensive.
One of our go-to recipes is granola bites. These maple pumpkin pecan granola bites are a variation of the recipe.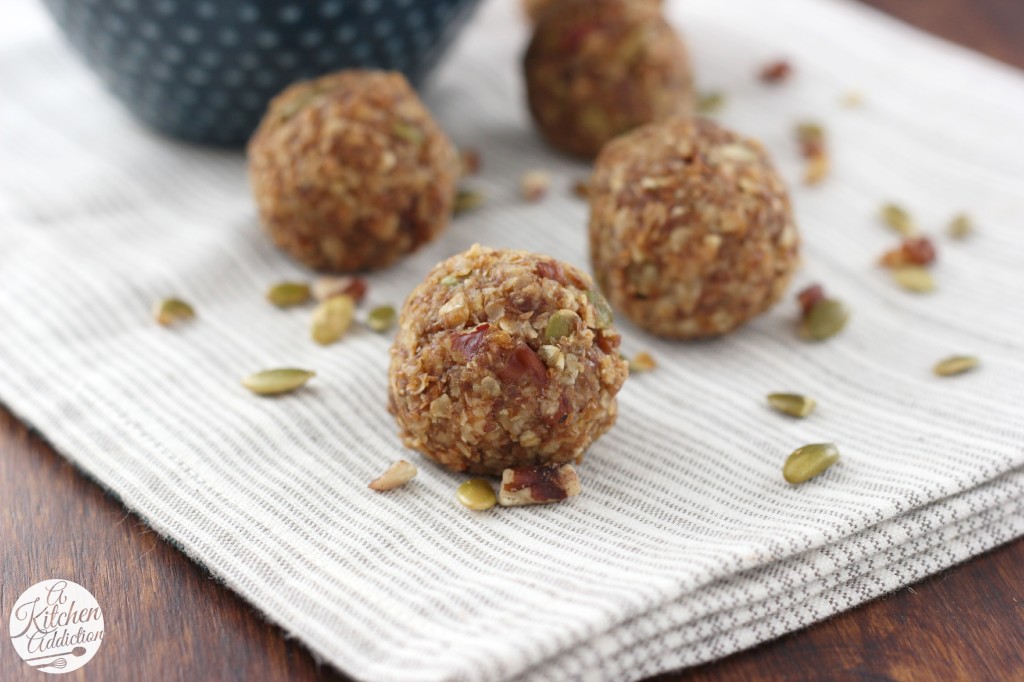 If you've never made your own granola bites/bars, set aside 15 minutes of time, and give them a try. They are such a simple way to help you save money and to feel better about what you're eating.
You'll soon discover that they are easy to make and very forgiving on exact proportions and measurements.
Since it's fall, we've been experimenting with the traditional flavors that you find in desserts this time of year and turning them into a healthy snack. (Since we'll be consuming plenty of dessert in a couple of weeks!)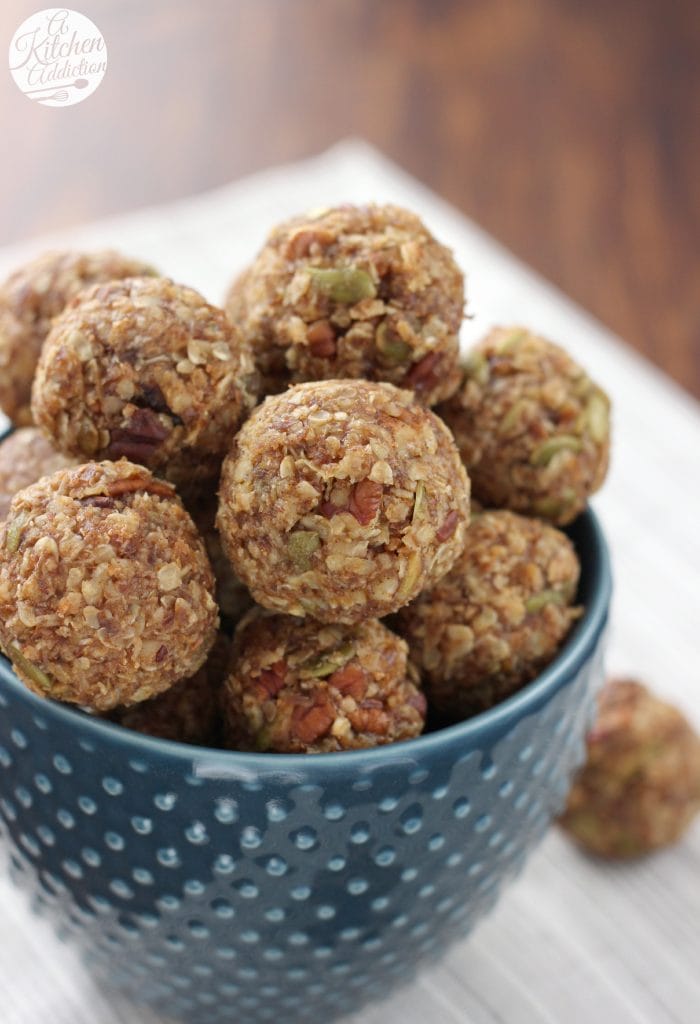 Maple syrup, pumpkin, pecans, and peptitas all combine in these granola bites to create a delicious snack to help you stay on track this holiday season.
You'll find my usual combination of oats, oat bran, and flaxseed as the base and pumpkin pie spices to addd a burst of flavor in each bite. Just stir the dry ingredients together, boil the wet ingredients together, and combine. Stir in the pecans and pepitas and form the bites.
Before you know it, you'll be snacking on a new, healthy holiday favorite!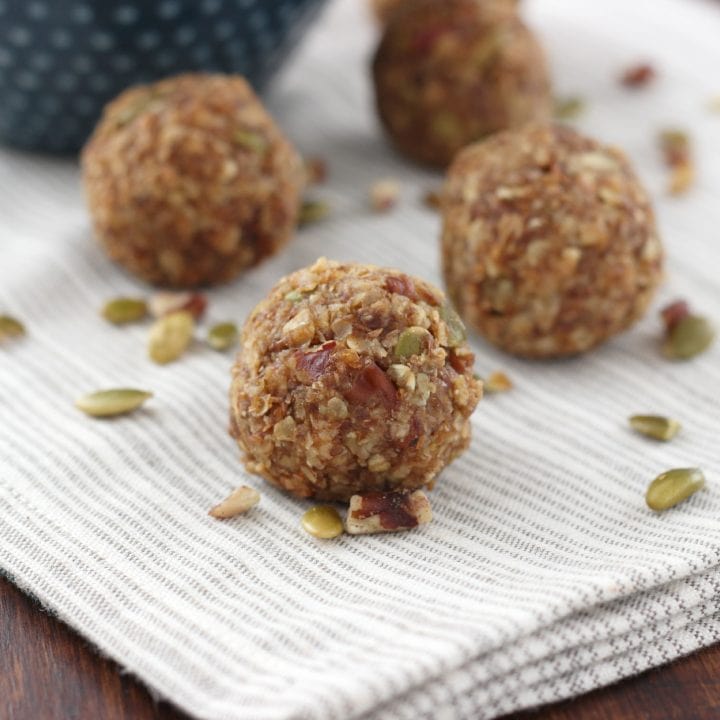 Maple Pumpkin Pecan Granola Bites
Refrigeration Time:
2 hours
Total Time:
2 hours
20 minutes
Ingredients
2 1/4 C quick oats
1/4 C oat bran
1/4 C ground flaxseed
1 1/2 tsp cinnamon
1/2 tsp nutmeg
1/4 tsp ginger
1/8 tsp cloves
1/2 tsp salt
1/2 C honey
1/3 C maple syrup
3 tbsp pumpkin puree
2 tbsp coconut oil
1 tsp maple extract
1/2 C chopped pecans
1/2 C pepitas
Instructions
In a large bowl, whisk together oats, oat bran, flaxseed, cinnamon, nutmeg, ginger, cloves, and salt. Set aside.
In a small saucepan, combine honey, maple syrup, pumpkin puree, coconut oil, and maple extract. Bring to a boil over medium heat and boil for 4-5 minutes, stirring constantly to prevent scorching. Remove from heat.
Pour over oat mixture and stir until coated. Stir in chopped pecans and pepitas.
Form into 1 inch balls. (You may need to allow the mixture to cool for a few minutes before handling)
Refrigerate for 2 hours or until cool and set.
Recommended Products
As an Amazon Associate and member of other affiliate programs, I earn from qualifying purchases.