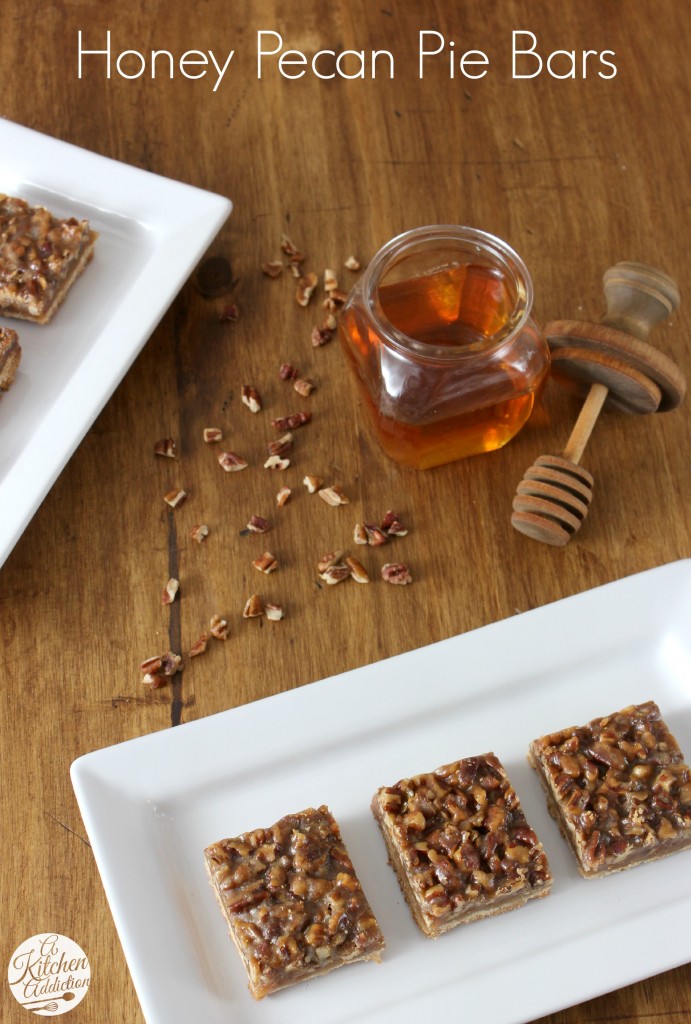 Since Thanksgiving is fast approaching, it's about time that I start to think about my Thanksgiving menu.
Every year since we've been married, my husband and I have had our own Thanksgiving meal in addition to celebrating with family. It doesn't always land on the actual day, but we always celebrate.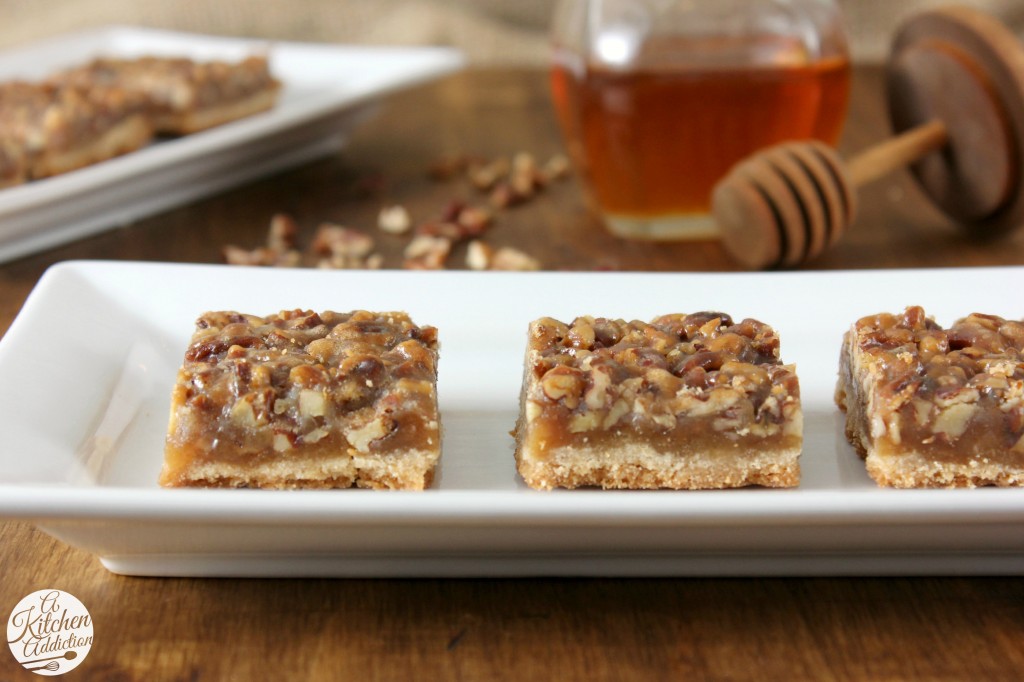 I enjoy planning out a whole meal for us to prepare and enjoy together, but I've noticed a few problems with this plan. One of the problems that comes with having our own Thanksgiving is the fact that we can end up with a lot of leftovers.
The other problem can end up being that we eat way too much food that isn't the greatest for us. So, this year I wanted to try and make a conscious effort to make our meal a little healthier.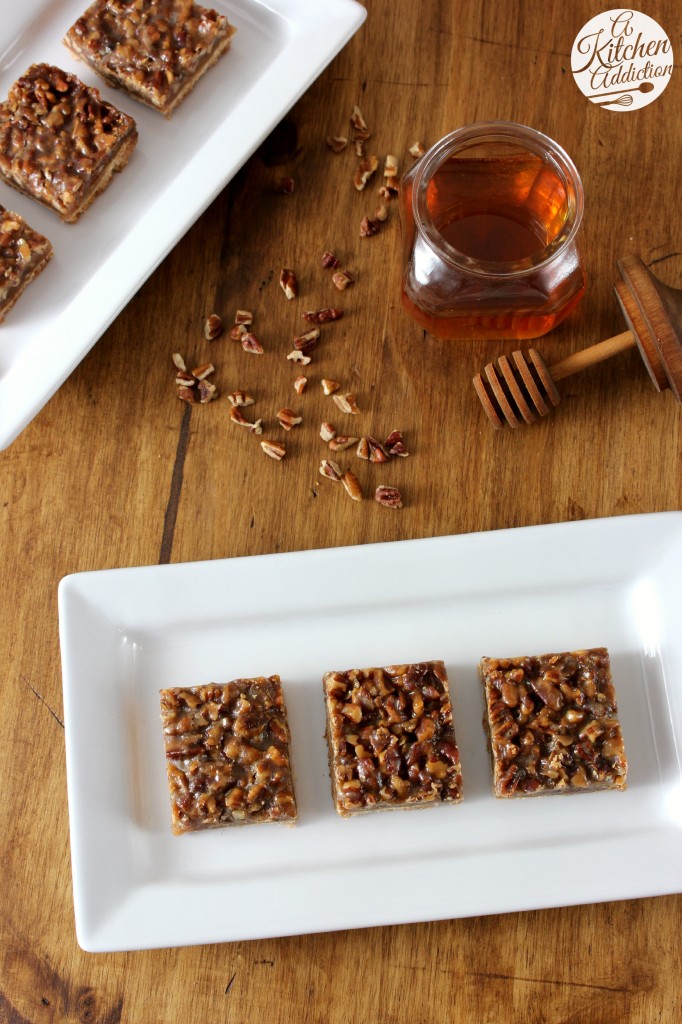 One of the ways in which we can make our meal healthier is to lighten up dessert. I decided to try and lighten up a Thanksgiving favorite. . .pecan pie. Instead of making a big pie, I decided to go with pie bars that are smaller.
While these honey pecan pie bars still have sugar and butter in them, you won't find any corn syrup and the amount of butter is significantly less than your typical pecan pie. And you know what? You won't even miss the missing corn syrup and butter.
These bars are still rich, sweet and full of nutty pecan flavor. A great way to have a little lighter dessert without anybody noticing!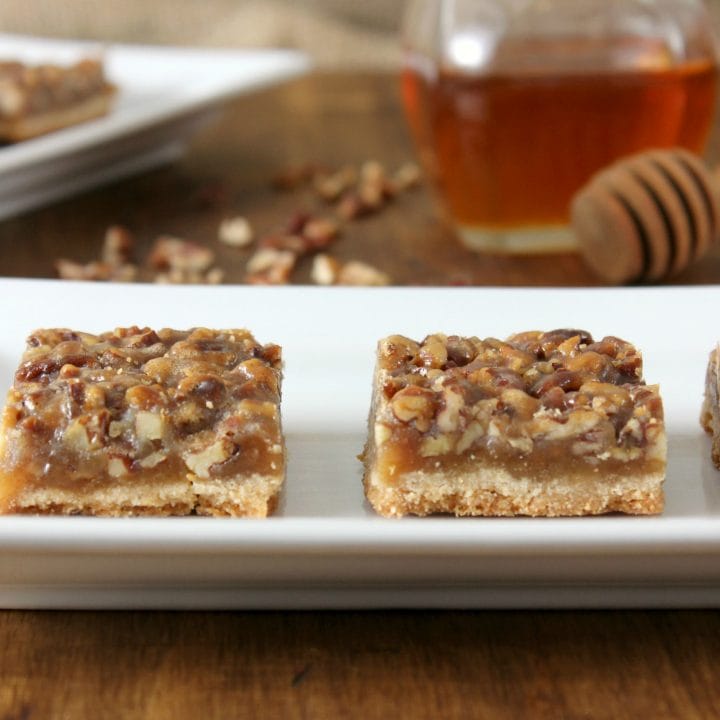 Honey Pecan Pie Bars
Yield: 12 - 16 pie bars

Prep Time: 15 minutes

Bake Time: 30 minutes

Total Time: 45 minutes

No tricky pie crust to roll out with this Honey Pecan Pie Bars recipe! Sweetened with honey instead of corn syrup, these honey pecan pie bars are the perfect, stress-free addition to your holiday dessert table!
Ingredients
For the Crust
1/3 Cup unsalted butter, softened
1/3 Cup brown sugar
1/4 teaspoon salt
1 Cup all-purpose flour
For the Filling
1/4 Cup unsalted butter
1/3 Cup brown sugar
1/3 Cup honey
1 Tablespoon half and half or heavy cream
1 teaspoon vanilla extract
1 Cup coarsely chopped pecans
Instructions
Preheat oven to 350 degrees Fahrenheit. Line an 8x8 inch baking dish with aluminum foil and butter or spray with non-stick cooking spray.
In the bowl of a stand mixer (or with an electric hand mixer), cream together butter and sugar. Add in salt and flour and beat until crumbly.
Press mixture into prepared pan, and bake for 15 minutes.
While crust is baking, begin preparing filling by combining butter, sugar, honey, and half & half in a sauce pan over medium heat. Stirring constantly, bring mixture to a simmer and allow to simmer for one minute. Remove from heat, and stir in vanilla and chopped pecans.
Remove crust from oven and pour filling over the top. Return to oven and bake for another 15 minutes.
Carefully (the filling will still be boiling) remove bars to a wire rack and allow bars to cool.
Remove bars from pan and cut into pieces.
Notes
This recipe easily doubles for a 9x13 inch baking dish.
Recommended Products
As an Amazon Associate and member of other affiliate programs, I earn from qualifying purchases.
Nutrition Information:
Yield: 16 Serving Size: 1
Amount Per Serving: Calories: 193Total Fat: 12gSaturated Fat: 5gTrans Fat: 0gUnsaturated Fat: 7gCholesterol: 20mgSodium: 38mgCarbohydrates: 20gFiber: 1gSugar: 13gProtein: 2g

Nutrition information shown is an estimate provided by an online calculator and may not always be accurate. Nutrition values can vary greatly based on brand used. It should not be considered a substitute for a medical professional's advice.


This recipe is slightly adapted from Just A Taste.