What a beautiful weekend this past weekend! The weather was in the upper 70's and we took every advantage of the nice weather that we could! That involved grilling out on Saturday, and as a result, this pasta salad. 🙂 It's quick and easy to throw together while your meat is cooking and perfect to take a long for a cook out or picnic. The sweet peppers and summer vegetables pair perfectly with the tangy Italian dressing. If you have bell peppers or other veggies on your counter, feel free to add those as well!
Place the peppers directly on the grill. You want to get some nice grill marks on them before removing.
Yum! The chicken breast on the right is mine. 🙂 I love a little char on my meat, so my husband kindly left mine on a little longer! Now that your peppers have a nice char. Let them cool and then remove the skins. They should fall off easily.
Sprinkle on the Parmesan cheese!
Serve! Perfect as a side to grilled chicken and as the base for chicken pasta salad the next day with the leftovers.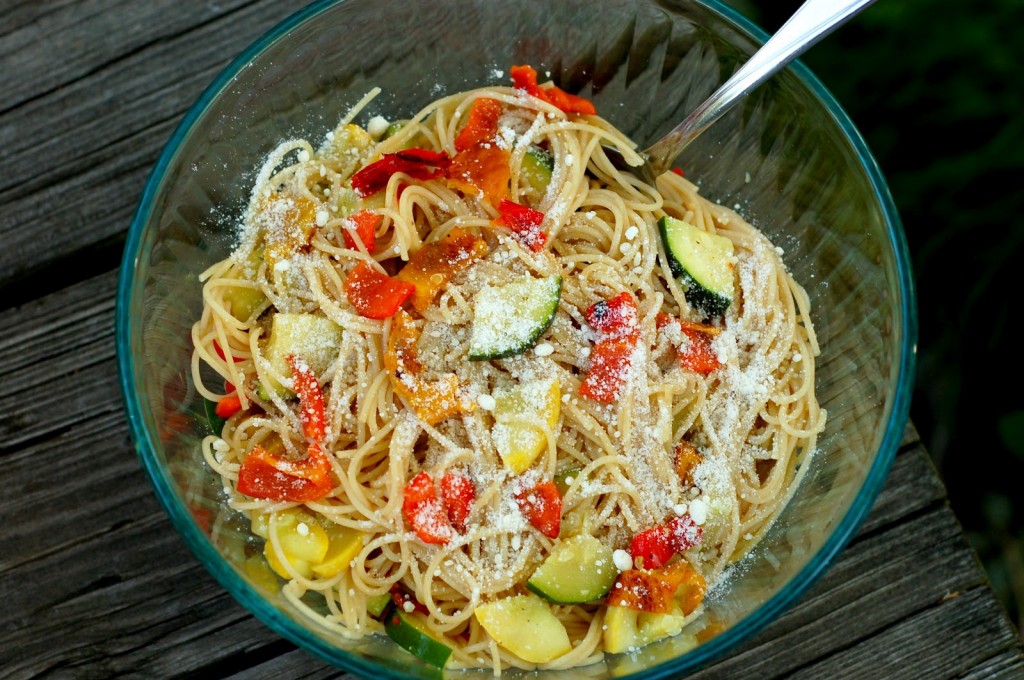 Also, A Kitchen Addiction finally has a Facebook page! Please be sure to "Like" it!


Grilled Sweet Pepper and Summer Vegetable Pasta Salad

Yield: 5-6 servings
Ingredients
6 oz whole grain spaghetti, cooked, drained, and cooled
1/4 C fat-free or light Italian dressing
1/2 lb zucchini, finely sliced and quartered
1/2 lb summer squash, finely sliced and quartered
salt and pepper to taste
2 cloves of garlic, coarsely minced
olive oil
5 small sweet peppers, grilled with skins removed and finely sliced
Parmesan cheese, for sprinkling
Directions
In a large bowl, toss together the cooked spaghetti noodles and Italian dressing. Set aside.
Lightly drizzle a frying pan with olive oil. Add in the zucchini, summer squash, and garlic. Stir to coat. Sprinkle with salt and pepper to taste. Cook over medium-high heat until zucchini and summer squash soften and start to brown. Remove from heat and cool.
Add the grilled sweet peppers to the noodles. Once zucchini and summer squash have cooled, pour entire contents of frying pan into the noodle mixture. Toss to evenly distribute the vegetables throughout the noodles.
Sprinkle with Parmesan cheese. Serve immediately or refrigerate before serving. Store all leftovers in the refrigerator.