Peaches always remind me of summer. They are so sweet and juicy and make the perfect snack or dessert. This simple recipe heightens that sweet flavor. Grilling the peaches allows for the sugars to caramelize. Yum!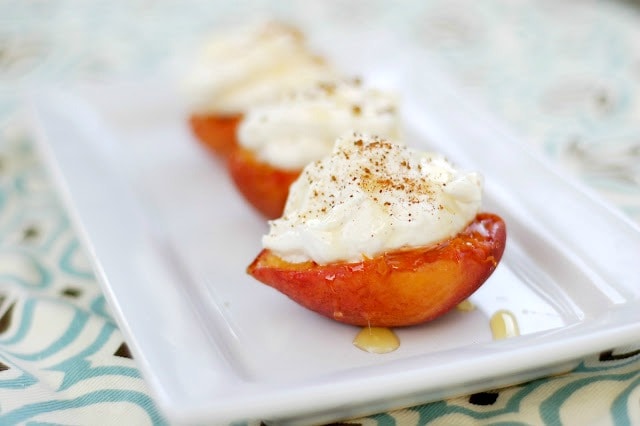 So easy, just stick the peaches on the grill cut side down and let the heat do its magic!
The cream cheese fluff offers a slight tang to offset the sweetness of the peaches and the ginger and honey blend beautifully with this delicious treat!
These are quick to make and assemble making them an easy last minute dessert for surprise company or a nice ending to a BBQ.
Oh, and did I mention that they are healthy?! Go ahead, try them!
Also, there are TWO days left to get your entries in for the Land O' Lakes gift package giveaway!
Be sure to "Like" A Kitchen Addiction on Facebook for an easy entry! The winner will be announced Wednesday morning! (Go here to find out more ways to enter!)

Grilled Peaches with Honey-Ginger Cream Cheese Fluff

Yield: about 1 C fluff to use on 1lb of grilled peaches
Ingredients
4 oz. 1/3 of the fat neufchatel cheese, softened
1 1/2 tbsp honey
1/2 tsp ginger
1/8 tsp nutmeg
4 oz fat-free Cool-Whip, thawed
1 lb peaches, washed and halved
honey and nutmeg for garnish
Directions
In a small bowl, add neufchatel cheese and honey. Beat with hand mixer until creamy, about 2 minutes. Add in the ginger and nutmeg. Beat again for another two minutes.
Gently fold in the Cool-Whip with a spoon just until combined. Refrigerate while you grill the peaches.
Cover grate of grill with aluminum foil. Place peaches, cut side down, on grill. Grill on low heat for 3-6 minutes, or until soft.
Remove peaches to a plate. Top with cream cheese fluff. Drizzle with honey and sprinkle with nutmeg.