The warm spices of ginger, cinnamon, and cloves combine with molasses and a bit of brown sugar to make these Gingerbread Scones an irresistible partner to your morning cup of coffee or tea!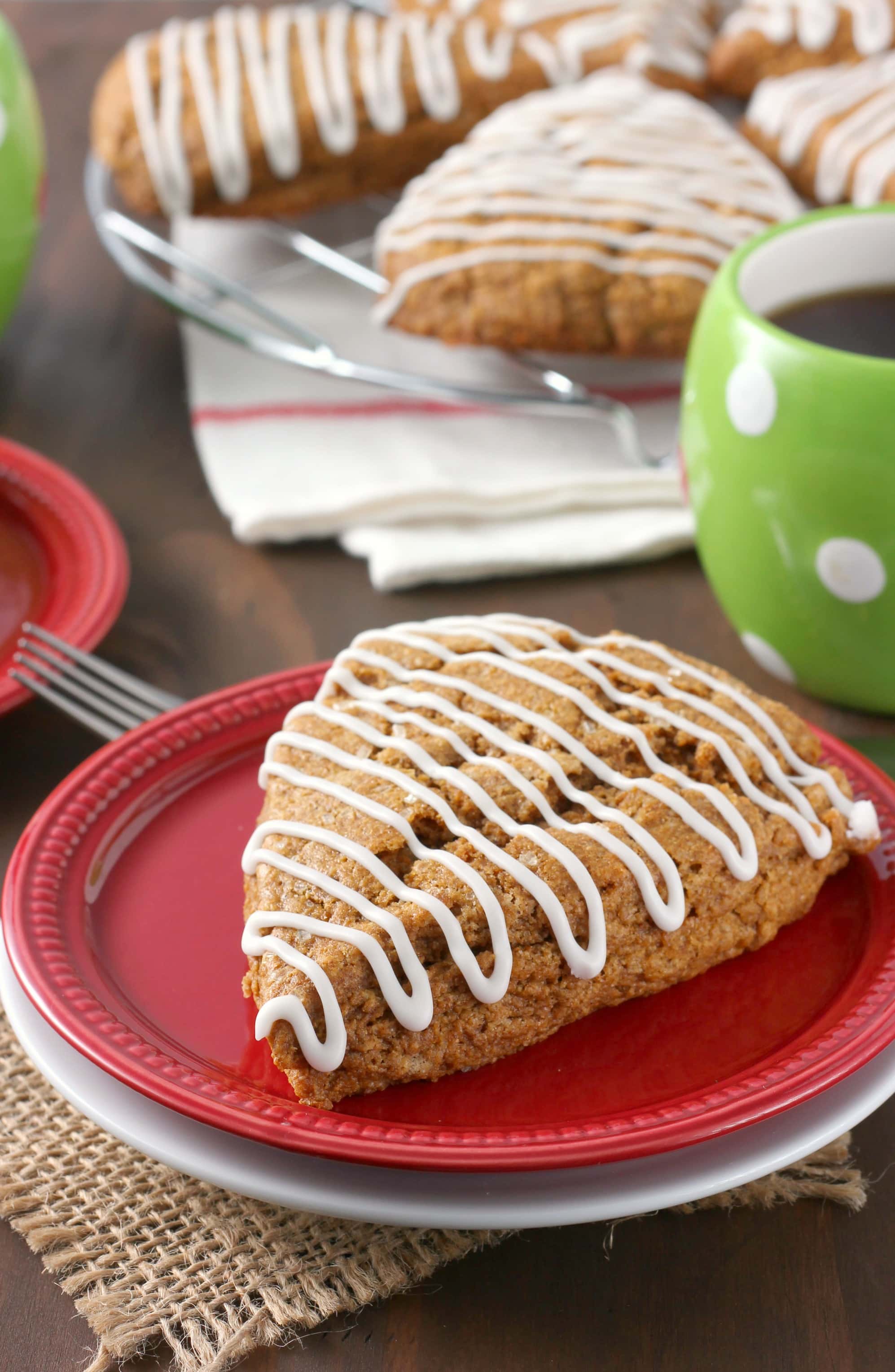 *This recipe was originally posted on 12/03/12. Images and text updated 12/07/16.
It happens every year. I seem to latch on to one holiday flavor and bake everything possible with that flavor. Last year was peppermint, and the year before that it was eggnog.
It's not going to take long for you to figure out this year's flavor. Gingerbread! I just can't stop.
First the gingerbread french toast bake, now gingerbread scones, and at least two more gingerbread recipes coming soon!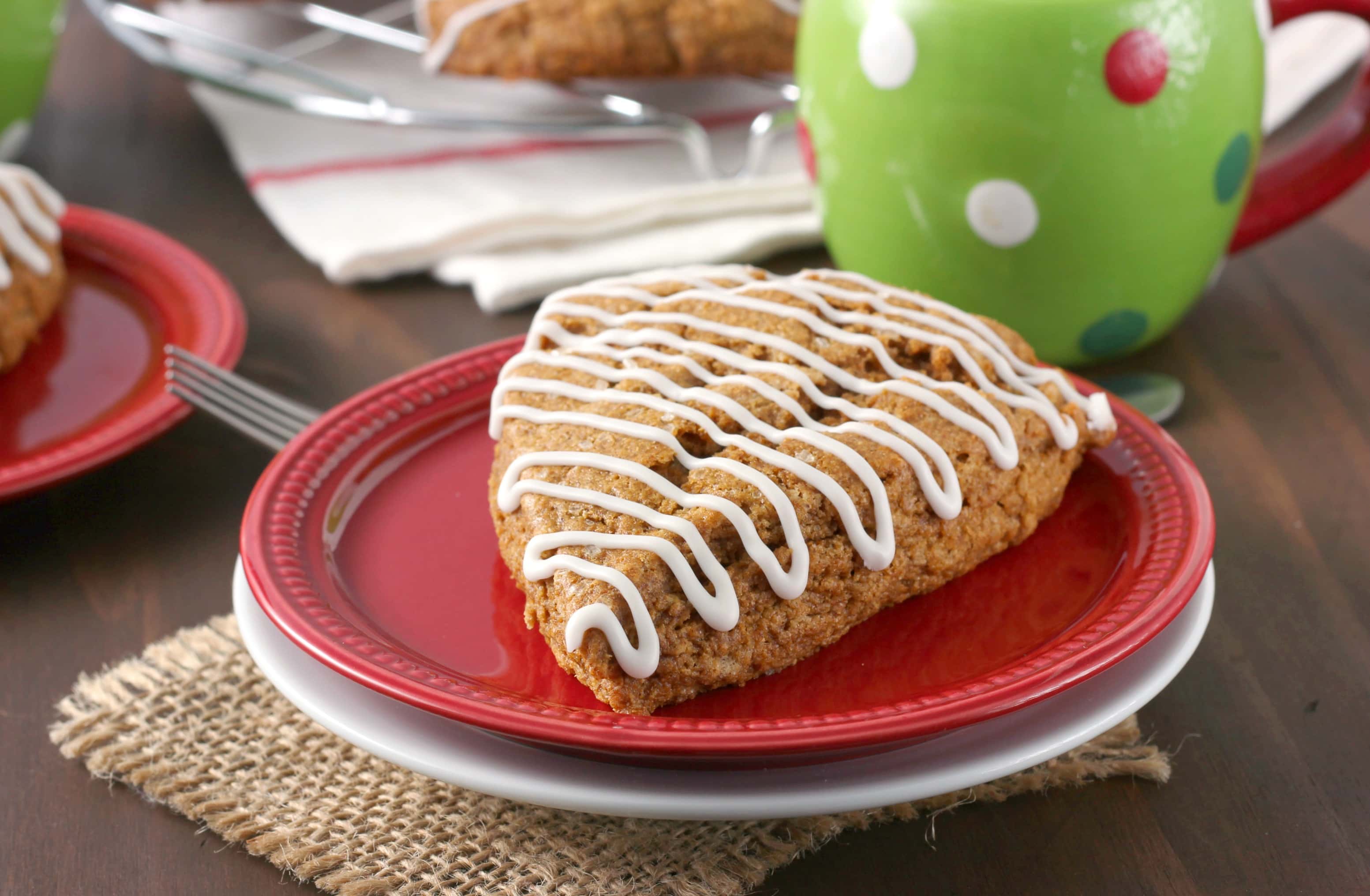 Gingerbread has Christmas written all over it for me. Maybe it's because of gingerbread houses, gingerbread muffins, gingerbread lattes, gingerbread men, etc.
There is a lot of gingerbread that appears around the holidays, and these scones are one more way in which you can enjoy the flavor.
Even though these scones are 100% whole wheat, they still have a light, tender texture. Though I do have to say that I wouldn't use plain whole wheat flour. Stick with the white whole wheat flour, especially if you have picky eaters.
The regular whole wheat flour has a noticeable change in texture. So just know that in case you want to substitute whole wheat for white whole wheat flour!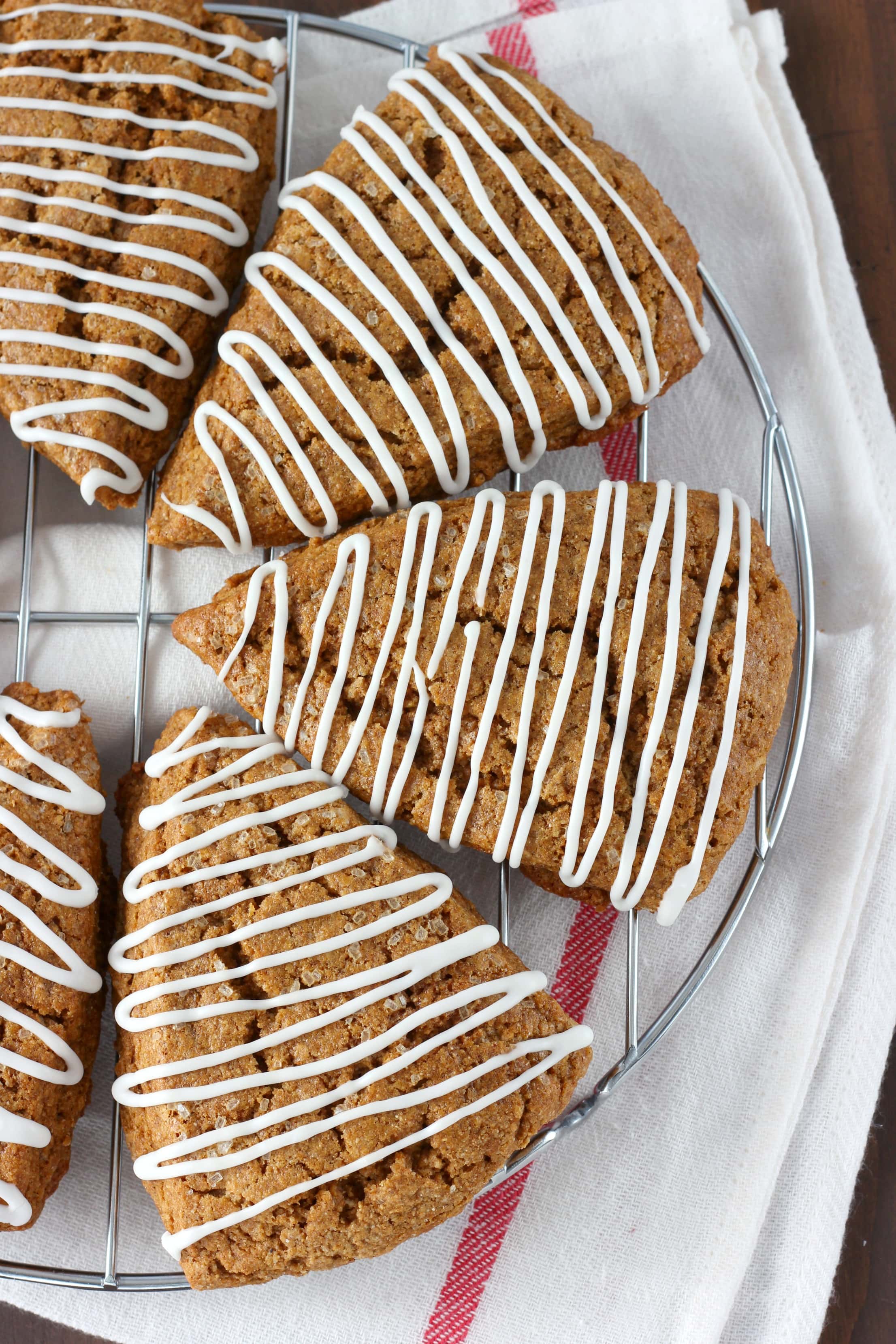 The warm spices of ginger, cinnamon, and cloves combine with molasses and a bit of brown sugar to give these scones the classic gingerbread flavor, and a simple confectioner's sugar glaze finishes them off to add a bit of sweetness.
These scones are a perfect addition to a holiday brunch or a sweet pairing to your morning cup of coffee!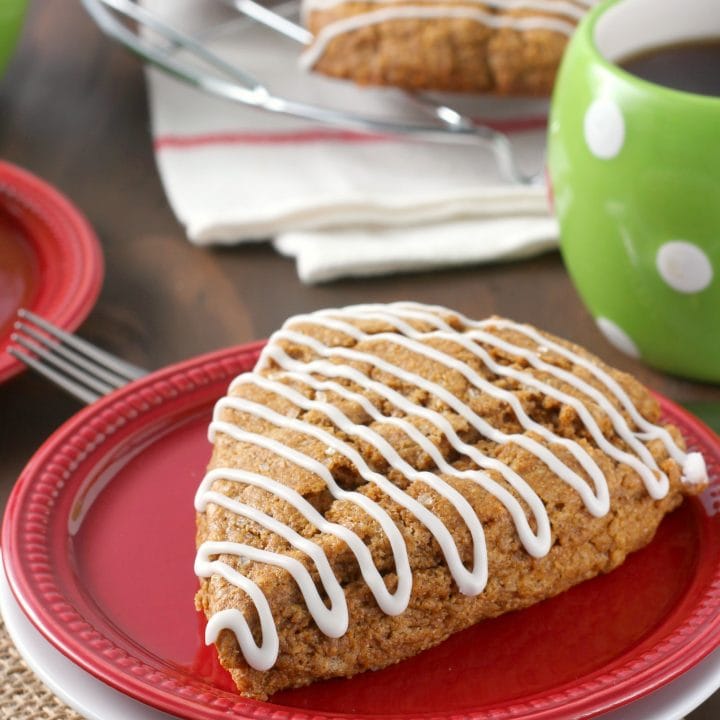 Gingerbread Scones
Ingredients
2 C white whole wheat flour
1/3 C brown sugar
2 tsp baking powder
1/2 tsp baking soda
1/4 tsp salt
2 tsp cinnamon
1 1/2 tsp ginger
1/4 tsp cloves
1/2 C unsalted butter, cold and cut into pieces
1/3 C molasses
1/3 C milk
1 egg
1 tsp vanilla extract
For the Topping
1 egg
1 tbsp water
coarse sugar
1/2 C confectioner's sugar
2 tsp milk
Instructions
Preheat oven to 375. Line a baking sheet with parchment paper or a silicone mat.
In a large bowl, whisk together flour, brown sugar, baking powder, baking soda, salt, cinnamon, ginger, and cloves.
Cut in butter until mixture resembles coarse crumbs. Stir in molasses, milk, egg, and vanilla extract just until combined.
Turn dough out onto a floured surface. Gently knead 5-6 times until dough comes together. Shape dough into an 8-inch circle. Stir together egg and water. Brush egg wash over dough. Sprinkle with coarse sugar.
Cut into 8 pieces and place on prepared baking sheet. Bake for 12-15 minutes, or until edges just start to turn golden brown.
Remove to a wire rack to cool.
Stir together confectioner's sugar and milk until smooth. Drizzle over cooled scones. Allow glaze to harden and serve.
Recommended Products
As an Amazon Associate and member of other affiliate programs, I earn from qualifying purchases.