Semifreddo. . .oh how I wish I had realized how amazing you were earlier! Really, it is so easy! And it is the subject of the this month's Blue Ribbon Challenge hosted by Anna, at Crunchy, Creamy, Sweet. I have seen many recipes for semifreddo but had always thought that they were complicated.


If you have followed my blog for any length of time, you know that I am all about uncomplicated recipes! I sure was fooled! This recipe, while it takes some thought ahead of time, is really quite simple. It is a beautiful dessert that tastes incredible! (Please pardon the "melty" pictures. Our poor kitchen was quite warm yesterday and the dessert instantly started melting as soon as I took it out of the freezer.)
Most semifreddo recipes call for heavy whipping cream as the base. While heavy cream tastes great, healthier substitutions can be made for the base that taste just as wonderful. In this case, I substituted evaporated milk and saved 31 calories and 3.5 grams of fat per tablespoon. That's a savings of 744 calories and 84 grams of fat in this dessert!
The one down-side of the substitution is that you need to work quickly and make sure that your ingredients and equipment are thoroughly chilled because evaporated milk does not whip up as stiff and will not hold its form for as long as heavy cream. Aside from that, it still yields a rich, creamy goodness! 🙂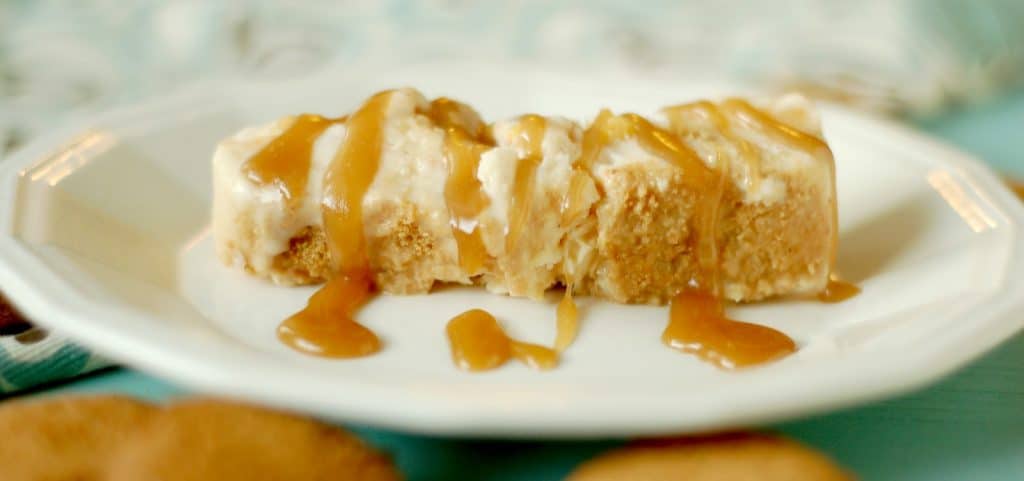 The gingersnaps and peaches were a perfect, refreshing combination for the creamy, vanilla base. I added some ginger and nutmeg to give it a bit more spice. Drizzle on some of the salted caramel sauce and you are in semifreddo wonderland!
Ginger Peach Semifreddo with Salted Caramel Sauce

Loosely adapted from: Tyler Florence – Food Network
Yield: 4 servings
Ingredients
For the Semifreddo
15 gingersnaps
1 1/2 C evaporated milk, chilled
1/3 C confectioner's sugar
1 tsp vanilla extract
1/2 tsp ground ginger
1/4 tsp ground nutmeg
1 C plain Greek yogurt
1 large peach, peeled and cut into small pieces
For the Sauce
1/3 C brown sugar
2 tbsp water
2 tbsp butter
1/2 tsp salt
Directions