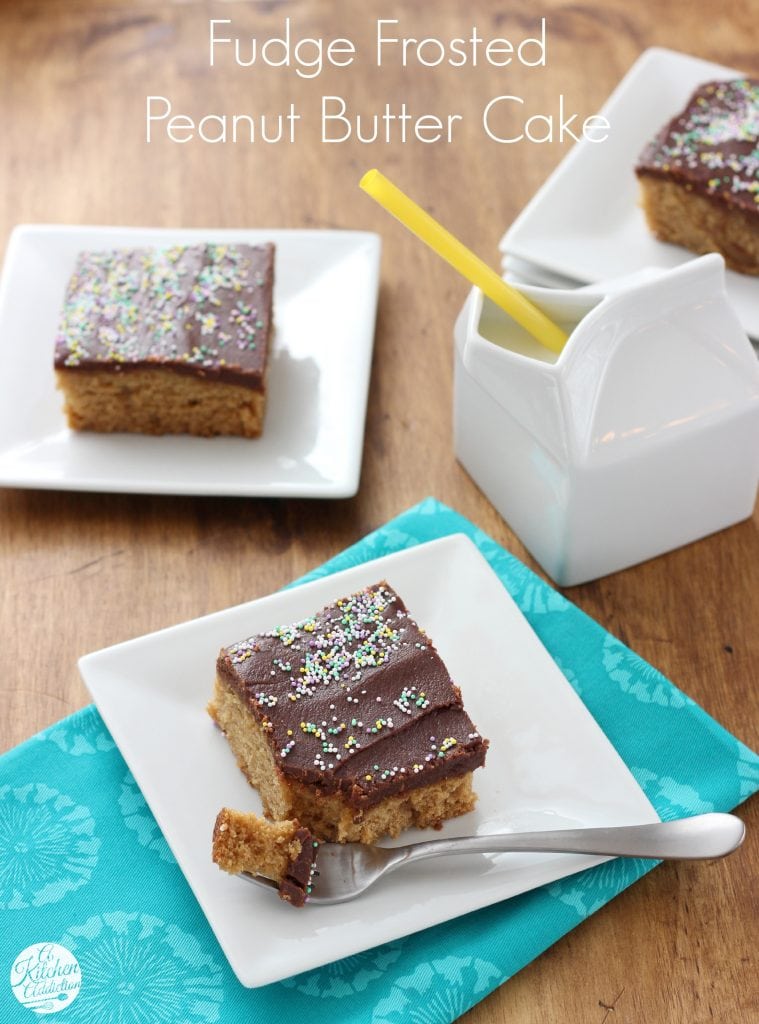 I realized the other day that I have never made a plain peanut butter cake. Sure I've made peanut butter banana cake, I've made peanut butter swirled chocolate cake, etc. but no plain peanut butter cake.
That had to change. Since peanut butter and chocolate is one of my favorite combinations. It only seemed right to make a chocolate frosting to go with it!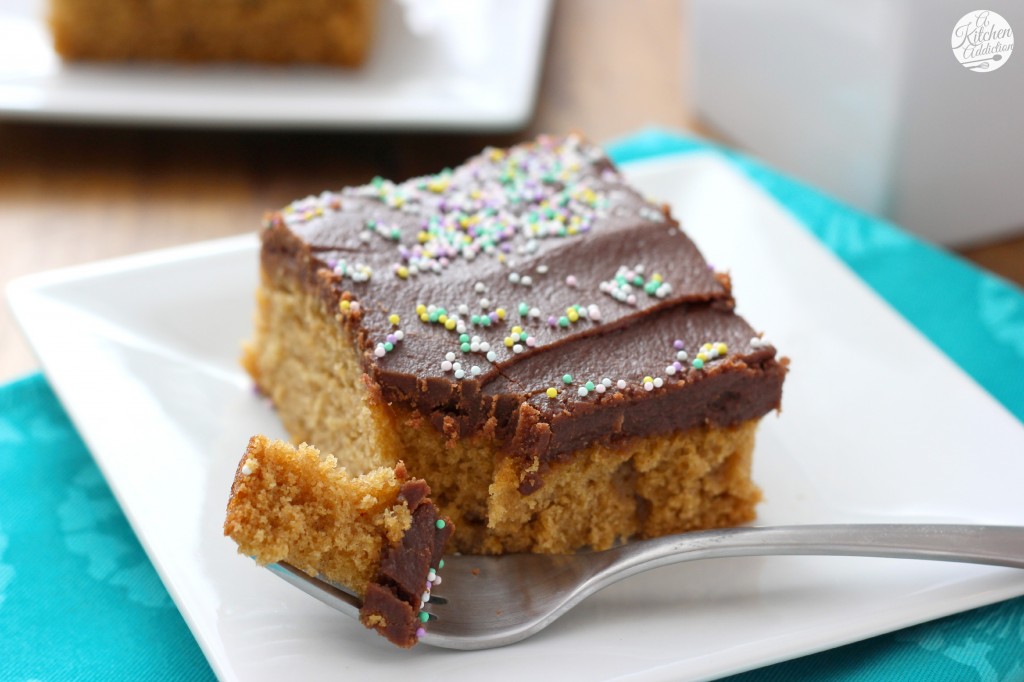 The base of this fudge frosted peanut butter cake has a light peanut butter flavor, not too intense or overpowering.
I was tempted to add more peanut butter (because peanut butter is good!), but I wanted to keep the texture from getting too dense.
It was just the right amount of peanut butter to give it flavor while keeping the cake tender.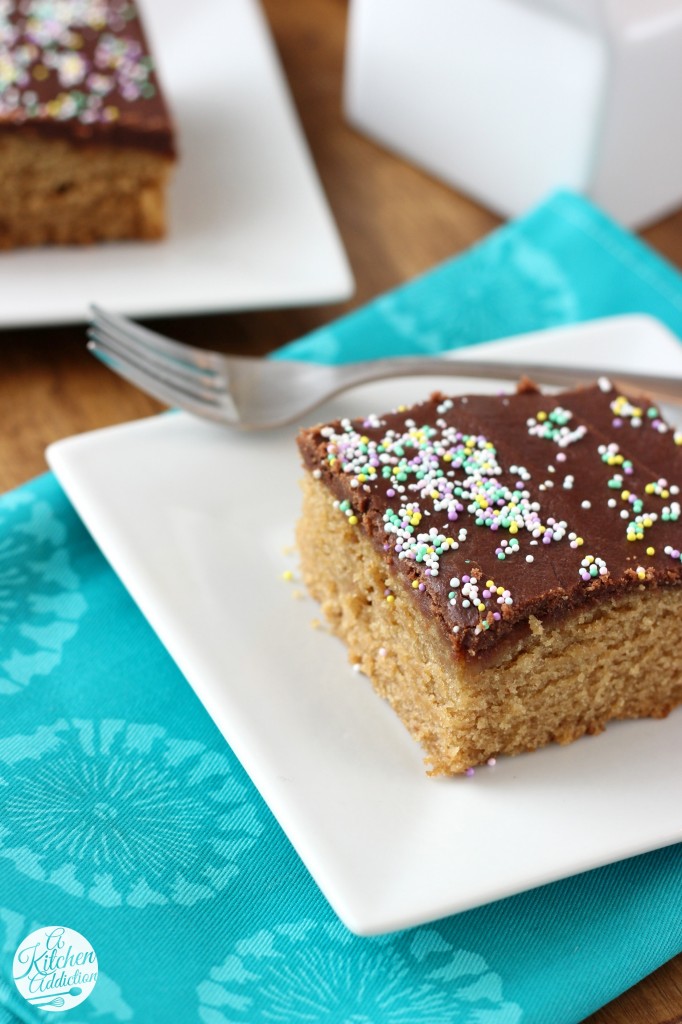 To top this peanut butter cake I went with an old standby. I use this same frosting for my family's chocolate wacky cake, and it's always been a favorite. The frosting tastes just like chocolate fudge.
It's thick, rich, and decadent. Just the right frosting for a peanut butter cake! (And just the right frosting to eat straight from the bowl. No one needs to know!)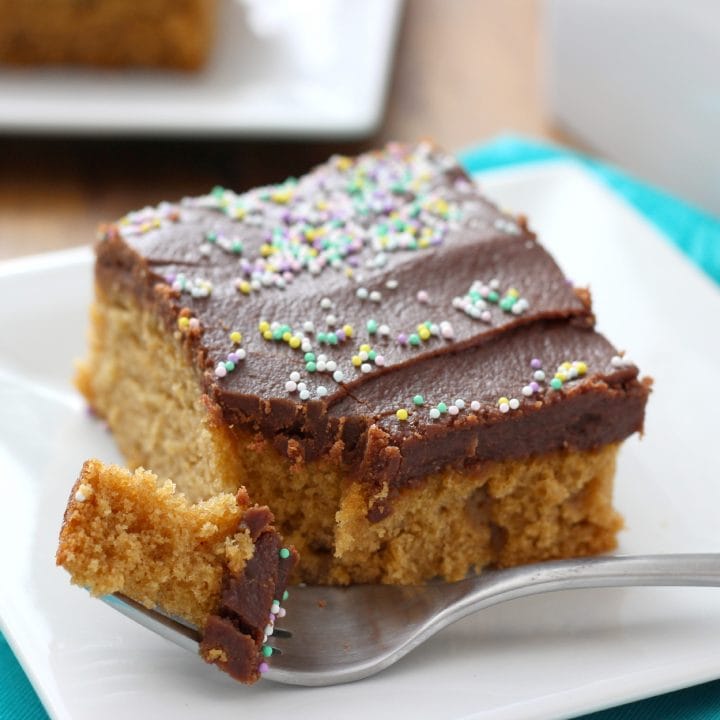 Fudge Frosted Peanut Butter Cake
Ingredients
For the Cake
1/3 C creamy peanut butter
1 C water
1/2 C butter
1 C sugar
1 C brown sugar
2 C flour
1/2 tsp salt
1 tsp baking soda
2 eggs
1/2 C milk
1 tsp vanilla extract
For the Frosting
1 1/2 C sugar
3 tbsp unsweetened baking cocoa
1/3 C milk
1/3 C butter
1 tsp vanilla extract
Instructions
Preheat oven to 375. Lightly spray a 9x13 inch baking dish with non-stick cooking spray.
In a medium saucepan, melt together peanut butter, water, and butter over medium heat. Stir to prevent scorching. Remove from heat.
In a large bowl, whisk together sugars, flour, salt, and baking soda. Stir in peanut butter mixture. Add eggs, milk, and vanilla extract and beat until well-combined.
Pour batter into prepared baking dish. Bake for 25-30 minutes or until toothpick inserted in the center comes out clean.
Remove to a wire rack to cool.
In a medium saucepan, stir together sugar and baking cocoa. Add in milk and butter. Bring to a boil over medium heat. Stir constantly to prevent scorching. Boil for 5 minutes. Remove from heat and add vanilla. Beat with a sturdy spoon until glossy and thickens. This will take a few minutes.
Spread over cooled cake. Frosting hardens as it cools, so work quickly.
Cut into pieces and serve.
Recommended Products
As an Amazon Associate and member of other affiliate programs, I earn from qualifying purchases.
The base of the cake is adapted from
The Girl Who Ate Everything
.