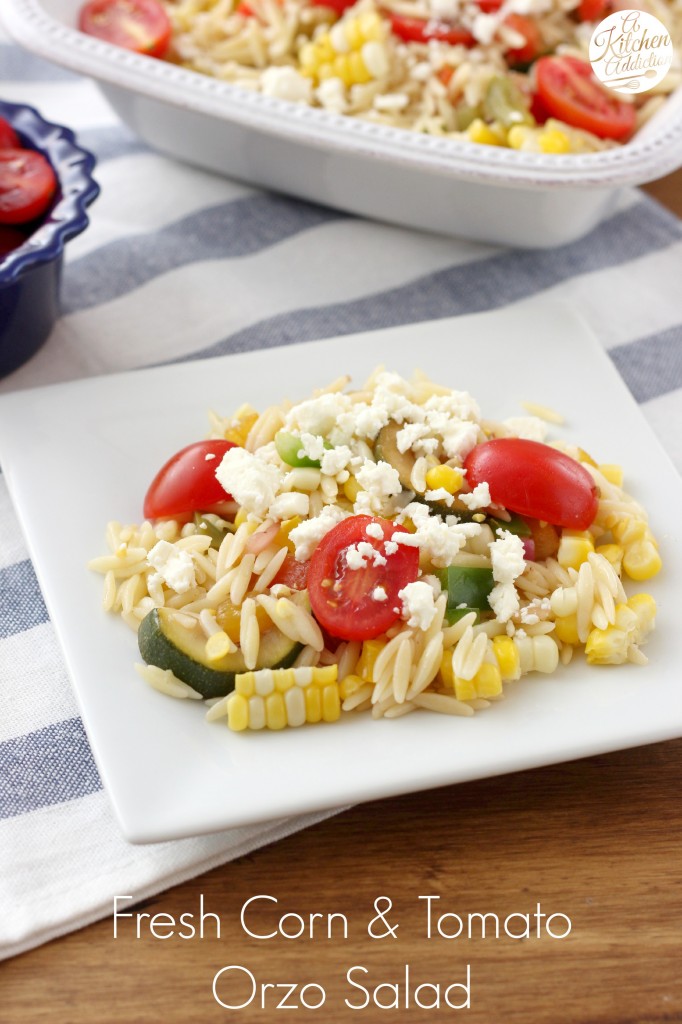 Sweet corn is a summer staple at our house. I grew up where fresh sweet corn was cheap and abundant (and tasted amazing!). We ate it all the time and froze it so that we could still enjoy the flavor of sweet corn during the winter. I'm no longer able to get sweet corn super cheap, but I still can't resist picking up a few ears when it first hits the stores. It just wouldn't be summer without it!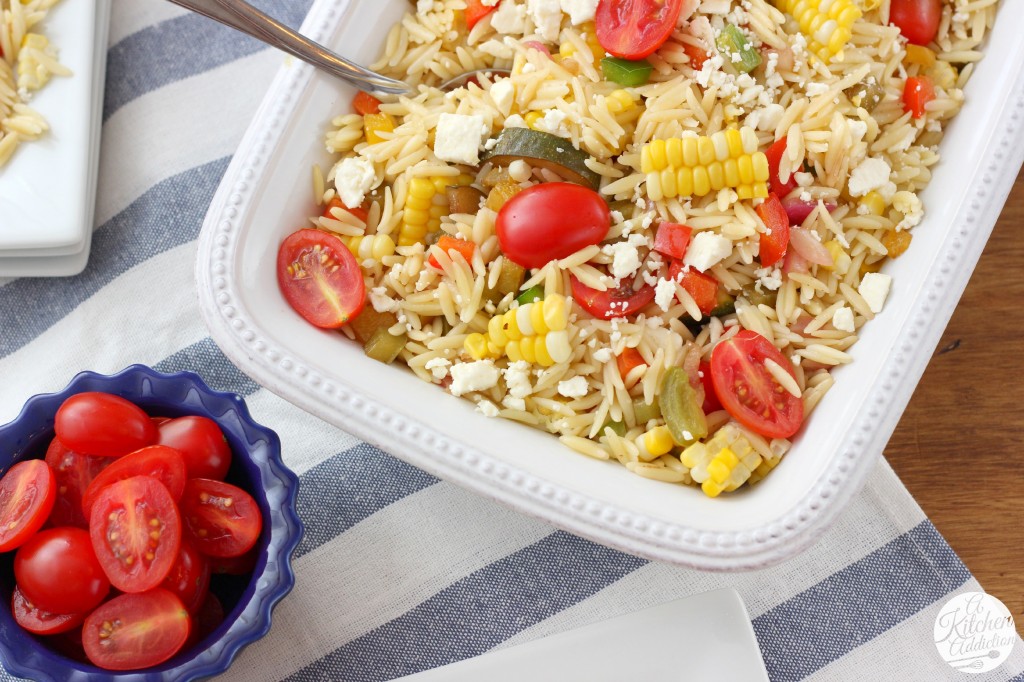 I'm perfectly content eating corn straight off the cob, but I also enjoy adding it to fresh, summery salads. This fresh corn and tomato orzo salad is already a new favorite that will be making many more appearances this summer. It's quick, easy, and full of flavor. . .just the way summer salads should be!
The base of the salad is orzo pasta that is then tossed with some summer veggies that are cooked in a balsamic glaze to add another layer of flavor. Fresh tomatoes and sweet corn are added next to finish off the fresh flavors. Right before serving, the salad is tossed with feta cheese crumbles. This recipe makes a lot, so it's a perfect dish to serve as at a gathering. Or, make it at the beginning of the week along with some grilled chicken and you have delicious meals as leftovers for weekday lunches!
Fresh Corn and Tomato Orzo Salad
Author:
Ingredients
For the Salad
1 1/2 C uncooked orzo
3 medium ears of sweet corn, cooked and kernels cut off cobs
1 C green, red, or yellow bell peppers, chopped
1 1/2 C zucchini, sliced
1/2 C red onion, chopped
1 1/2 C grape tomatoes, halved
1 C feta cheese crumbles
For the Dressing
1/4 C olive oil
3 tbsp balsamic vinegar
2 tbsp lemon juice
3 garlic cloves, minced
1/2 tsp salt
1/4 tsp black pepper
Instructions
Cook orzo according to package instructions.
In a large bowl, mix together peppers, zucchini, and onion.
In a small bowl, whisk together olive oil, balsamic vinegar, lemon juice, garlic, salt, and pepper. Drizzle over veggies and toss to coat.
Place veggies in a large skillet over medium heat, cook for about 5 minutes or until peppers become tender.
Stir cooked veggies into orzo. Add corn, tomatoes, and feta. Stir until just combined.
Serve. Can be served warm or cold.