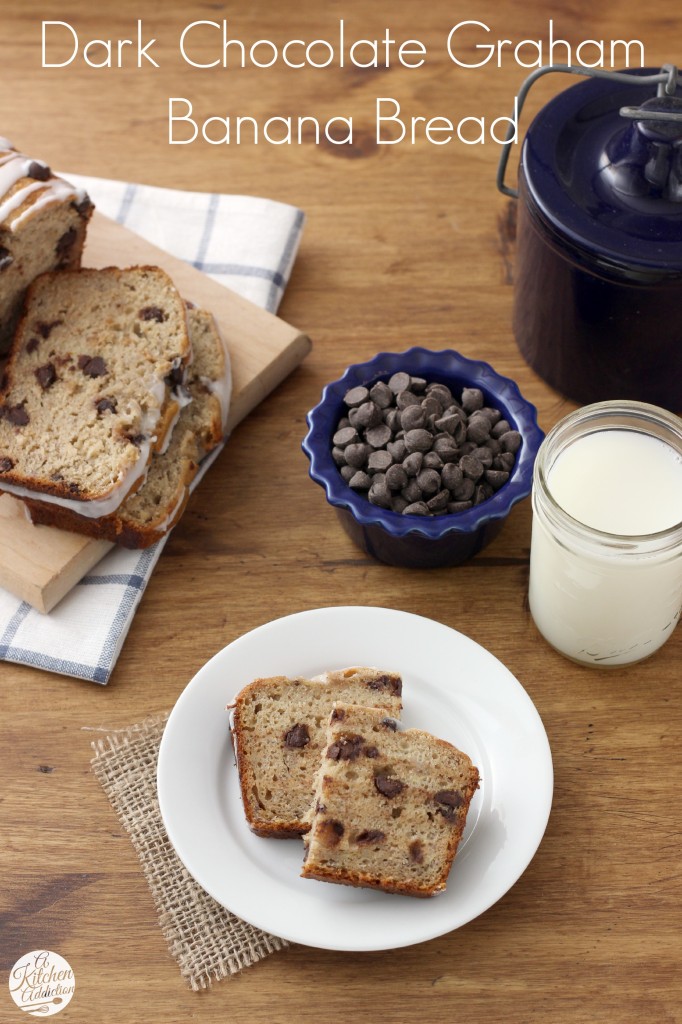 I realized something somewhat unbelievable the other day. I don't have a single banana bread recipe on the blog!
Sure I have banana bread donuts, scones, pancakes, waffles, cinnamon rolls, etc., but no banana bread. Obviously that had to change. So, I'm sharing one of my favorites with you. Dark chocolate chip graham banana bread!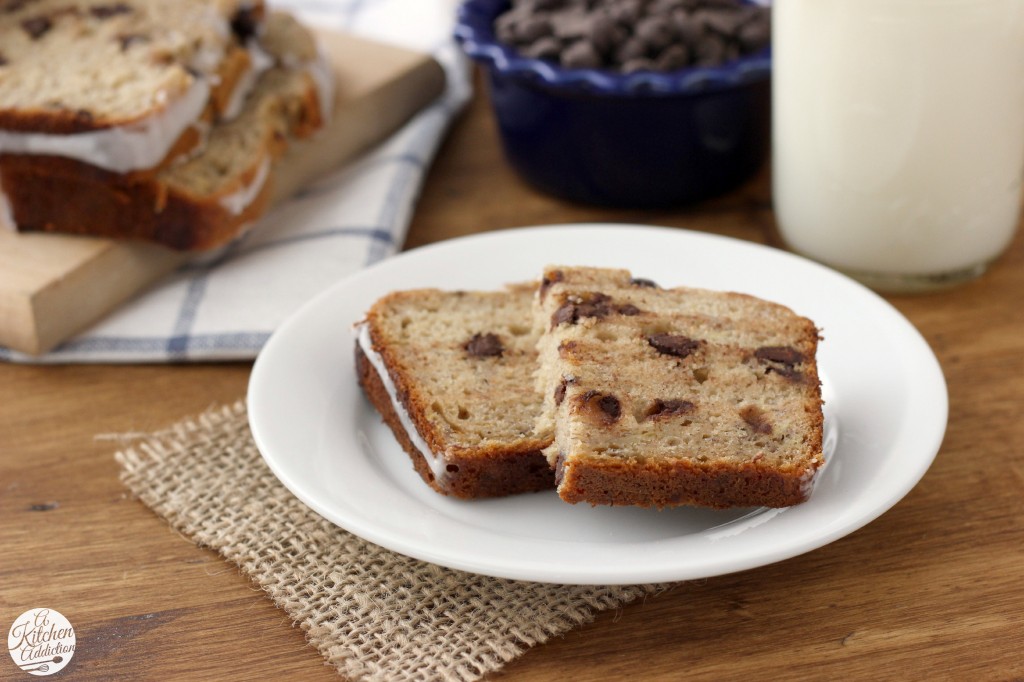 This banana bread is a variation of my favorite recipe that I have been using for years. I'm not sure anymore where it's originally from. I just know that it's handwritten on a very smudged and splattered piece of notebook paper!
The original recipe made two loaves and used applesauce as the substitute for oil. I've changed it over the years to just one loaf, yogurt as the main replacement of oil, and multiple add-ins. However, it's still just as tasty.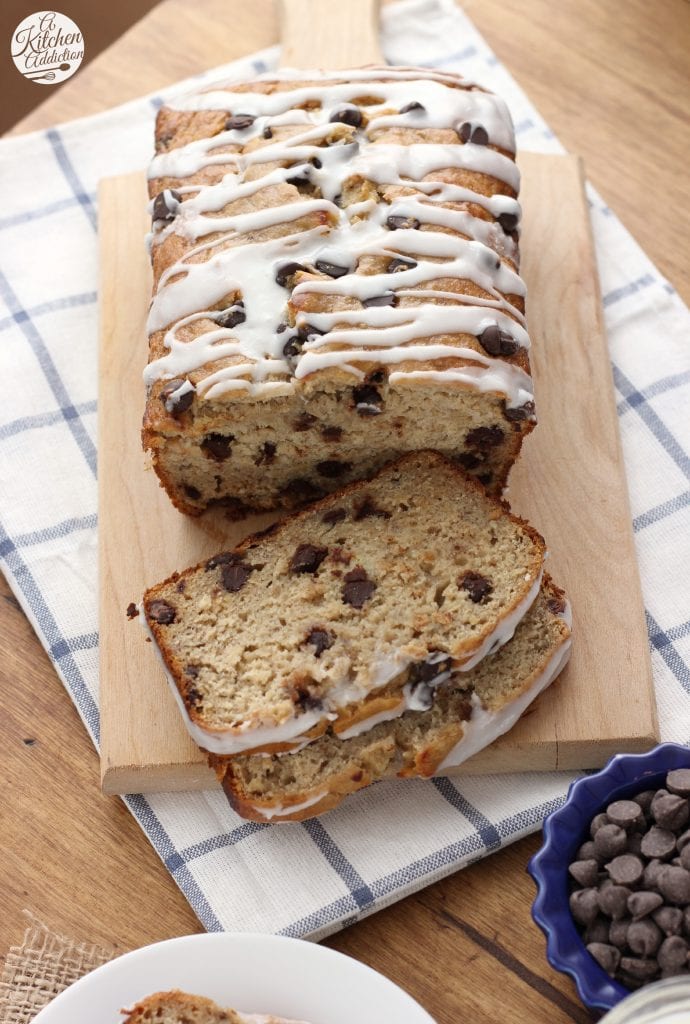 This variation uses crushed graham crackers to replace some of the flour and lots of dark chocolate chips stirred in to complement the graham flavor.
A simple glaze is drizzled over the top to finish off this flavorful banana bread!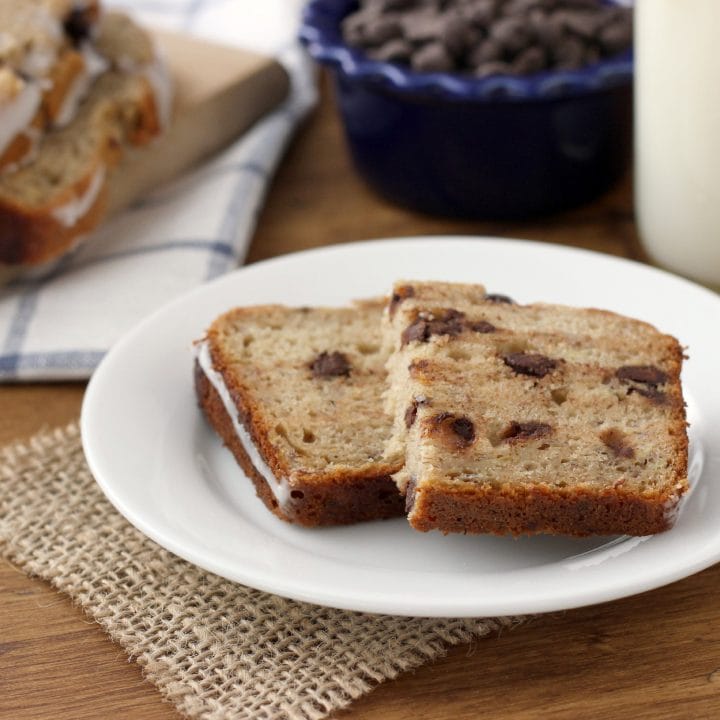 Dark Chocolate Chip Graham Banana Bread
Ingredients
For the Bread
1 1/2 C white whole wheat flour (or all-purpose flour)
3/4 C crushed graham crackers
1 tsp baking powder
1/2 tsp baking soda
1/2 tsp salt
1/4 C brown sugar
1/4 C honey
1 1/2 C mashed bananas
1/2 C plain Greek yogurt
3 tbsp olive oil
2 eggs
1 tsp vanilla extract
1/3 C dark chocolate chips
For the Glaze
1/2 C confectioner's sugar
1 tbsp half & half or milk
Instructions
Preheat oven to 350. Lightly spray 9 x 5 inch loaf pan with non-stick cooking spray.
In a large bowl, whisk together flour, crushed graham crackers, baking powder, baking soda, salt, and brown sugar.
In a medium bowl, whisk together honey, mashed bananas, yogurt, oil, eggs, and vanilla extract.
Add wet ingredients to dry ingredients and stir until just combined. Stir in chocolate chips.
Pour batter intro prepared loaf pan.
Bake for 45-55 minutes, or until toothpick inserted in the center comes out clean.
Remove to a baking rack to cool.
While bread is cooling, whisk together confectioner's sugar and half & half until smooth. Drizzle over cooled bread. Allow to harden and slice and serve.
Recommended Products
As an Amazon Associate and member of other affiliate programs, I earn from qualifying purchases.