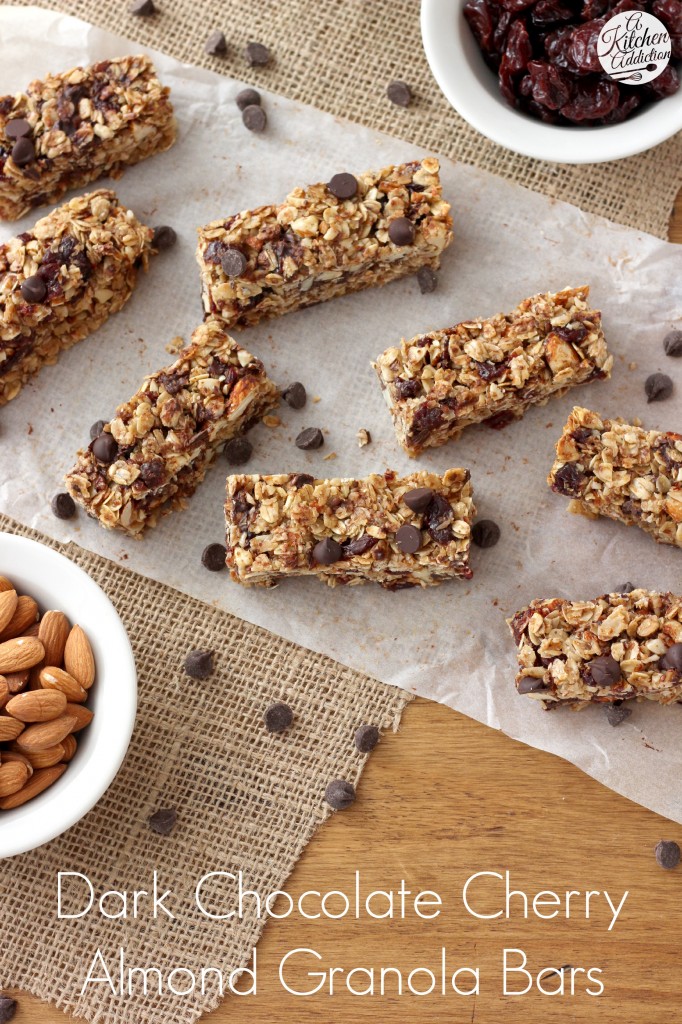 I don't know about your house, but thick, chewy granola bars are a favorite around here. Since we go through so many, I've been trying to make sure that I make homemade granola bars on a regular basis. If I didn't, we'd be spending a small fortune on the store bought ones! That, and I love the variety of the combination of flavors you can have with homemade granola bars. My new favorite flavor combo? Dark chocolate cherry almond!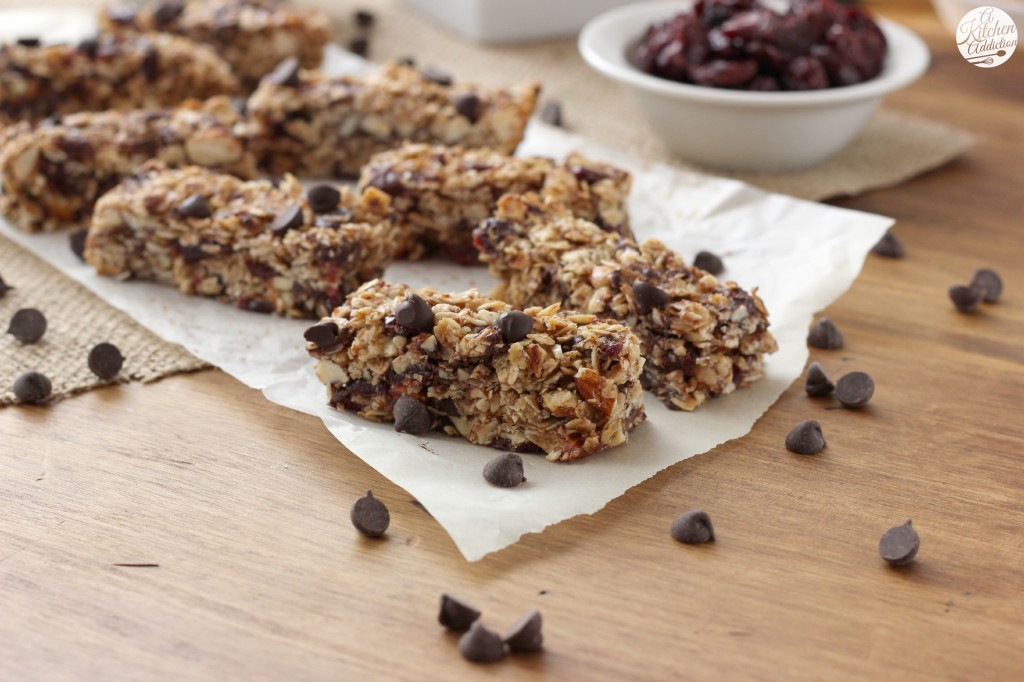 Crunchy almonds, tart, chewy cherries, and sweet dark chocolate chips pack these granola bars with lots of flavor, while oats, oat bran, flaxseed, honey, and coconut pack the bars with nutrients! I used a bit of brown sugar to give them a hint of a cookie flavor, but you could easily leave it out and the granola bars would be sweet enough.
Not only are the bars flavorful and healthy, but they also are no-bake! The coating is melted together on the stovetop, but you don't need to worry about the oven. Just mix everything together, press it in a pan and let it refrigerate. You'll be enjoying your new favorite granola bars in no time!
Dark Chocolate Cherry Almond Granola Bars
Author:
Ingredients
2 1/4 C old-fashioned rolled oats
1/4 C wheat bran or oat bran
1/4 C ground flax seed
1/2 tsp salt
1 C chopped or slivered almonds
2/3 C honey
3 tbsp coconut oil
3 tbsp brown sugar
1 tsp vanilla extract
1 C dried tart cherries, chopped
1/4 C dark chocolate chips
Instructions
Line an 8×8 inch or 9×9 inch baking dish with parchment paper so that the edges hang over the sides of the dish.
In a large bowl, stir together oats, wheat bran, flax seed, salt, and chopped almonds.
In a small saucepan, heat together honey, coconut oil, brown sugar, and vanilla extract over medium heat until coconut oil is melted and brown sugar is dissolved. Bring to a boil and stir for one minute. Remove from heat.
Pour over oat mixture and stir until coated. Stir in cherries and dark chocolate chips.
Pour mixture into prepared baking dish. Press firmly into the bottom of the pan. (If you do not press mixture firmly into the bottom of the pan, the bars will fall apart later.)
Refrigerate for 2 hours before cutting into bars. Store in an airtight container.