Crunchy, salty, creamy, addicting. . .this recipe has all of the elements of a great snack! Oh, and I forgot to list, SUPER easy to make! Throwing together a handful of ingredients is all it takes. The chili powder gives a kick to the refreshing lime flavor and makes for a unique twist to an already delicious, healthy snack.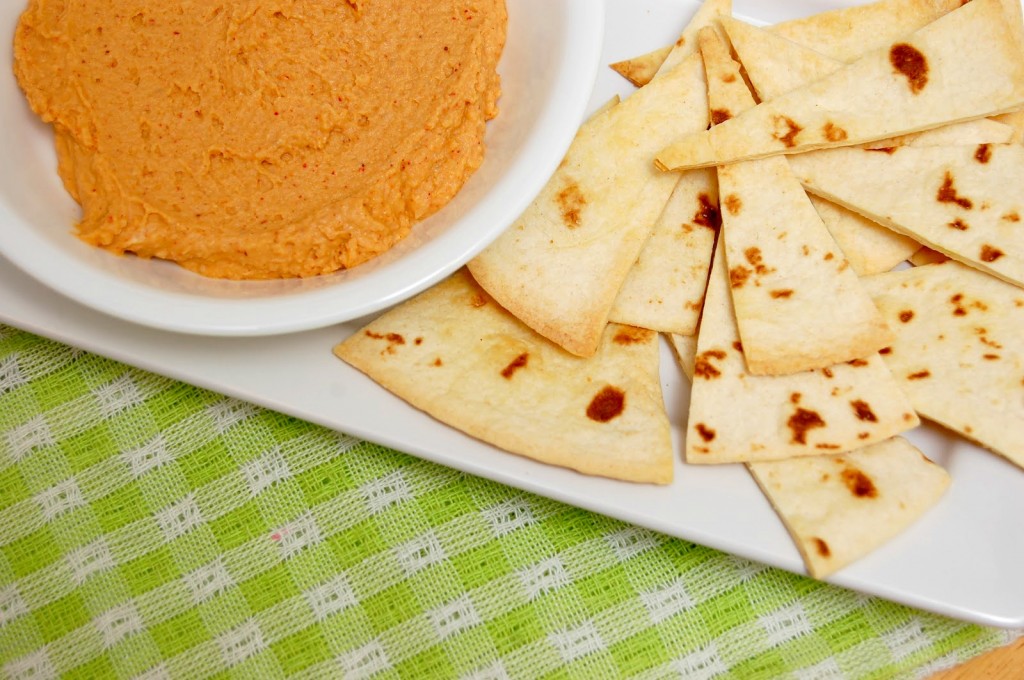 Homemade chips are perfect for us because my husband likes the big chips and I'm always picking out the smaller, broken pieces. When we make them, we both get the size we want! 🙂 Plus, we can season them with whatever spices go well with what we are eating. So convenient!
Creamy Chili Lime Hummus with Homemade Baked Tortilla Chips

Yield: about 1 C
Ingredients
1 large or 2 small garlic cloves, peeled
1 15oz can cannelloni/white beans, rinsed and drained
3 tbsp fresh lime juice
2 tbsp tahini
1 tbsp (or more if you like spice!) chili powder
1tbsp olive oil
1/8 tsp salt, optional
For the Chips
soft tortillas, any kind, any size
olive oil or cooking spray
your choice of: garlic salt, salt, pepper, onion powder, oregano, or any other spice you like!
Directions
Preheat oven to 400.
Cut tortillas into desired sizes. Lightly brush olive oil or spray cooking spray over both sides of the tortilla pieces. Sprinkle with your choices of spices.
Bake for 5-10 minutes, turning halfway through, or until chips turn slightly brown. Time will depend on how large you cut the pieces.
While chips are baking, start on the hummus.
Place garlic gloves in a food processor. Pulse until pureed. Add beans, lime juice, tahini, chili powder, olive oil, and salt. Pulse until smooth.
Serve with freshly baked tortilla chips. Enjoy!