How would you like a morning that isn't just a frantic dash out the door or how about a frantic morning where at least you get breakfast?! Wouldn't that be great? Then just spend a little time this weekend whipping up a batch of these breakfast cookies and you'll have just that! They are thick, moist, and packed with protein and complex carbs to get your morning started out right. Plus they aren't crumbly, so no crumbs in your car even! 🙂
A whole week's worth of breakfast right there!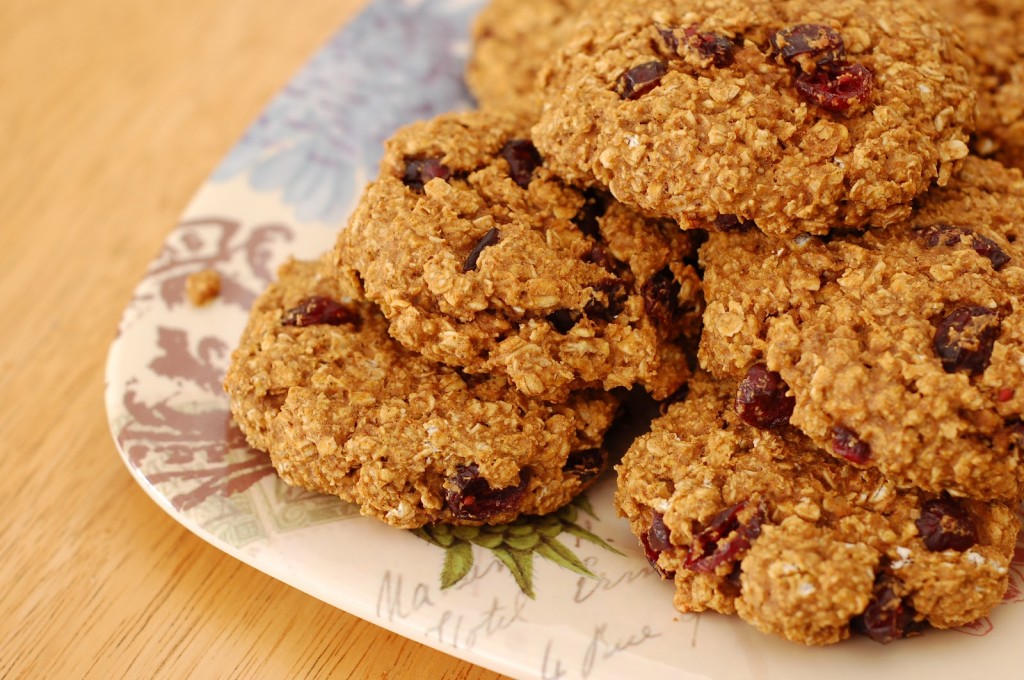 Cran-Oat-Kin Breakfast Cookies Pin It
Yield – 16 cookies
Ingredients:
2/3 C oat flour**
1/2 C all-purpose or whole wheat flour
1 tsp baking soda
1/2 tsp salt
1 1/2 tsp cinnamon
1 1/2 tsp nutmeg
3 C quick or regular oats (not instant)
1/2 C brown sugar or honey
1/2 C sugar substitute
1 C canned pumpkin (not pumpkin pie filling)
2 tbsp canola oil
1 1/2 tsp vanilla
2 eggs
3 tbsp maple syrup
1 C dried cranberries
**If you do not have oat flour (like me when I started this recipe!), use regular flour in its place or make your own! Place regular oats in a
food processor
and pulse until the oats become the consistency of flour. It's that simple!
Directions:
Preheat oven to 350.
Stir together flours, soda, salt, cinnamon, and nutmeg in a large bowl.
In a separate bowl, mix together brown sugar, sugar substitute, pumpkin, oil, vanilla, eggs, and maple syrup until well-blended.
Pour the liquid ingredients into the dry ingredients and stir until thoroughly combined.
Stir in the oats and dried fruit.
Drop by 1/4 C fulls onto a greased cookie sheet. Bake for 7-10 minutes or until starting to turn light brown. Let cool for one minute on cookie sheet before moving to a wire rack to cool completely. Store in an airtight contatiner.