What if you could find a comfort food that was packed with protein and fiber and was low in sodium, sugar, and fat?? That would be great, right?! Well, here is one to start off your collection! This cornbread chili bake has all of the nutrients of a "health food" and all of the taste of "comfort food!"
Plus, you can put a Healthy Habit to good use by ridding the ground beef of the excess fat that isn't needed or wanted!
Draining the Ground Beef
Make Sure the Beef Simmers to Allow all of the Flavors to Blend!
Shredded Cheese to Top it Off. 🙂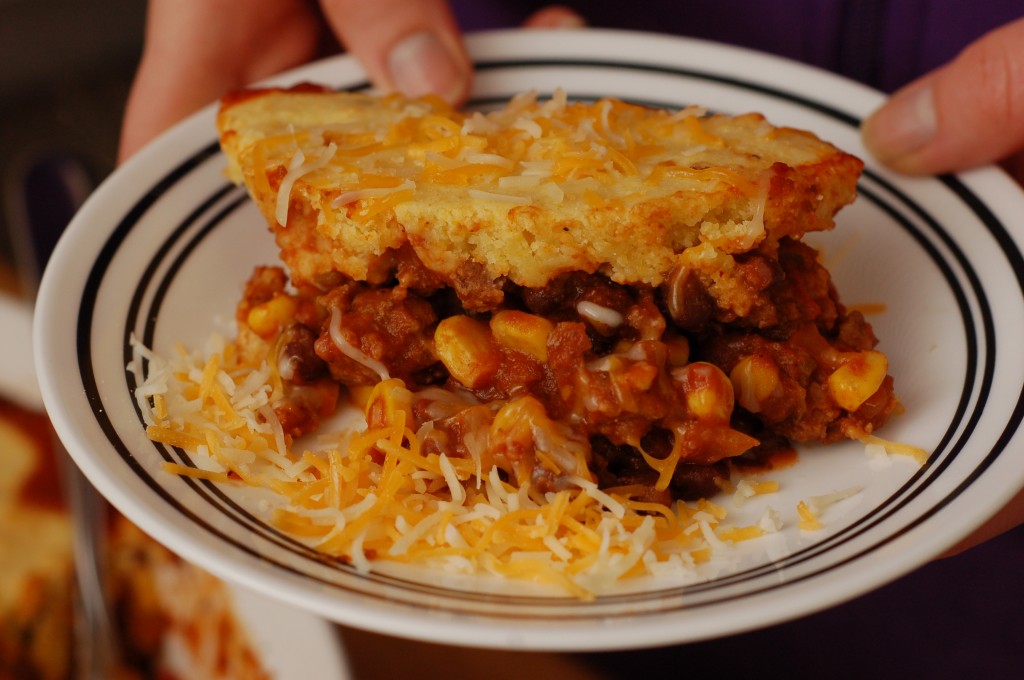 Cornbread Chili Bake Pin It
Ingredients:
1 lb lean ground beef
1 small onion, finely chopped
1 tsp dried oregano
1 tsp dried garlic powder
2 tsp chili powder
1 C salsa
1 – 8oz can no salt added tomato sauce
1 – 16oz can no salt added whole kernel corn or 2 C frozen corn, thawed
1 C no salt added black beans, rinsed and drained
1 C chili beans
1/2 C reduced fat cheddar or part-skim mozzarella cheese
1 – 8oz package corn muffin mix, plus ingredients called for on box
Directions:
Brown ground beef and onion in a medium skillet until beef is completely cooked. Drain fat from skillet and pat beef with paper towel.
Transfer beef to a strain and pour hot water of the beef allowing the excess fat to drain off. Let drain for a couple of minutes. While beef is draining, wipe down pan with paper towels. For a more detailed description of this process please refer to this post; Healthy Habits: Blotting and Straining Ground Beef.
Return beef back to skillet and stir in oregano, garlic, and chili powder.
Add salsa, tomato sauce, corn, black beans, and chili beans. Cook until mixture is hot and bubbly. Stir in the cheese.
Make corn muffin mix according to directions on box.
Pour beef mixture into a grease 2 1/2 quart casserole dish.
Spread the corn muffin mixture of the top. Bake at 375 for 25 minutes or until cornbread is golden brown.
Let stand 10 minutes before serving.