Dark chocolate. I am sure that you have all figured out by now that I am prone to giving in to desserts that contain dark chocolate, especially extra-dark chocolate. And if you haven't
check
these
recipes
out
. 🙂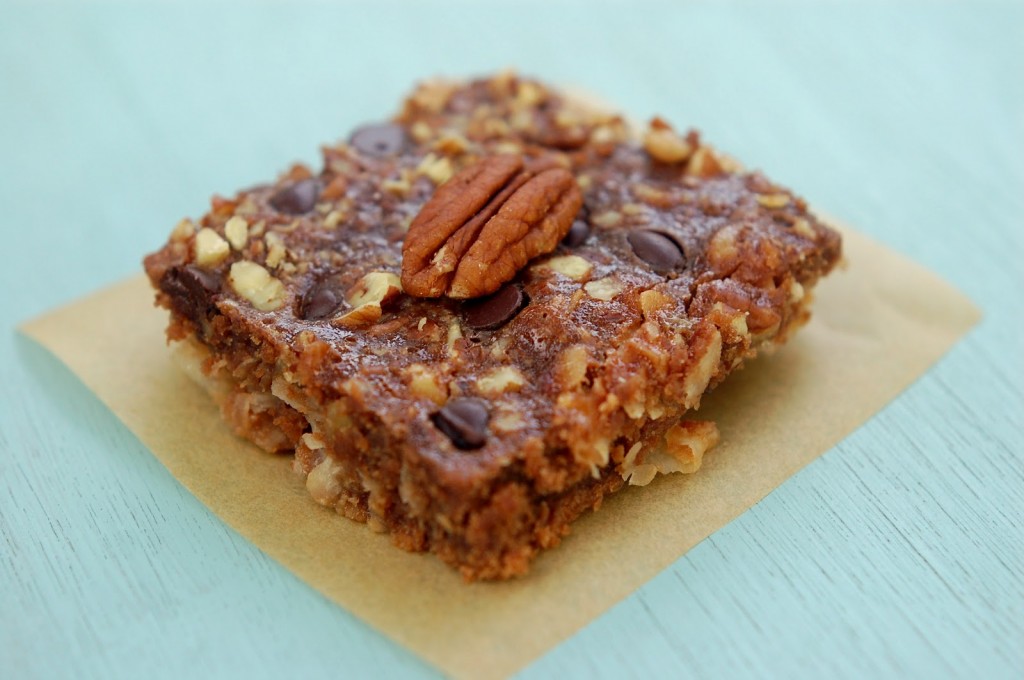 Dark chocolate is just so much better than milk chocolate. It isn't super sweet and there is no masking the taste of chocolate. It's intense and rich. These brownies contain dark chocolate. . .
Brownies that contain dark chocolate, well I'm just about a goner. You just have to have one. . .Or two. . .And then think about running later. Because it's Friday. At least that is how my rationalizing seems to go! 🙂
Each chewy bite is loaded with dark chocolate and rich pecans and coconut. The sweetened condensed milk offers an added creamy richness that is always a good thing! 🙂
But don't worry, it's practically a health food with fat-free sweetened condensed milk, half unsweetened coconut, yogurt, and pecans (for protein, of course!)! So, go grab a big cold glass of milk and dig in! And have an amazing weekend!!
Coconut Pecan Dark Chocolate Brownies

Yield: 9 bars
Ingredients
For the Filling
7 oz fat-free sweetened condensed milk
1/2 C sweetened flaked coconut
1/2 C unsweetened flaked coconut (you can use all sweetened if you like your sweets!)
1/4 C chopped pecans
For the Brownies
4 tbsp butter
2 oz dark chocolate chips
1/2 C sugar
1/4 C non-fat plain yogurt
2 eggs, lightly beaten
1 tsp vanilla extract
1/2 C all-purpose flour
chopped pecans and dark chocolate chips for garnish, optional
Directions
Preheat oven to 350. Spray an 8×8 baking pan with non-stick cooking spray.
In a small bowl, stir together sweetened condensed milk, coconut, and pecans until well-combined. Set aside.
In medium saucepan, melt butter and chocolate over low heat stirring occasionally to prevent burning. Stir in sugar until smooth. Transfer mixture to a medium bowl. Mix in yogurt, eggs, and vanilla until well-blended. Stir in flour until just combined. Set aside 1/2 cup of batter.
Pour remainder of batter into baking pan. Spoon coconut mixture of the top of the batter. Gently swirl with knife if you want a more uniform blend of the coconut. Spoon remainder of batter over the top of the coconut. Sprinkle with chopped pecans and dark chocolate chips.
Bake for 20-25 minutes or until toothpick inserted in the center comes out clean.