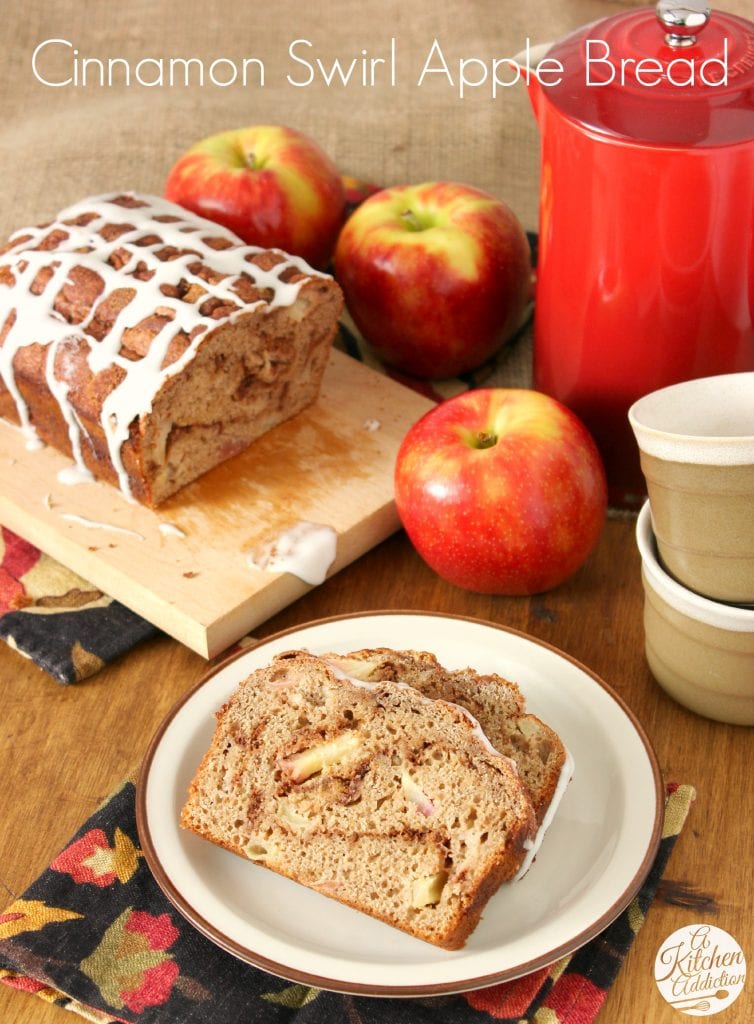 Well, our week was a flurry of activity, and I'm having trouble remembering exactly what happened on Monday! Do you ever have those kinds of weeks?
All I know is that the past week has consisted of waiting (rather impatiently) to get our electricity back on, stopping in coffee shops to catch up on e-mail, hauling lots of branches, talking with insurance adjusters, waiting for inspectors, and praying that it won't rain again anytime soon!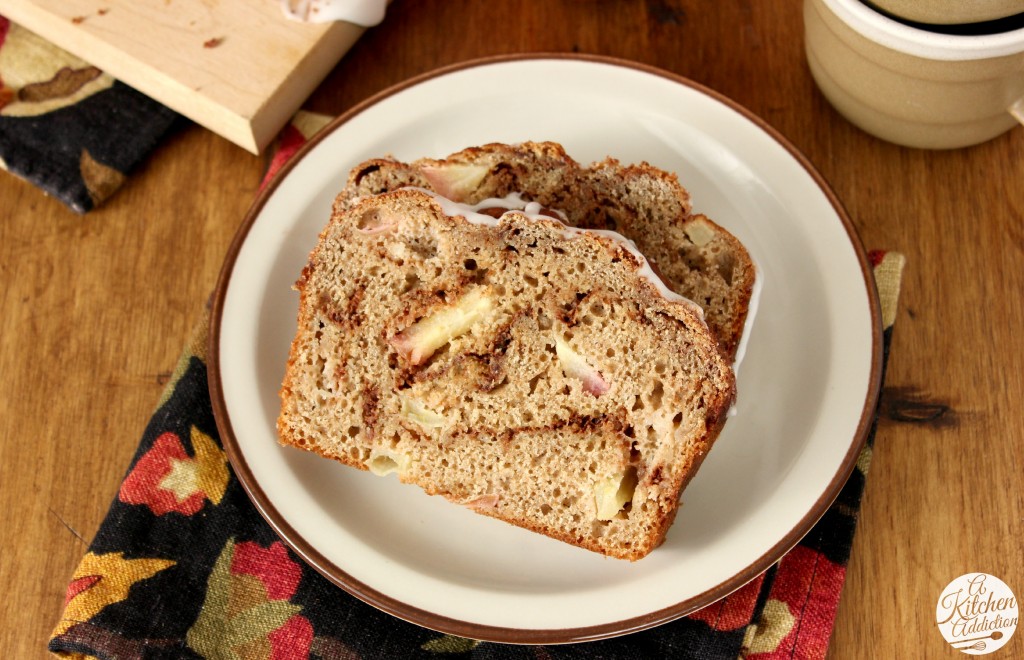 I was pretty excited when things calmed down a little and I was finally able to get back into the kitchen to bake! The first thing I made was this whole wheat cinnamon swirl apple bread.
I had just picked up some Jonagold apples for baking before the storm and thought a cinnamon swirl bread would be perfect for them.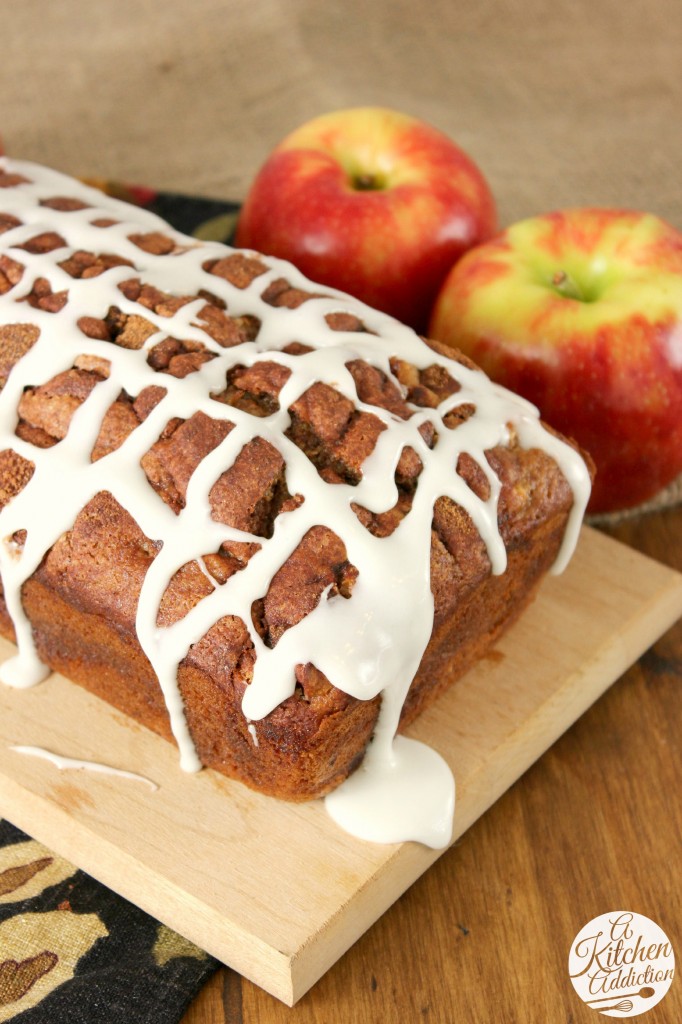 The tartness of these fall apples is offset by the sweet cinnamon swirl and light sugar glaze. In order to keep it on the healthier side, I used a combination of whole wheat and white whole wheat flours. Unsweetened applesauce is used in place of oil and to add to the apple flavor.
Perfect for breakfast, snack, or dessert, this easy cinnamon swirl apple bread has quickly become a favorite at our house!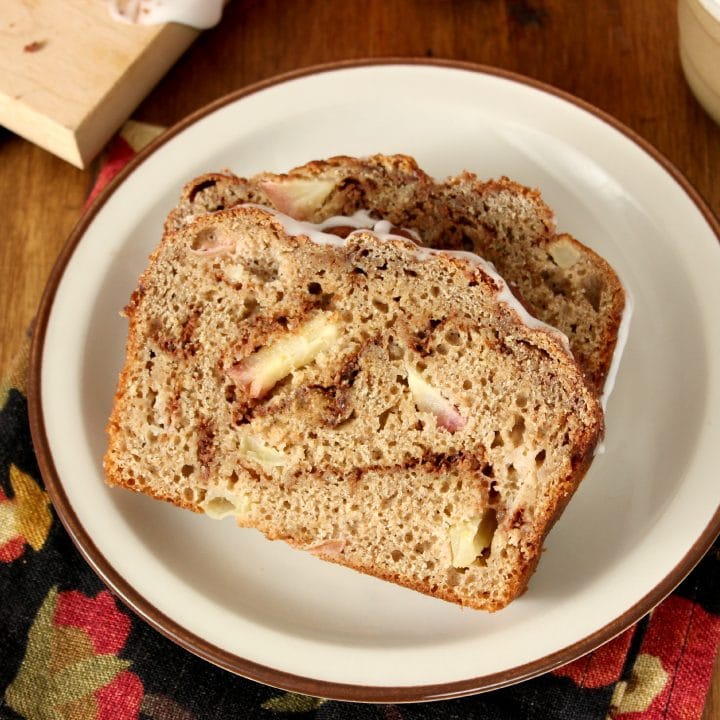 Cinnamon Swirl Apple Bread
Yield:
12 slices of bread
Ingredients
For the Bread
1 C whole wheat flour
1 C white whole wheat or all-purpose flour
3/4 C sugar
2 tsp baking powder
1/2 tsp baking soda
1/2 tsp salt
1 tsp cinnamon
1/4 tsp nutmeg
1/8 tsp ginger
1 C low-fat buttermilk
1 egg
1/3 C unsweetened applesauce
1 1/2 C apples, chopped
For the Swirl
2 tbsp sugar
1 tbsp brown sugar
2 tsp cinnamon
1/2 tsp nutmeg
1/8 tsp ginger
1/8 tsp allspice
For the Glaze
1/2 C confectioner's sugar
1 tbsp milk
Instructions
Preheat oven to 350. Lightly spray a 9 x 5 inch bread pan with non-stick cooking spray.
In a medium bowl, whisk together flours, sugar, baking powder, baking soda, salt, cinnamon, nutmeg, and ginger.
In a large bowl, carefully whisk together buttermilk, egg, and applesauce. Add dry ingredients to wet ingredients and stir until just combined. Fold in apples.
In a small bowl, stir together sugars, cinnamon, nutmeg, ginger, and allspice.
Pour a third of the batter into the bottom of prepared bread pan. Sprinkle with a third of the cinnamon sugar mixture. Repeat with remaining batter and cinnamon sugar mixture.
Carefully swirl a knife through the batter crosswise.
Bake for 50-60 minutes or until toothpick inserted in the center comes out clean.
Allow bread to cool for 20 minutes before turning out onto a wire rack.
Stir together confectioner's sugar and milk. Drizzle glaze over warm bread. Serve.
Recommended Products
As an Amazon Associate and member of other affiliate programs, I earn from qualifying purchases.