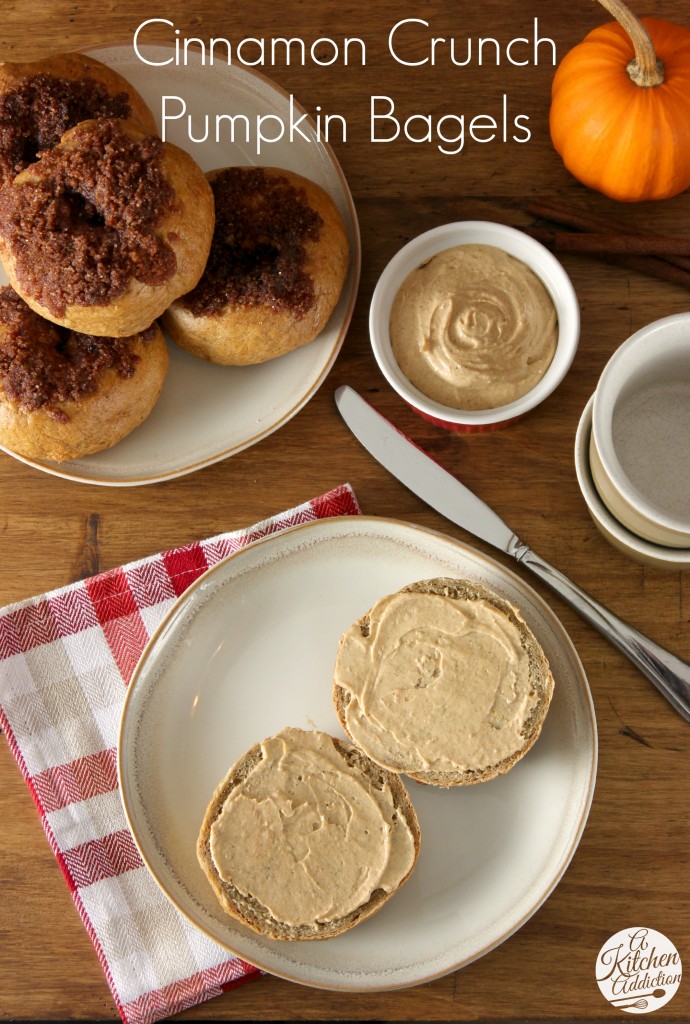 Homemade bagels aren't something that get made around here very often. In fact, I think I've only made them a couple of other times. Each time I make them, and I'm enjoying the first warm, chewy bite, I wonder why I don't make them more often. That happened when I took my first bite of these cinnamon crunch pumpkin bagels. Sure, they require a couple of rises, but the actual process isn't difficult. Don't let the longer list of instructions scare you off!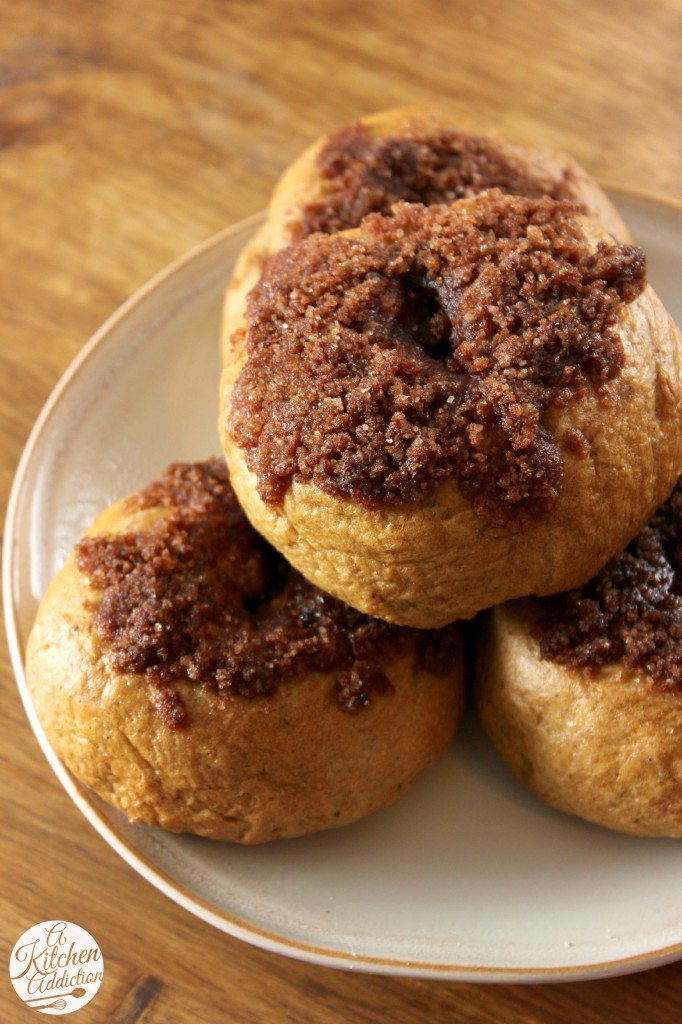 Since it's fall, and I'm still loving all things pumpkin, I decided to go with a pumpkin bagel filled with pumpkin puree and pumpkin pie spices. The top has a nice, crunchy cinnamon sugar topping that is reminiscent of a Panera cinnamon crunch bagel (and since I love cinnamon, I didn't think it would be bad to add more of it!).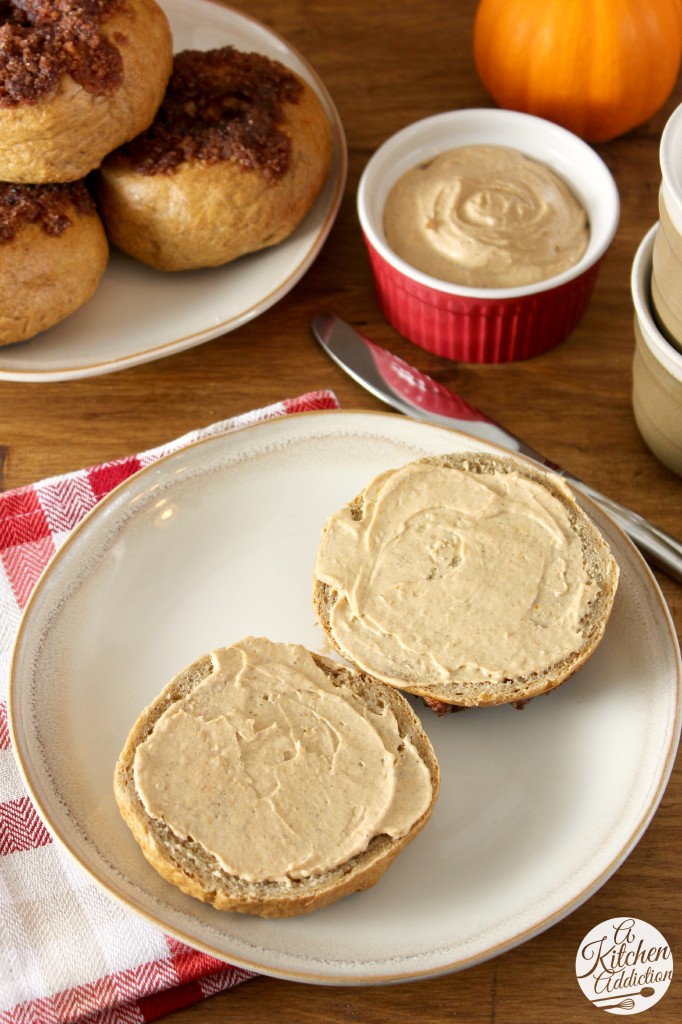 Give these cinnamon crunch pumpkin bagels a try, and you'll find that you don't need to take a trip to your favorite bagel shop as often. These homemade bagels have the same chewy outside with a soft inside that you expect from the bagels at a bagel shop. A homemade whipped pumpkin pie cream cheese tops these tasty homemade bagels and makes these a special fall breakfast for you and your family.
Cinnamon Crunch Pumpkin Bagels with Whipped Pumpkin Pie Cream Cheese
Author:
Ingredients
For the Bagels
3 1/2 C bread flour
1 tsp salt
1 1/2 tsp cinnamon
1/2 tsp nutmeg
1/4 tsp ginger
1/4 tsp cloves
2 1/4 tsp active dry Red Star yeast
2 tbsp sugar, divided
1 C warm water, about 120 degrees F
1/2 C pumpkin puree, room temperature
For the Topping
1/4 C brown sugar
1/4 C coarse sugar/sugar in the raw
2 tsp cinnamon
1 tbsp butter, melted
For the Cream Cheese
4 oz cream cheese, softened
2 tbsp pumpkin puree
2 tbsp honey
1 1/2 tsp cinnamon
1/8 tsp nutmeg
1/8 tsp cloves
Instructions
In a large bowl whisk together flour, salt, cinnamon, nutmeg, ginger, cloves, yeast, and 1 1/2 tablespoons sugar.
In the bowl of a stand mixer, mix together warm water and pumpkin puree. Slowly add dry ingredients. When dough starts to get stiff, change out paddle for a dough hook. Mix for about 5 minutes at a low to medium speed. If dough is still super sticky, add another 1-2 tablespoons flour.
Lightly grease a large bowl. Place dough into bowl and cover with a clean towel. Allow to rise in a warm place until doubled in size, about 1 hour.
Turn dough out onto a lightly floured surface. Punch dough down and divide into 9-10 equal pieces. Roll each piece into a ball.
Press finger through middle of ball and form into a bagel shape. Make the hole about the size of a quarter as the dough will rise some more. Place dough onto a lightly greased pan or surface. Repeat with the rest of the dough.
Let rise for another 20-30 minutes or until almost doubled in size.
Preheat oven to 400. Line a baking sheet with a baking mat or lightly spray with non-stick cooking spray.
While oven is preheating, bring 12 cups of water and the remaining 1/2 tablespoon of sugar to a boil in a large saucepan.
In batches, boil bagels for 20-30 seconds per side. Place on prepared baking sheet.
Bake for 5 minutes. Flip bagels over.
Stir together ingredients for the topping. (Press together with a spoon to get chunks of sugar topping.) Sprinkle over the tops of flipped bagels.
Bake for 30-35 minutes.
Allow to cool before serving.
To make cream cheese: Combine all ingredients in a small bowl and beat until creamy. (A hand mixer works best, but you can whip it by hand.) Refrigerate for an hour before serving to allow flavors to blend.
This recipe is adapted from Williams Sonoma.