I'm so excited to have Cassie from Bake Your Day here to share a recipe with all of you! She is such a sweet person, and that comes through in both her writing and her interaction with her readers and other bloggers. I know you'll love this dip that she is sharing with you today while I'm away!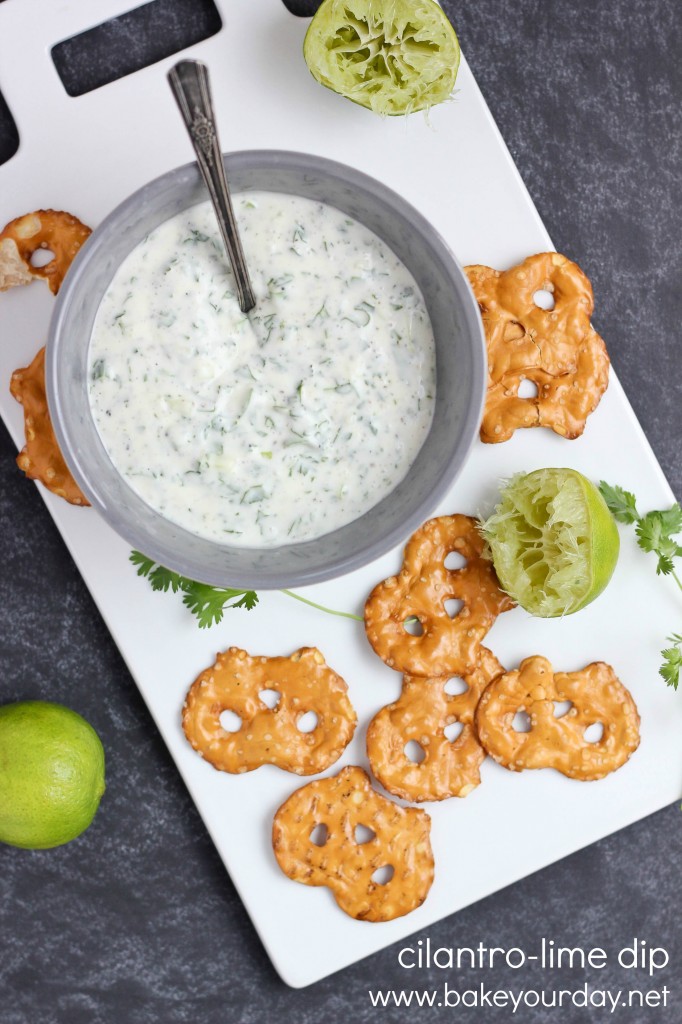 Hi there, A Kitchen Addiction fans! Cassie here from Bake Your Day and I'm thrilled to be here sharing one of my favorite things today – dip!
First of all, let me say, isn't Jessica the best? I have absolutely loved getting to know her over the past few months. She is always so encouraging to other bloggers and she is talented.
You know those No-Bake Snickerdoodle Granola Bars she posted last week? I have not gotten those things out of my head!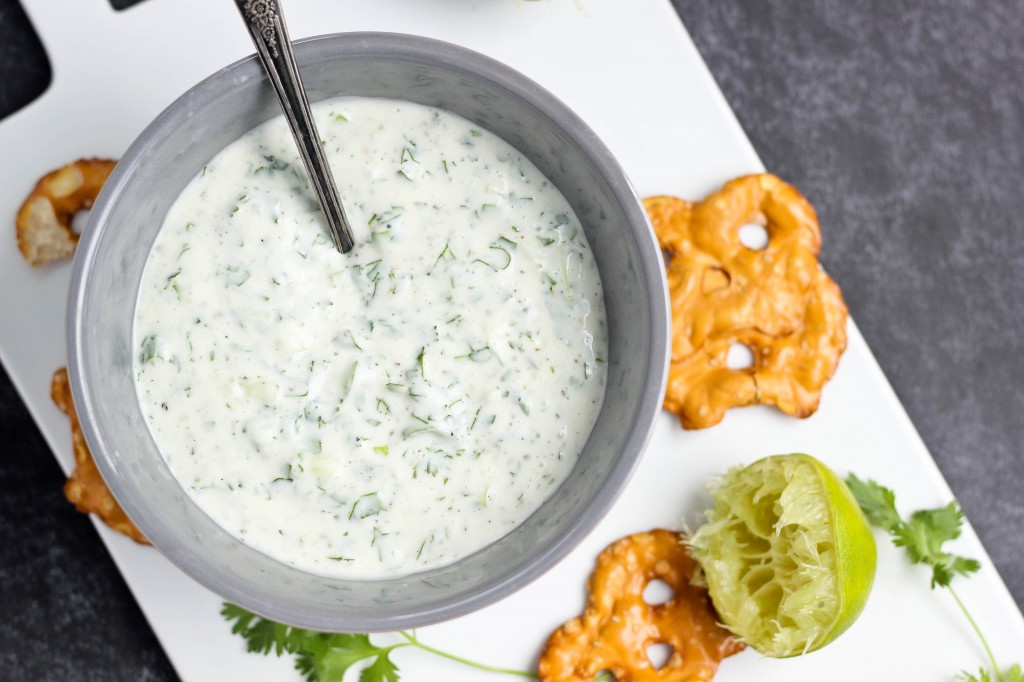 If you don't follow my blog, let me tell you a little about myself: I live in central Missouri with my husband who is in youth & music ministry.
I work in insurance and then spend a lot of my free time in the kitchen and running. You can probably see where Jessica and I relate already. 🙂
And more: I love French fries, Frank's Red Hot sauce, sprinkles, popcorn and dip.
Dips of any kind – hummus, chip dip, cheese dip, guacamole, salsa, you name it, I love it.
So when Jessica asked me to post for her, I thought hummus would be a fun idea. I was thinking about doing a Cilantro-Lime Jalapeno Hummus.
I had the recipe all written out and then at the last minute decided I should make sure she hasn't made something similar and it turns out she had that EXACT recipe already on her site.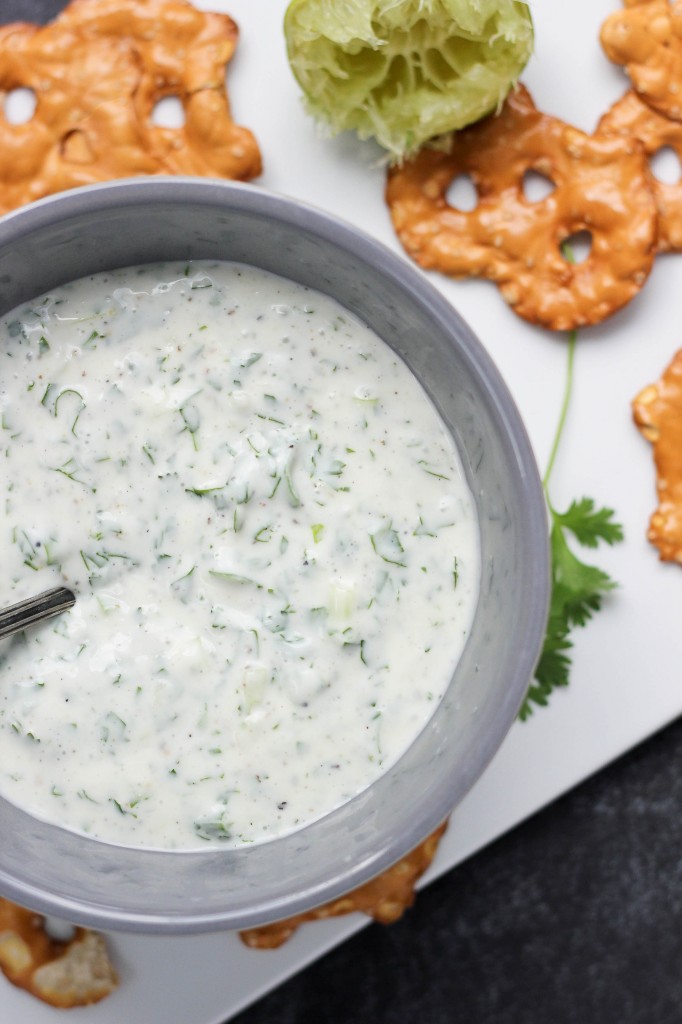 So instead of hummus, I made a quick sour cream-mayonnaise dip that is full of flavor. It's quick, simple and you probably have most of the ingredients on-hand already.
I love simple dips like this for last minute appetizers and nearly everyone I know loves cilantro-lime flavor!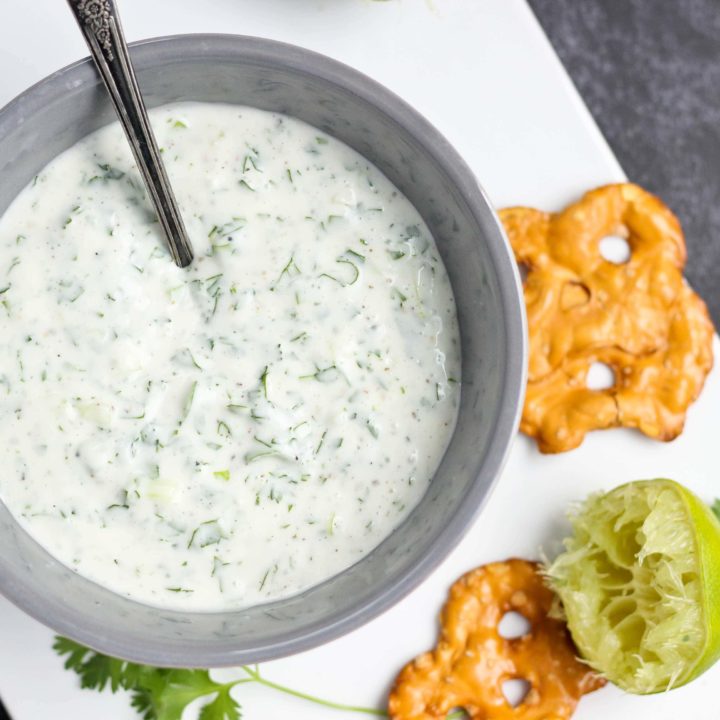 Cilantro-Lime Dip
Yield: 1 Cup

Prep Time: 5 minutes

Inactive Time: 1 hour

Total Time: 1 hour 5 minutes
Ingredients
1/2 Cup sour cream
1/4 Cup mayonnaise
1/4 Cup fresh cilantro, chopped
1 small jalapeno
2 Tablespoons lime juice
1 clove garlic, minced
1 green onion, chopped
1 teaspoon cumin
salt & pepper to taste
Instructions
Mix all ingredients in a small bowl until well blended. Adjust seasonings to taste. Cover and refrigerate for at least one hour.
Serve with crackers, chips, and/or veggies.
Notes
Cassie's Notes: Plain Greek yogurt can be easily subbed for the sour cream, but I do recommend leaving the mayonnaise to even out the tartness of the lime juice.
Recommended Products
As an Amazon Associate and member of other affiliate programs, I earn from qualifying purchases.
Nutrition Information:
Yield: 4 Serving Size: 1
Amount Per Serving: Calories: 158Total Fat: 16gSaturated Fat: 5gTrans Fat: 0gUnsaturated Fat: 10gCholesterol: 23mgSodium: 172mgCarbohydrates: 3gFiber: 0gSugar: 1gProtein: 1g

Nutrition information shown is an estimate provided by an online calculator and may not always be accurate. It should not be considered a substitute for a medical professional's advice.



See? Isn't Cassie great?! Be sure to stop by her blog and also follow along on her Facebook page, Twitter, and Instagram.