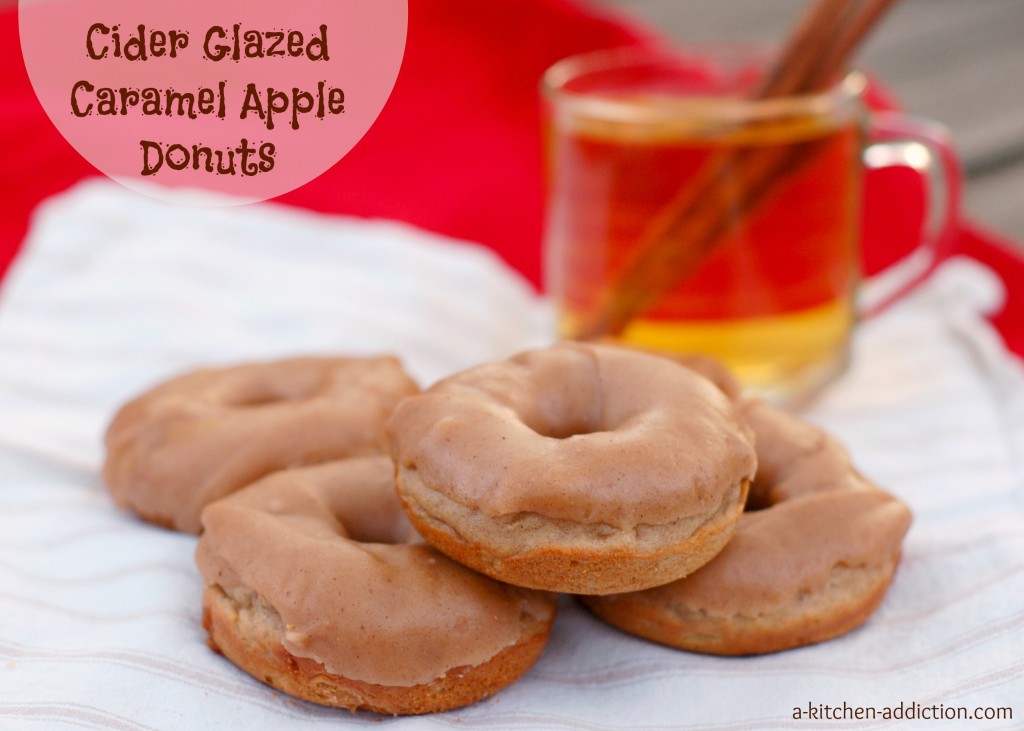 I seem to have gone from a pumpkin addiction to a baked goods with apples addiction. I hope you don't mind. Though I still have recipes lined up containing pumpkin, I have found myself loving the smells and tastes of the fall apples. They are so crisp and sweet that I can't pass them up when baking! The only sad thing about my apple love is that the orchard that we have gone to the last couple of years to pick apples doesn't have a crop this year because of the drought. So, I need to scour the farmer's market for the fall varieties!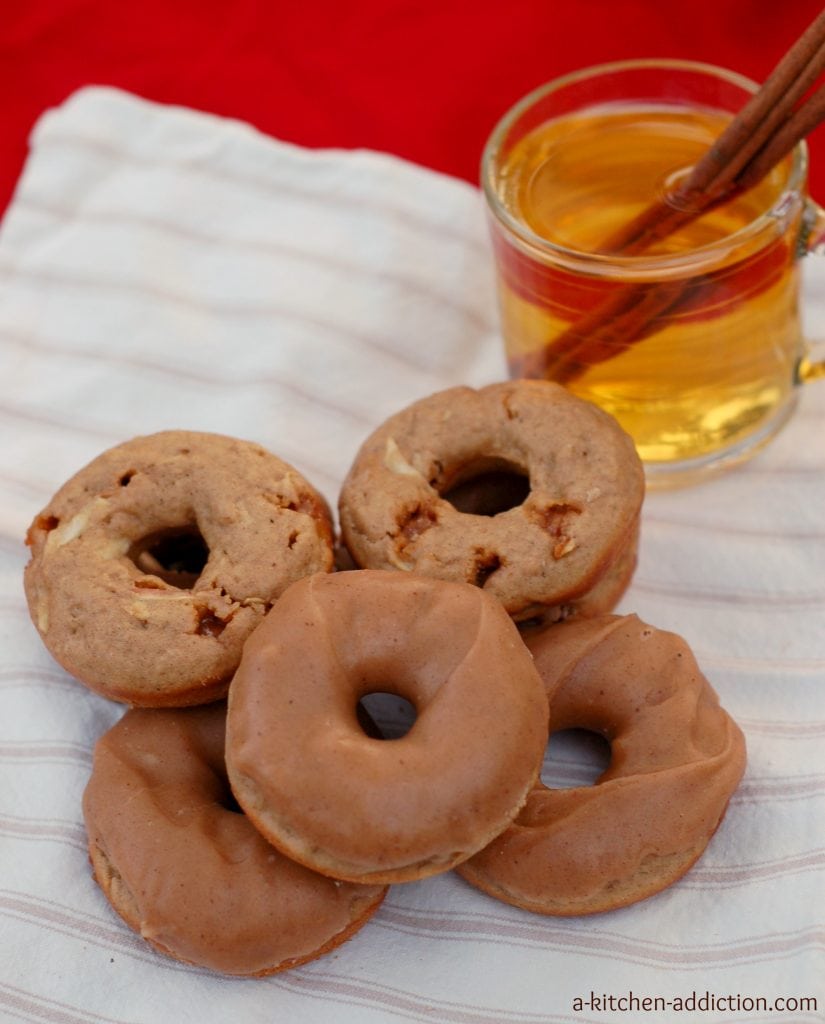 These donuts are the epitome of fall for me with shredded apples, apple cider and caramel bits. Apparently I have been living under a rock for the past who knows how long because this is the first year that I have used the caramel bits by Kraft. Last year I still had a couple of bags of regular caramels leftover from the previous year's fall baking and didn't have to go out and buy any. . .and I usually don't bake with caramels except for in the fall because I don't like unwrapping all of them. So, that is my excuse! I am so glad that I finally found them though, because they are perfect for these donuts! The caramel bits leave little melted caramel caverns that taste amazing straight from the oven!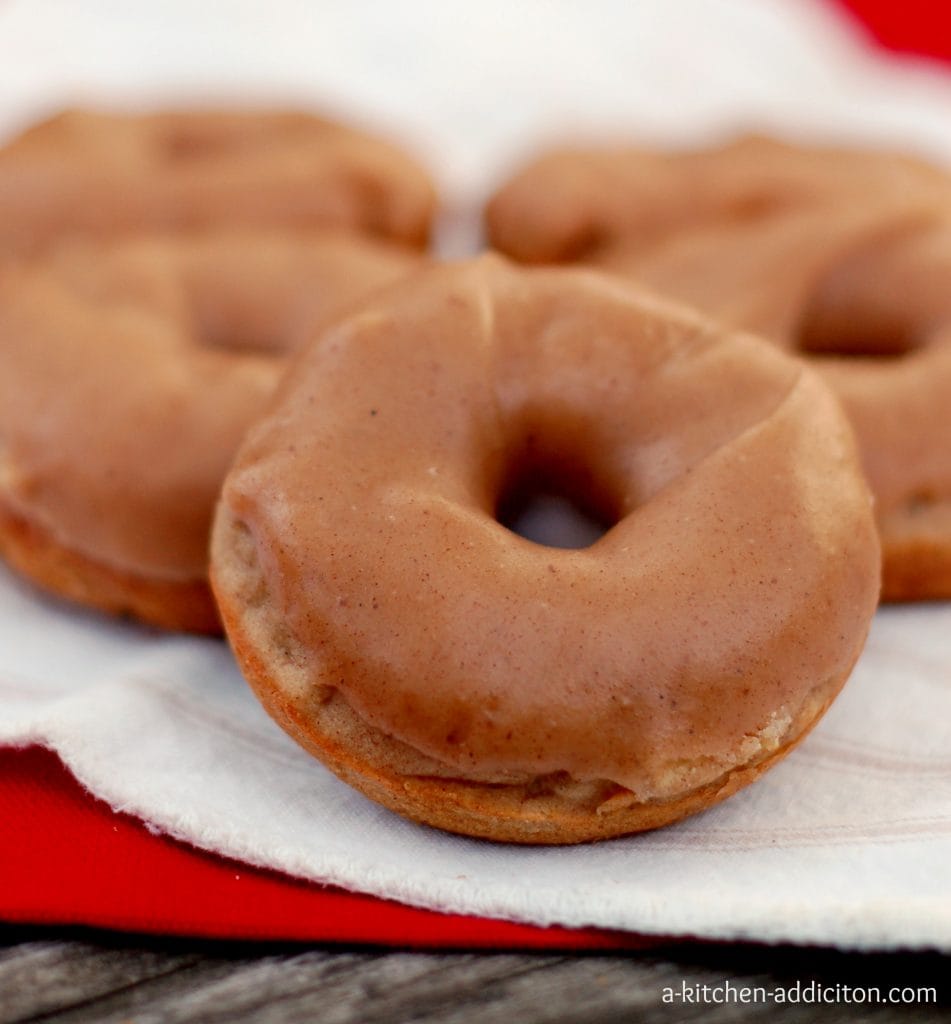 So, if you are looking to save some calories leave off the glaze, and you will still have a perfectly gooey caramel and sweet apple donut! Oh, and they are super easy to make. So, basically, there is no reason not to make them!
Cider Glazed Caramel Apple Donuts
Author:
Ingredients
For the Donuts
1 C white whole wheat flour
3/4 tsp baking soda
1/4 tsp baking powder
1 tsp cinnamon
1/4 tsp allspice
1/4 tsp nutmeg
1/8 tsp ginger
1/4 tsp salt
1/4 C brown sugar
1 egg
1/4 C non-fat plain yogurt
3 tbsp non-fat milk
2 tbsp melted butter
1/3 C caramel bits
1/2 C shredded apple
For the Glaze
2 tbsp butter
1/4 C sugar
2 tbsp apple cider
1/2 tsp cinnamon
1/4 tsp nutmeg
1/4 tsp allspice
1/4 C confectioner's sugar
Instructions
Preheat oven to 350. Lightly spray donut pan with non-stick cooking spray.
In a medium bowl, whisk together flour, baking soda, baking powder, cinnamon, allspice, nutmeg, ginger, salt, and brown sugar.
In a small bowl, stir together egg, yogurt, milk, and butter. Add wet ingredient to dry ingredients and stir until well-combined. Stir in caramel bits and shredded apple until just combined.
Pour batter into a pastry bag or a gallon-sized bag with the tip cut off. Pipe batter into donut cavities.
Bake for 8-10 minutes or until edges just start to turn golden brown. Allow donuts to cool for 3 minutes in pan before removing to wire rack to finish cooling.
While donuts are cooling, start to prepare the glaze. In a medium saucepan, melt butter and sugar together over medium heat. Bring to a boil and boil for two minutes, making sure to stir occasionally to avoid scorching.
Stir in one tablespoon apple cider and bring back to a boil for another two minutes.
Turn heat to low. Add in cinnamon, nutmeg, allspice, confectioner's sugar, and the second tablespoon of apple cider.
Carefully dip the tops of the donuts into the glaze while the saucepan is still sitting over low heat. Removing the pan from the heat will cause the glaze to crystallize.
Allow glaze to harden and serve.
Store any leftovers in a loosely covered container.
i