These Chocolate Chip Yogurt Oat Muffins are tender, chocolaty muffins that just happen to be made with whole wheat flour, honey, and yogurt!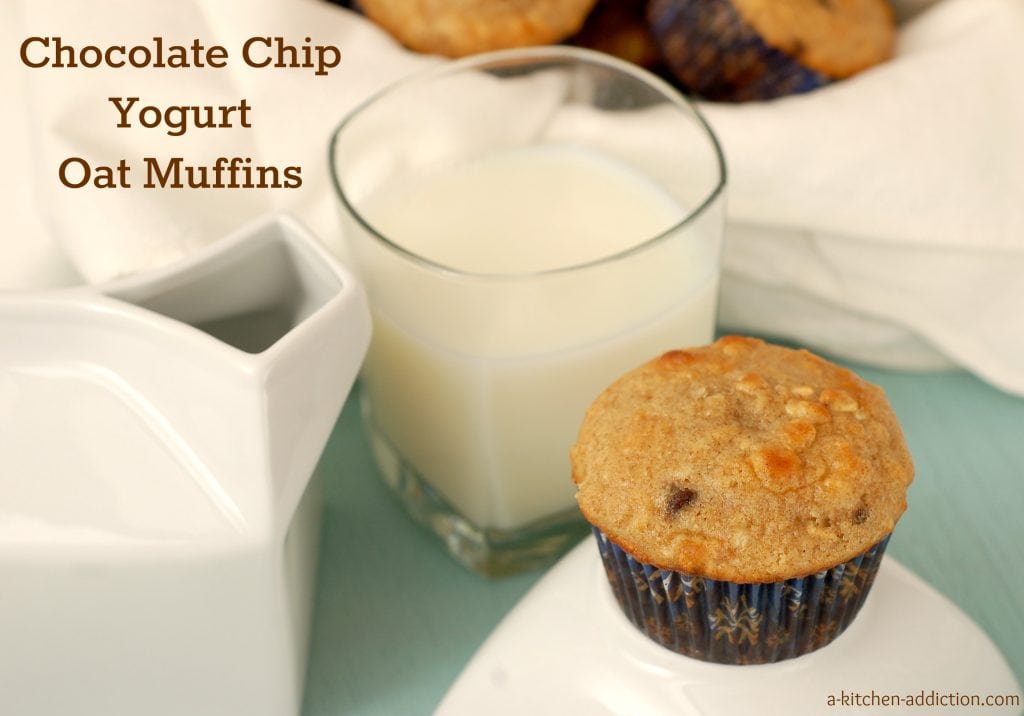 On Monday I said that I was back from my break. I guess I was wrong. I got a stomach bug and decided to extend that break a few more days. I hope you don't mind. . .I feel a lot more like talking about food now! 🙂 I'm glad I finally got my appetite back because these muffins have been sitting on my counter without me being able to eat them!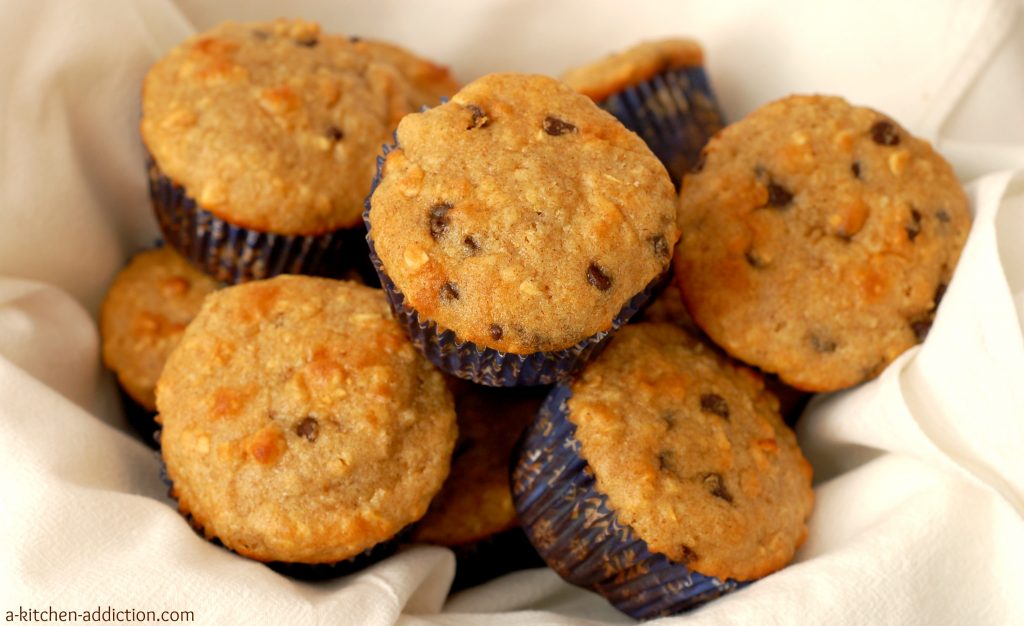 They are actually the second batch that I have made in two days. My husband already finished off the first batch (probably because there isn't much food in our house at the moment. . .), so I needed to make them again so I could have some!
When it comes to muffins, we're kind of picky with some aspects. If they're too sweet or oily, they won't get eaten in this house. I really don't want to take a bite of a muffin and have that light, oily coating left in my mouth!
That's while you'll notice that most of the muffins recipes on here contain very little oil, or, in the case of these muffins, none at all!
These yogurt oat muffins are great to have on hand as a snack or a quick breakfast. They are lower fat, lower sugar, and are filled with complex carbs and protein.
The base of these easy muffins is made up of whole wheat flour, oats, honey, and yogurt. Then you throw in in just enough mini chocolate chips to get a bit of chocolate in each bite!
Despite the more dense ingredients used, these muffins still have a light texture without that overly oily/sweet flavor!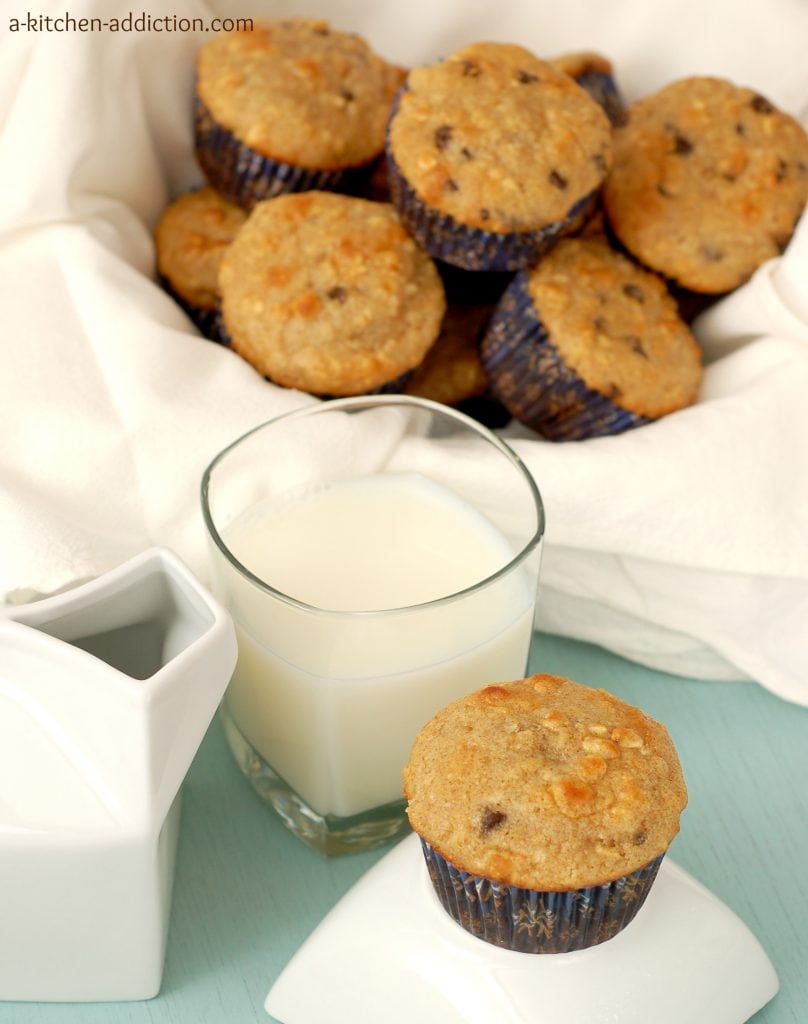 If you aren't a huge fan of chocolate, you could add cut up apple, or dried cherries/cranberries, etc. (I think I'm going to try apples next with a little cinnamon.) So whether you are looking to get back on track this new year by consistently eating a healthy breakfast, or you just want a tasty option to have on hand for snacks, these yogurt oat muffins can help with both!
Tips for Making Chocolate Chip Yogurt Oat Muffins
Don't like chocolate? Leave out the chocolate chips and add in some chopped apple and a sprinkle of cinnamon instead.
You can use all white whole wheat flour or all whole wheat pastry flour if you don't want to use all-purpose flour. However, if you use all plain whole wheat flour, the muffins will end up pretty dense.
You can use vanilla yogurt in place of the plain yogurt for a boost in flavor and sweetness.
Chocolate Chip Yogurt Oat Muffins
Ingredients
3/4 Cup white whole wheat flour
1/2 Cup + 2 Tablespoons all-purpose flour
1 Cup quick cooking oats
1/3 Cup brown sugar
1 1/2 teaspoons baking soda
1 teaspoon baking powder
1/2 teaspoon salt
1 Cup milk of your choice
1/2 Cup plain yogurt
1/3 Cup honey
2 eggs
1 teaspoon vanilla extract
1/3 Cup regular or mini chocolate chips
Instructions
Line a muffin tin with cupcake liners or spray with non-stick cooking spray.
In a large bowl, whisk together whole wheat flour, all-purpose flour, old-fashioned oats, brown sugar, baking soda, baking powder, and salt.
In a small bowl, whisk together milk, plain yogurt, honey, eggs, and vanilla extract. Add wet ingredients to dry ingredients, and stir until just combined. Fold in mini chocolate chips.
Preheat oven to 375 degrees Fahrenheit. While oven is preheating, allow batter to sit. This allows the oats to soak in some of the moisture and the batter to reach desired texture.
Once oven is preheated, scoop batter into prepared muffin tin. Fill each cup about 2/3 full. Bake for 15-20 minutes or until toothpick inserted in the center comes out clean.
Remove to a wire rack to cool. Store in an airtight container.