Need a little something to get you through the rest of the week or make the middle of your week a little more special? How about some coffee cake? Chocolate chip coffee cake can make an ordinary morning (or afternoon or evening!) special without needing to do a lot of work!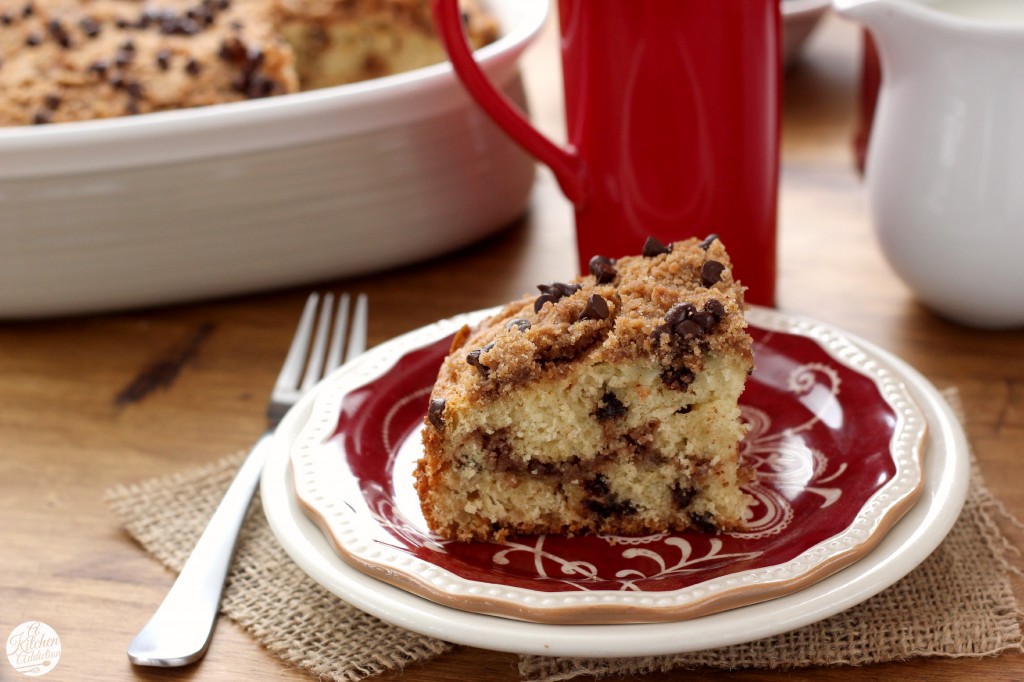 This coffee cake is moist, tender and filled with the warm and comforting flavors of cinnamon and chocolate. A layer of cinnamon streusel runs through the middle of the cake and a generous amount is sprinkled on top to create a crunchy sugar topping.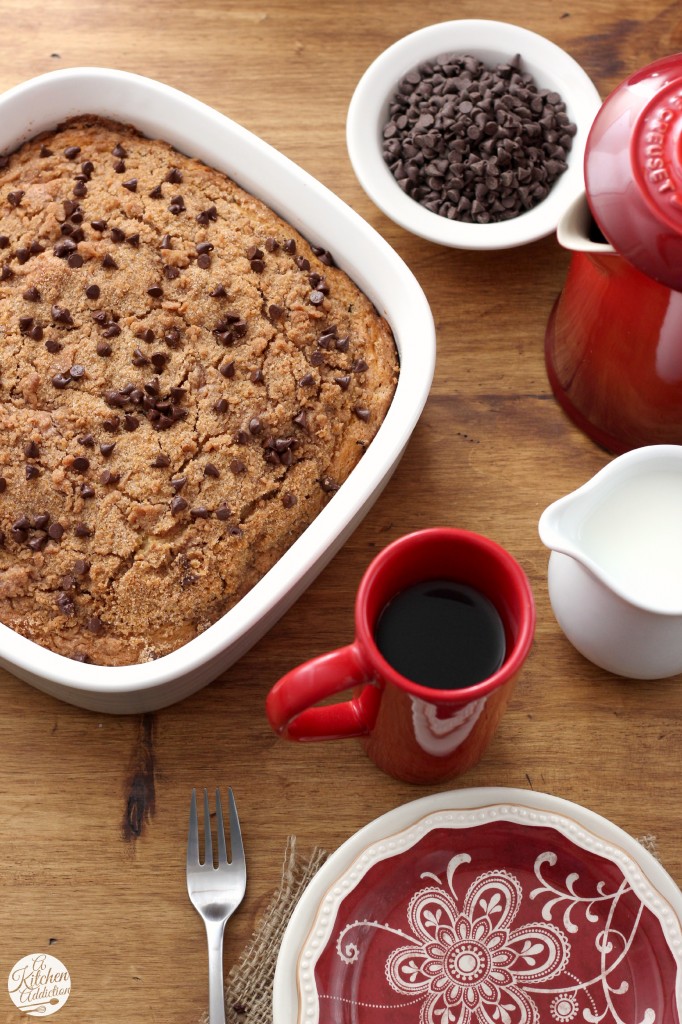 Mini chocolate chips are stirred into the batter so you get a taste of chocolate in each bite! I like using mini chocolate chips for cakes like this so you don't have to use as many to get the same chocolaty experience. And, of course, I had to sprinkle some more on top to finish it off!
Chocolate Chip Coffee Cake
Author:
Ingredients
For the Cake
2 C all-purpose flour
1 tsp baking powder
1 tsp baking soda
1/2 tsp salt
1/2 C unsalted butter, softened
3/4 C sugar
2 eggs
1 C buttermilk
1/2 C plain yogurt
1 1/2 tsp vanilla extract
1/3 C mini chocolate chips
For the Filling/Topping
1/2 C brown sugar
1/4 C sugar
1/2 C all-purpose flour
1 1/2 tsp cinnamon
1/4 C butter
2 tbsp mini chocolate chips
Instructions
Preheat oven to 350. Lightly spray a 9×9 inch baking dish with non-stick cooking spray.
In a small bowl, whisk together flour, baking powder, baking soda, and salt.
In the bowl of a stand mixer (or with an electric mixer), cream together butter and sugar. Add in eggs and beat until creamy. Add in milk, yogurt, and vanilla. Beat until creamy.
Add dry ingredients to wet ingredients and beat until just combined. Stir in chocolate chips.
In a small separate bowl, whisk together sugars, flour, and cinnamon. Cut in butter until mixture resembles coarse crumbs.
Pour half of batter into the bottom of prepared baking dish. Sprinkle with half of cinnamon sugar mixture. Carefully spread remaining batter over the top. Sprinkle with remaining cinnamon mixture and mini chocolate chips.
Bake for 30-40 minutes or until toothpick inserted in the center comes out clean.
Remove to a wire rack to cool. Cut into pieces and serve.