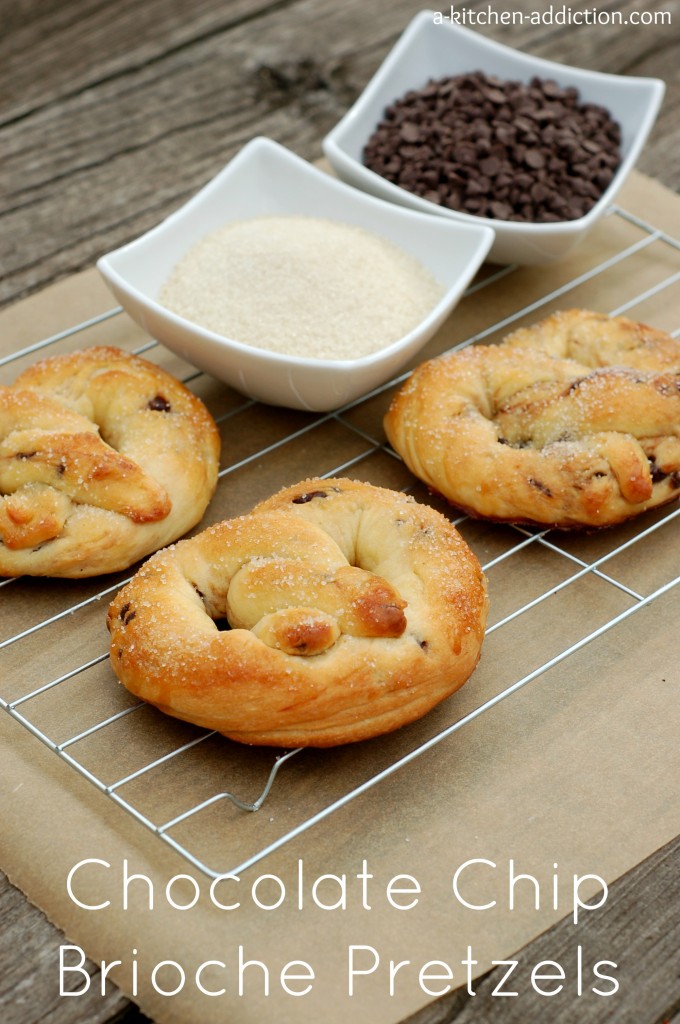 I love soft pretzels and I love brioche rolls, however, until this past week I had never had a combination of the two. I was missing out! (If you haven't had brioche pretzels, you're missing out, too!)
Chocolate chip brioche pretzels are rich and buttery with bits of chocolate in each bite. Unlike traditional chewy pretzels, these pretzels are tender and flaky.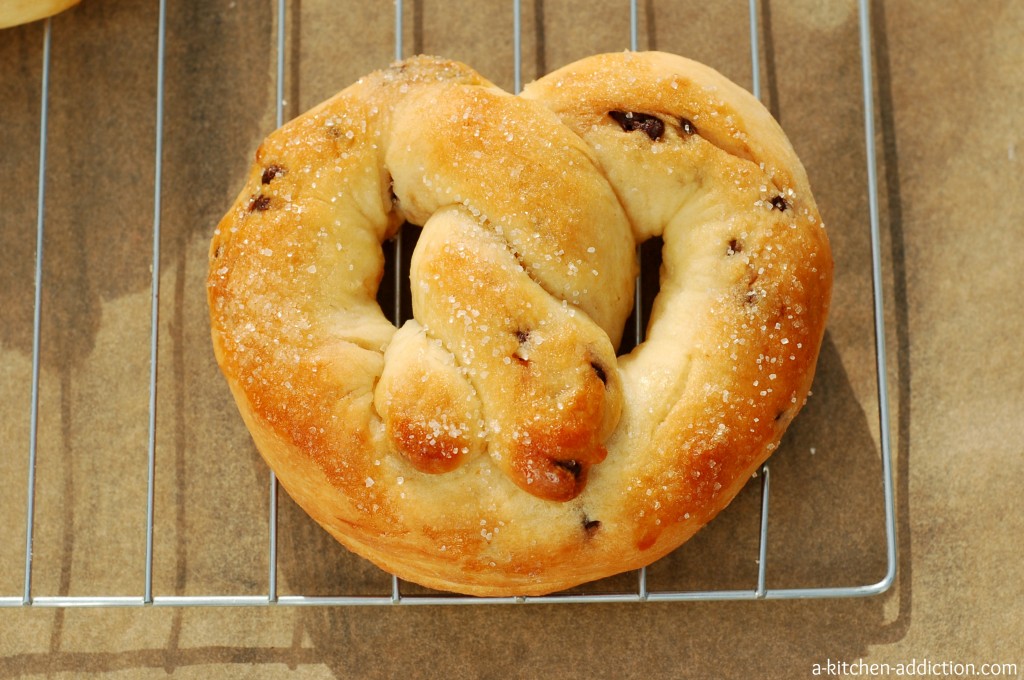 If you eat them warm, which I strongly recommend you do, the bread practically melts in your mouth.
So good. In fact, it will be hard to not eat them warm, because these pretzels smell amazing while they are baking.
The scents of butter and chocolate swirl around your kitchen and make it pretty much impossible to not grab a pretzel from the baking sheet as soon as you pull it from the oven (be careful, it'll be hot!)!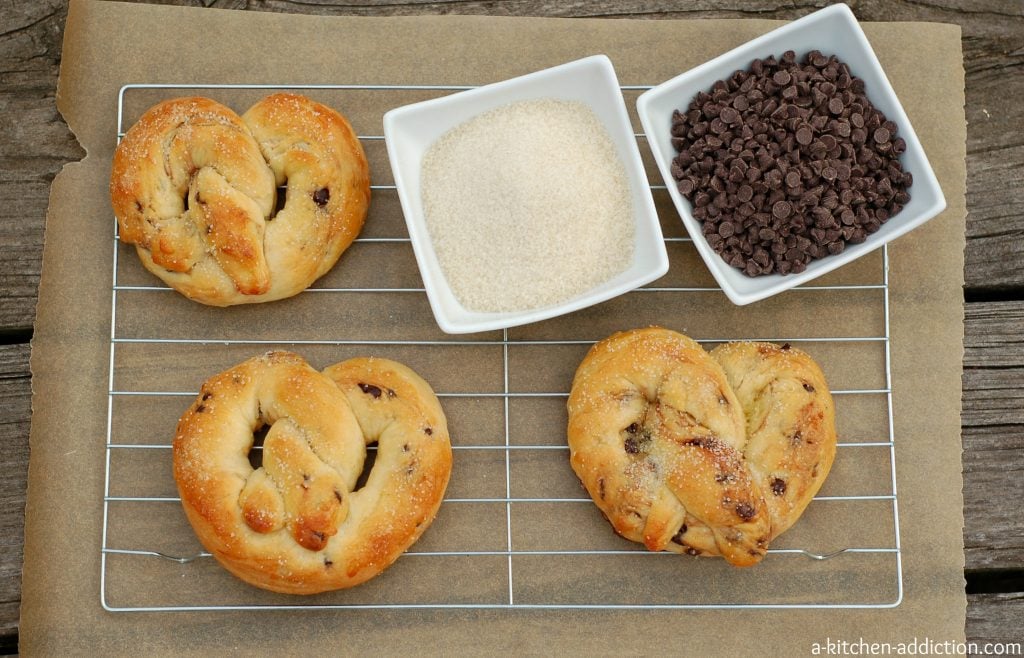 The great thing about these pretzels, other than their amazing taste, is that they require no fancy ingredients. Most of you probably have all of these ingredients sitting in your cupboards.
That means no excuses for not trying chocolate chip brioche pretzels! Don't be afraid of the long list of steps or the fact that there is yeast in the ingredient list!
This recipe really is simple. Just take it step by step and you'll be enjoying one (or more!) of these pretzels in no time!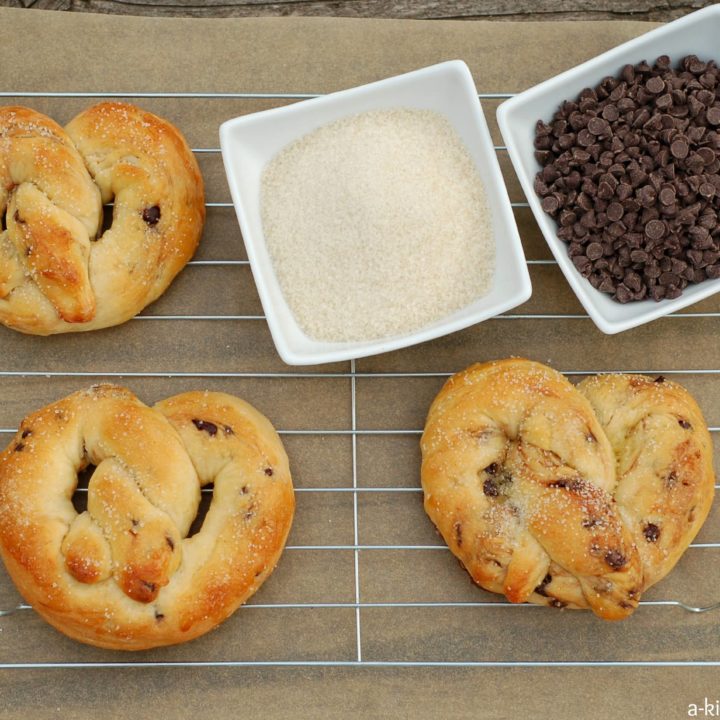 Chocolate Chip Brioche Pretzels
Yield: 8 brioche pretzels

Prep Time: 30 minutes

Bake Time: 12 minutes

Rise Time: 2 hours 15 minutes

Total Time: 2 hours 57 minutes
Ingredients
For the Pretzels
2 1/4 Cups all-purpose flour
2 Tablespoons sugar
1/2 teaspoon salt
1 teaspoon instant yeast
1/3 Cup milk, about 120 degrees Fahrenheit
2 eggs, room temperature
1/2 Cup unsalted butter, room temperature
1 Cup mini chocolate chips
For the Glaze
1 egg
1 teaspoon salt
1 teaspoon water
raw or coarse sugar for sprinkling
Instructions
In the bowl of a stand mixer, mix together flour, sugar, salt, and yeast with paddle attachment.
Add in milk and eggs. On low speed, mix until dough starts to form. Increase speed to medium and beat for another 10 minutes. Depending on the strength of your stand mixer, you may need to switch out your paddle attachment for the dough hook halfway through.
Add in butter, in quarters, and beat well between each addition. If you haven't switched to your dough hook yet, you will need to switch to your dough hook at this time.
Knead the dough on low until dough is smooth. This will take about another 5 minutes.
Add in mini chocolate chips and mix until chips are evenly distributed throughout dough.
Transfer dough to a bowl lightly sprayed with olive oil. Cover loosely with plastic wrap. Let rise in a warm spot until doubled in size, about 2 hours.
Preheat oven to 350 degrees Fahrenheit. Line baking sheets with a baking mat or parchment paper.
Lightly punch down dough and divide into 8 equal pieces. Roll each piece of dough out into an 18-20 inch rope and twist into desired pretzel shape. (You may need to lightly flour your working surface to prevent the dough from sticking, though my dough did not stick.) Transfer pretzels to prepared baking sheet.
Whisk together egg, salt, and water in a small bowl. Brush glaze over the tops of the pretzels. Allow pretzels to rest for 15 minutes.
Once again brush pretzels with glaze. Sprinkle with raw sugar.
Bake for 12 minutes or until pretzels start to turn golden brown.
Remove to a wire rack to cool for 3-5 minutes. Best served warm and same day.
Store leftovers in an airtight container.
Recommended Products
As an Amazon Associate and member of other affiliate programs, I earn from qualifying purchases.
Nutrition Information:
Yield: 8 Serving Size: 1
Amount Per Serving: Calories: 382Total Fat: 20gSaturated Fat: 12gTrans Fat: 0gUnsaturated Fat: 7gCholesterol: 101mgSodium: 433mgCarbohydrates: 45gFiber: 2gSugar: 16gProtein: 8g

Nutrition information shown is an estimate provided by an online calculator and may not always be accurate. It should not be considered a substitute for a medical professional's advice.


This recipe is slightly adapted from Cook Like A Champion. Original source: The Smitten Kitchen Cookbook.