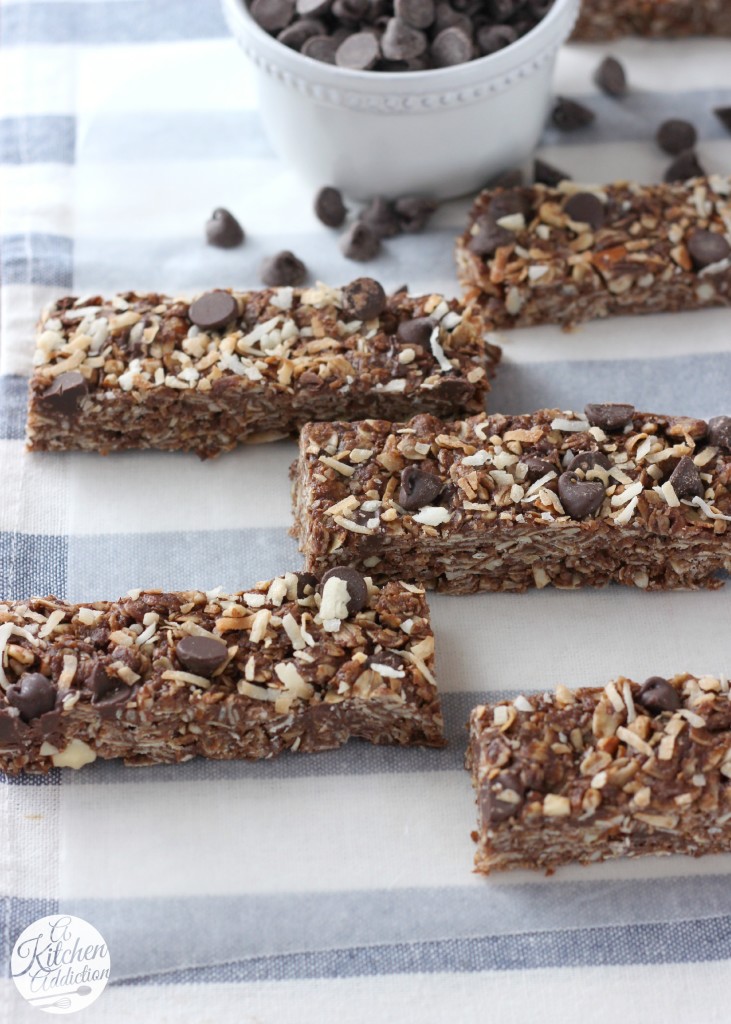 Something exciting happened at our house last week. I made something with coconut that my husband liked! He does not like coconut. I, on the other hand, really like coconut.
I've been trying all kinds of different ways to get him to like something that has coconut baked in it. And while he'll eat it, he doesn't say "This is good. I like this."
That phrase came out of his mouth last week when biting into one of these chocolate almond joy granola bars. Success!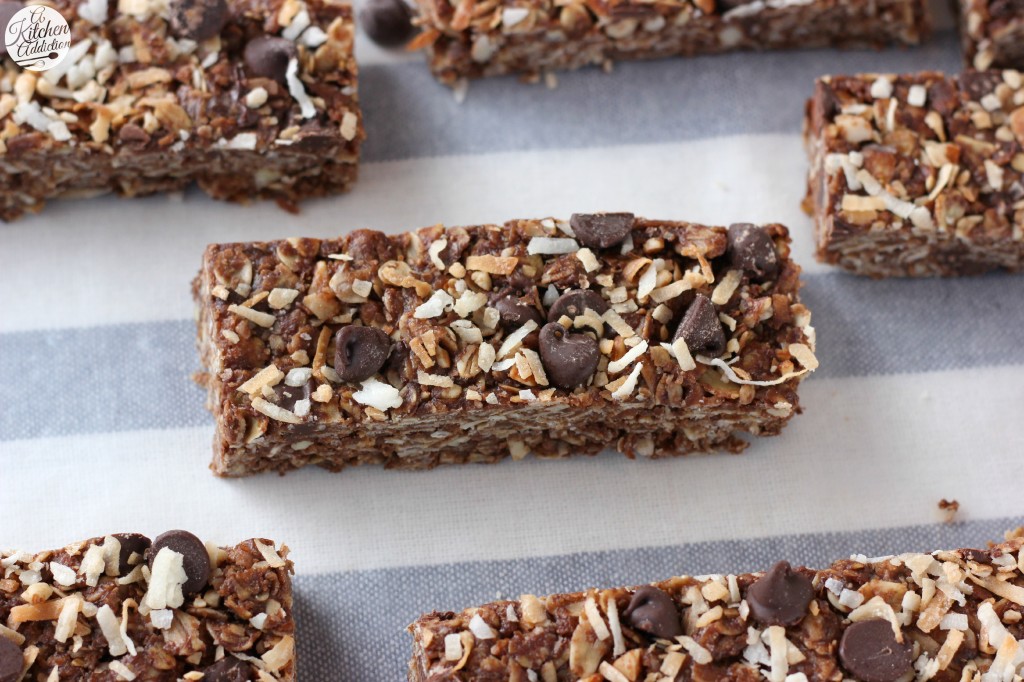 The combination? Dark chocolate, toasted almonds and toasted coconut. How could you not like it?!
These granola bars came about as a result of wanting something sweet to eat one afternoon. Of course, there wasn't anything in the house that would satisfy, so I turned to homemade no bake granola bars.
I usually am not one for sweets (in fact, I usually choose a salty snack over a sweet one.). I do, however, like my dark chocolate. Throw in some coconut, and it's even harder to resist.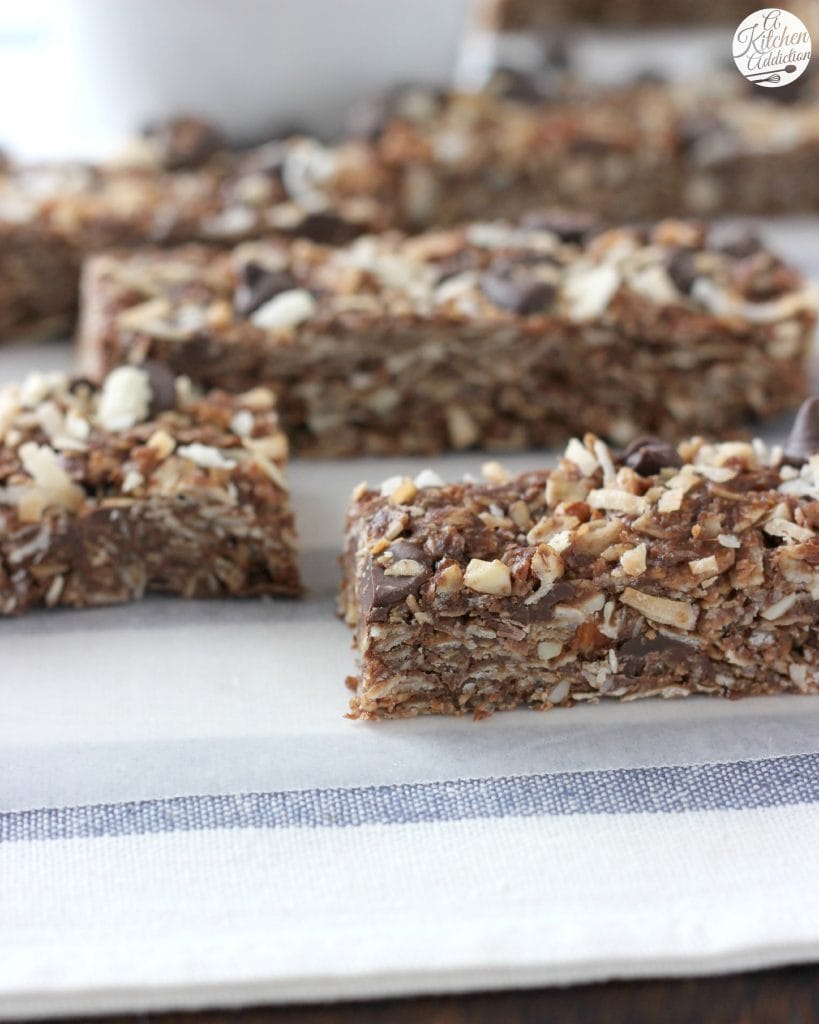 With honey as the main sweetener, oats and oat bran as the base, and almonds stirred throughout, these granola bars are filled with fiber, protein, and iron.
So when you need something to satisfy your sweet tooth, these chocolate almond joy granola bars make a healthy, sweet alternative to a candy or dessert! (And even non-coconut lovers will like them!)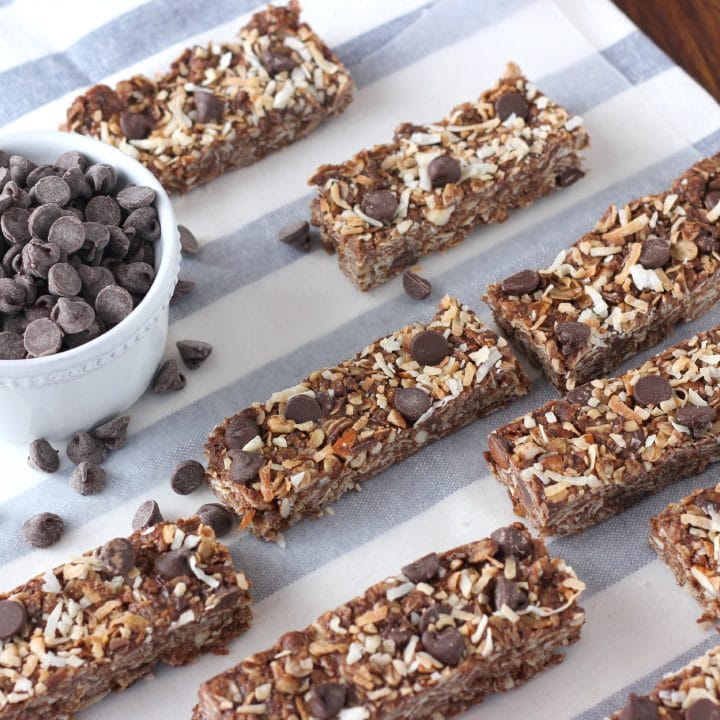 Chocolate Almond Joy Granola Bars
Ingredients
2 1/4 C old-fashioned (regular) or quick oats
1/4 C oat or wheat bran
1/4 C ground flaxseed
1/4 C unsweetened baking cocoa
1/2 tsp salt
1/2 C honey
1/3 C almond butter or peanut butter
1/4 C coconut oil
1 tsp vanilla extract
1/2 C toasted shredded coconut
1/2 C toasted almonds, chopped
1/3 C dark chocolate chips
Instructions
Line a 9x9 or 8x8 inch baking dish with parchment paper or spray with non-stick cooking spray.
In a large bowl, whisk together oats, oat bran, flaxseed, unsweetened baking cocoa, and salt.
In a small saucepan, melt together honey, almond/peanut butter, coconut oil, and vanilla extract until coconut oil is melted. Bring to a boil and boil for 1 minute, stirring constantly to prevent scorching. Remove from heat.
Pour over oat mixture and stir to coat. Stir in dark chocolate chips, almonds and shredded coconut. Some of the chocolate chips will melt and that's okay!
Press mixture into prepared baking dish. Optional: Top with additional dark chocolate chips and shredded coconut.
Refrigerate for 2 hours and cut into bars. Store in airtight container.
Recommended Products
As an Amazon Associate and member of other affiliate programs, I earn from qualifying purchases.