Need an idea for something to make for Father's day?? I'll give you one. . .make these cookies!
These cookies are everything good about cookies (especially if you use dark chocolate!)! Reese's pieces, peanut butter, peanut butter chips, chocolate chips, and oats. . .the best!! A lot like monster cookies, these cookies are thick, chewy, loaded with all kinds of goodness, and huge (because that is the only way to make them!)! 🙂
Your dad will thank you. Plus, the kids can help. Just try not to eat them all before giving them to Dad. That may be harder than you think. . .just saying. 😉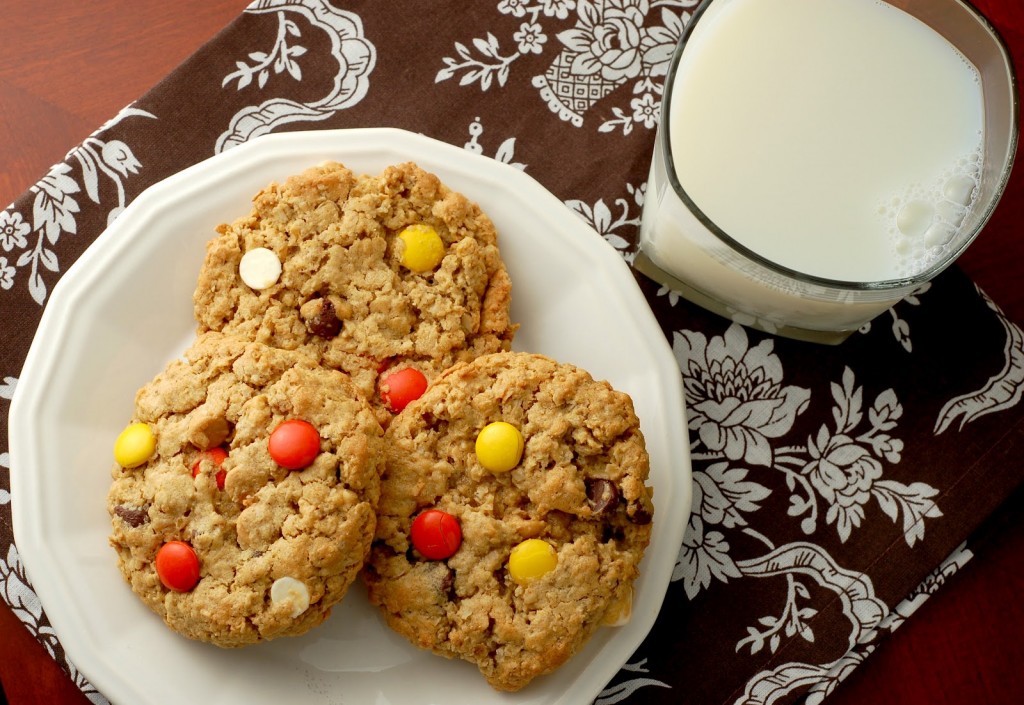 Already have an idea for Father's Day? Make them anyways and enjoy every single delicious bite! 🙂
Chewy Reese's Pieces Peanut Butter Oatmeal Cookies

Yield: 2 1/2 dozen (depending on how much dough you eat in the process!!)
Ingredients
3/4 C sugar
1 C brown sugar
1/3 C butter, softened
3 eggs
3/4 tsp vanilla extract
1 tsp corn syrup
1 C crunchy peanut butter
1 C all-purpose flour
2 tsp baking soda
1 tsp salt
4 C quick oats
1/2 C Reese's Pieces
1/2 C Reese's peanut butter chips
1/2 C semi-sweet or dark chocolate chips
1/4 C white chocolate chips
Directions
Preheat oven to 350. Line cookie sheets with parchment paper.
In a large bowl, cream together the sugars and butter. Add the eggs and vanilla. Beat until creamy. Stir in the corn syrup and peanut butter on low.
In a small bowl, whisk together the flour, baking soda, and salt. Add to the sugar mixture. Beat on low until just combined.
Using a wooden spoon (or other sturdy utensil!), stir in the oats and candy. Mixture will be stiff.(This just means that you're burning more calories making them, allowing you to eat more!)
Drop by 1/4 cupfuls on to baking sheet. Bake for 11-13 minutes or until edges start to turn golden brown.
Allow cookies to cool on baking sheet for 3 minutes before removing them to a wire rack to finish cooling.
Store in an airtight container.