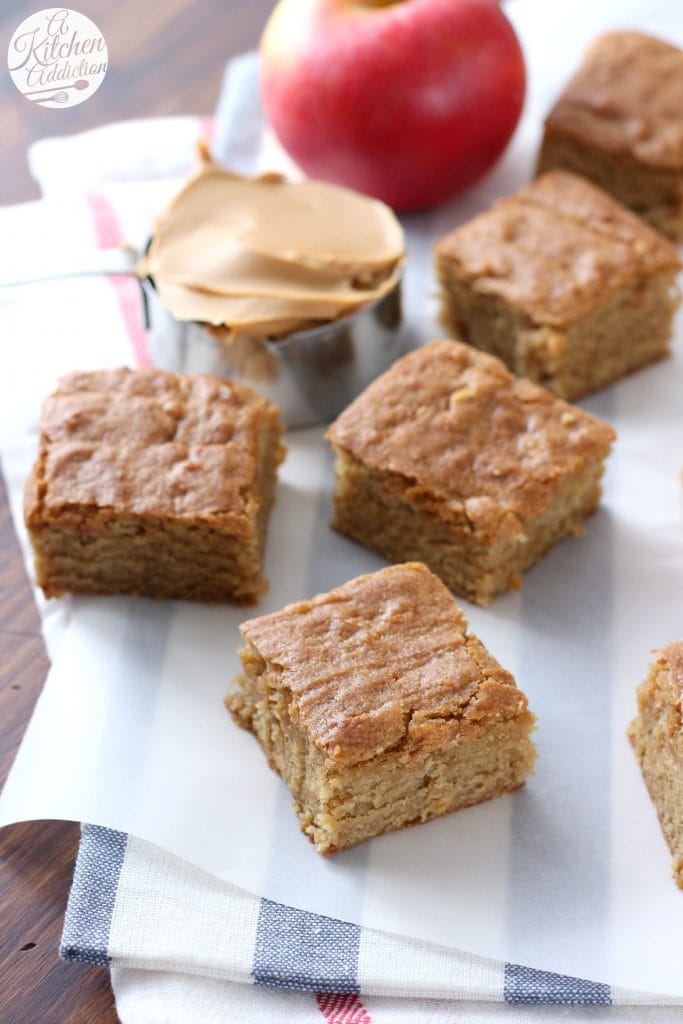 I warned you on Thursday that I had a thing for fall and to prepare for apple recipes after a weekend trip to the apple orchard. It's starting!
Of course, it involves peanut butter. Apples and peanut butter just go so well together. One of my favorite snacks involves slicing up an apple and dipping the slices in peanut butter.
Now I can just combine the two of them together and stick them in a chewy bar. These soft, chewy peanut butter apple bars are a quick and easy recipe that are a great way to showcase fall apples.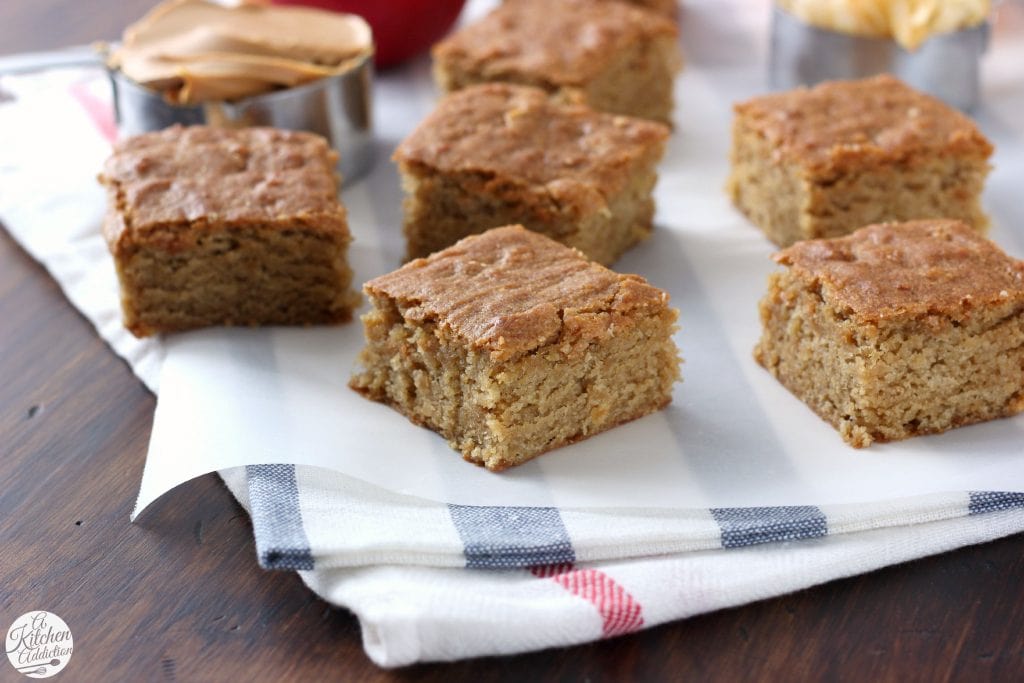 One of the things about these bars that make them different from a lot of apple recipes I make is that instead of chopped apples, I used shredded apples.
I've done this before with apple cookies and love the results. I've found that shredded apple helps spread the flavor more evenly instead of having chunks of apple.
They also seem to give a bit more moisture to the baked goods. All you have to do is pull out your box grater and give a medium-sized apple a quick grate. Definitely worth dirtying an extra kitchen tool!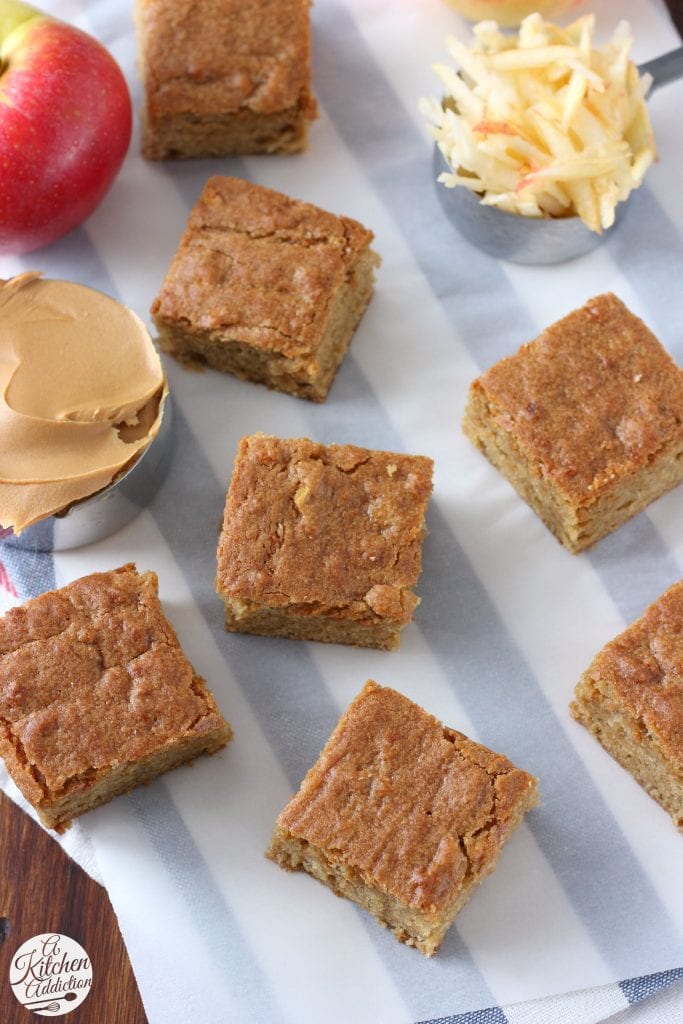 While they aren't the prettiest fall dessert you'll see this season, their bursting flavor makes you quickly forget the lack of looks!
Soft, chewy and loaded with 1 1/2 cups of shredded apple and lots of peanut butter, these apple bars will soon become your new go-to fall recipe for last minute gatherings, late night snacking, and after school munching!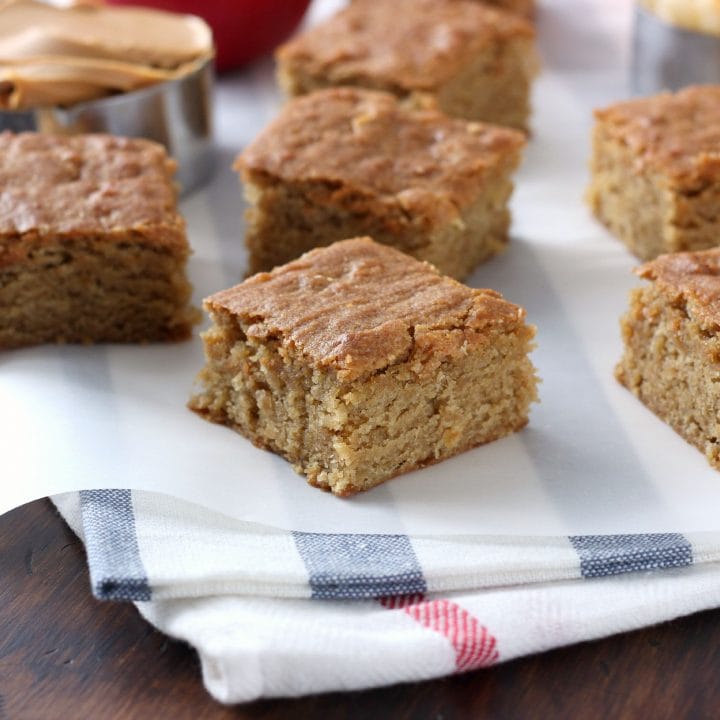 Chewy Peanut Butter Apple Bars
Ingredients
1/2 C butter, melted and cooled
3/4 C brown sugar
1/2 C sugar
2 eggs
1 1/2 tsp vanilla extract
1/2 C no-stir natural creamy peanut butter
2 C white whole wheat or all-purpose flour
1 1/2 tsp baking powder
1/2 tsp baking soda
1/2 tsp salt
1 1/2 C apples, shredded
Instructions
Preheat oven to 350. Spray a 9x9 or 9x13 inch baking dish (I used a 9x9) with non-stick cooking spray.
In the bowl of a stand mixer, or with an electric hand mixer, beat together butter and sugars. Beat in eggs and vanilla extract until creamy. Beat in peanut butter until combined.
In a separate bowl, whisk together flour, baking powder, baking soda, and salt. Add dry ingredients to wet ingredients and stir until combined. Stir in shredded apple.
Spread batter into prepared baking dish. Bake for 20-25 for 9x13 or 25-30 for 9x9 minutes or until top is light golden and toothpick comes out mostly clean. For more cake-like bars, bake until toothpick comes out completely clean.
Remove to a wire rack to cool.
Recommended Products
As an Amazon Associate and member of other affiliate programs, I earn from qualifying purchases.