So I have a confession to make, I have already had pumpkin spice coffee, and it is only the middle of August. But boy was it good! 🙂 You see a local coffee shop had bottles of pumpkin spice out the other day for sale to preview the upcoming fall drinks. I thought maybe the flavor would make the weather cooler! Or I just wanted it, either way, it was in the 60's this morning! So I think it worked. 😉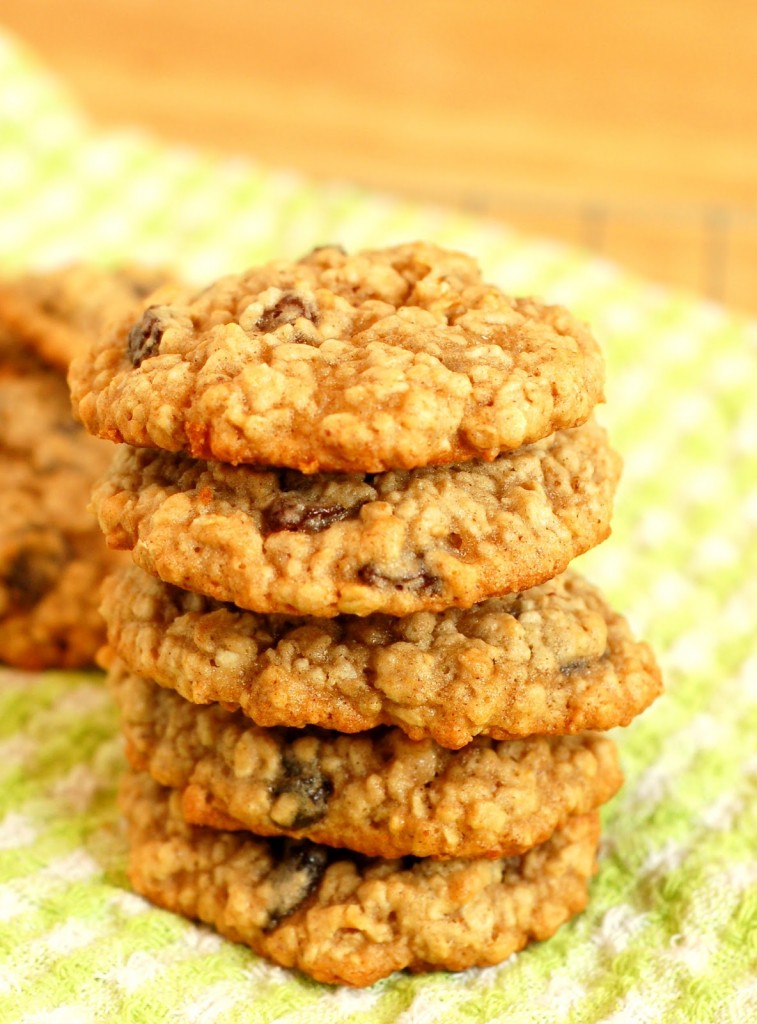 It also got me in the mood for fall and all of the smells and tastes that go along with fall. One of those smells and tastes that is so prominent is cinnamon, and one of my favorite things containing cinnamon? Oatmeal raisin cookies!
For me, the best oatmeal raisin cookies have to have three qualities: 1) They must be chewy. 2) They must not be too sweet, so that you can taste the nuttiness of the oats. 3) They must have lots of cinnamon and a hint of nutmeg. Guess what? These cookies have all three! Hello triple batch! Especially since my husband offered to "taste test" and ended up eating more than a couple! Here's to looking forward to all of the goodness of fall! 🙂
Chewy Oatmeal Raisin Cookies

Yield: 18 cookies
Ingredients
5 tbsp butter, softened
1/3 C brown sugar
1/4 C sugar or granulated sugar substitute
2 tbsp non-fat plain yogurt
1 egg
1 tsp vanilla
3/4 C all-purpose flour or whole wheat pastry flour
1/2 tsp baking soda
1/4 tsp salt
3/4 tsp cinnamon
1/4 tsp nutmeg
1 1/2 C quick (not instant) oats
2/3 C raisins
Directions
Preheat oven to 350. Line cookie sheets with parchment paper or lightly spray with non-stick cooking spray.
In the bowl of a stand mixer, cream together butter and sugars on medium speed. Add in yogurt, egg, and vanilla. Beat until creamy.
In a small bowl, combine flour, baking soda, salt, cinnamon, and nutmeg. Add to creamed butter. Beat until well-combined. Stir in oats and raisins.
Drop dough by heaping tablespoon onto cooking sheets. Bake for 8-10 minutes or until edges just start to turn light golden brown. Do not over bake.
Allow cookies to cool for 2 minutes on cookie sheet before transferring to wire rack to cool completely. Store cookies in an airtight container.