Carrot cake is one of my favorite cakes. When my husband asks me what cake I want him to make for my birthday (Yes, he makes me a birthday cake, he's amazing!), the answer is carrot cake. It's also one of his favorite cakes, and because of that I am always looking for ways to modify the recipe to make it healthier.
Well, this recipe is going to be around for awhile! It turned out great! Half whole wheat flour, yogurt and applesauce significantly reduce the amount of fat and calories in this cake, yet it's still light, moist, and full of flavor!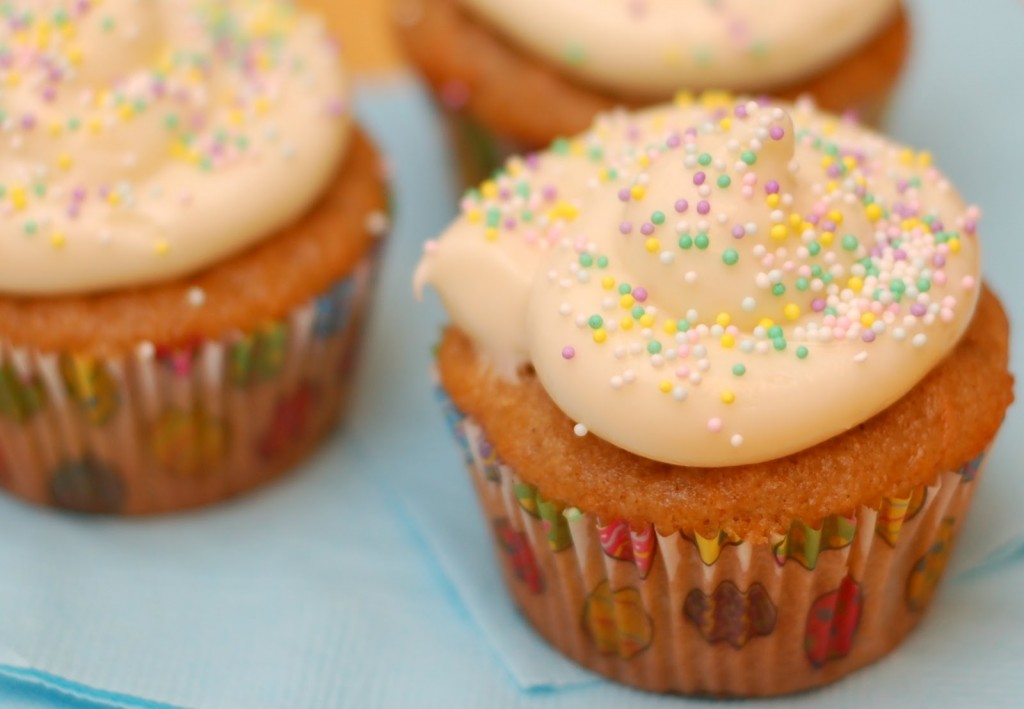 The frosting, however, is a different story. . .I have to admit that I love cream cheese frosting and I have yet to find a recipe that is that healthy that I really like other than using 1/3 of the fat cream cheese. So, if you are watching your calories, you may want to go light on the frosting. And if you have any recipes that are great for a light version, please let me know!
Carrot Cake Cupcakes with Cream Cheese Frosting

Yield: 24 cupcakes
Ingredients
1 C whole wheat flour
1 1/2 C all-purpose flour
1 1/2 C grated carrots
1 tsp baking powder
1 tsp baking soda
1/4 tsp ground allspice
1/4 tsp ground nutmeg
1/4 tsp ground cinnamon
1/2 tsp salt
1 1/3 C sugar or 1/2 C sugar substitute and 1/2 C sugar
1/4 C dark brown sugar
3 eggs
1 C non-fat plain yogurt
1/4 C unsweetened applesauce
1/4 C canola oil
For the Frosting
1 8oz package of 1/3 of the fat cream cheese, softened
2 tbsp butter, room temperature
1 1/2 tsp vanilla extract
pinch of salt
2 C confectioner's sugar, sifted
Directions
Preheat oven to 350. Place cupcake liners in muffins tins.
Place grated carrots into a large mixing bowl and set aside.
Put flours, sugars, baking powder, baking soda, allspice, nutmeg, cinnamon, and salt into the bowl of a food processor or stand mixer. Pulse or mix for about for about 10 seconds. Add the flour mixture to the grated carrots and toss to coat.
Next add the sugars, eggs, yogurt, and applesauce to the bowl of the food processor/stand mixer and pulse/beat until creamy. Add in the oil and mix until well-combined.
Pour the sugar mixture in the carrots and stir until just moistened.
Fill cupcake liners about 2/3 full and bake for 20-30 minutes or until toothpick inserted into the center comes out clean.
Remove cupcakes to wire rack and allow to cool completely.
Preparing the Frosting
Using a stand mixer, beat cream cheese and butter together until blended. Add in the vanilla and salt and beat until smooth. Add in the confectioner's sugar a 1/2 cup at a time and beat until smooth and creamy.
Refrigerate for at least 10 minutes before frosting cupcakes.