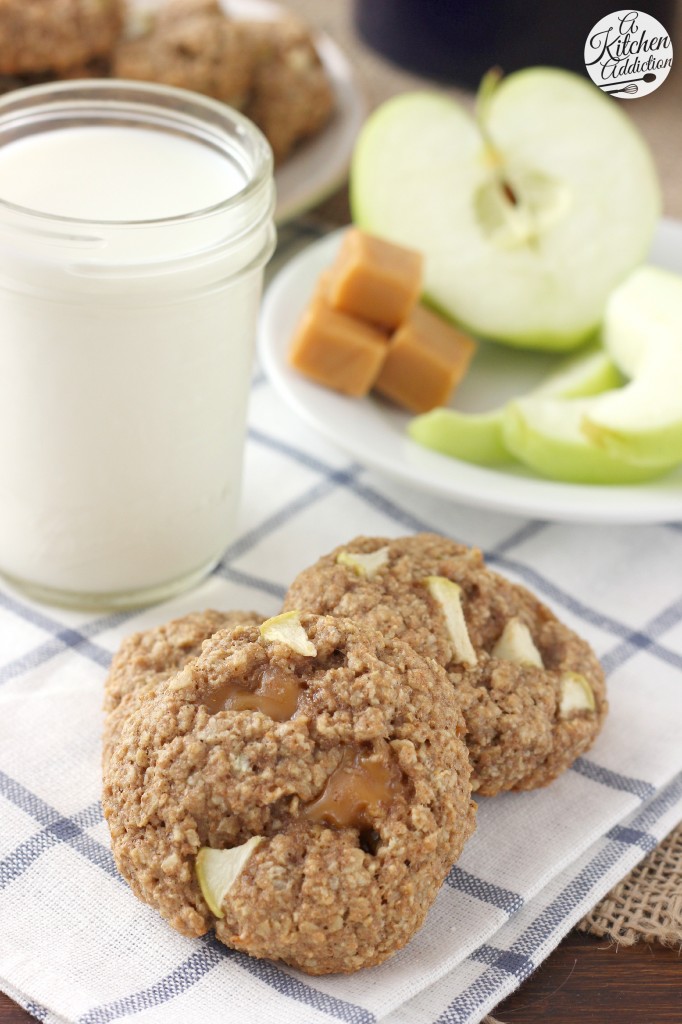 It's Friday, but not just any Friday. It's the Friday before a long weekend! Hopefully ours will be full of exciting things like sleeping (yes, that's exciting to me right now!) and eating cookies.
It's been awhile since I've made cookies so I've had a lot of ideas for what I wanted to make. These caramel apple oatmeal cookies were at the top of the list!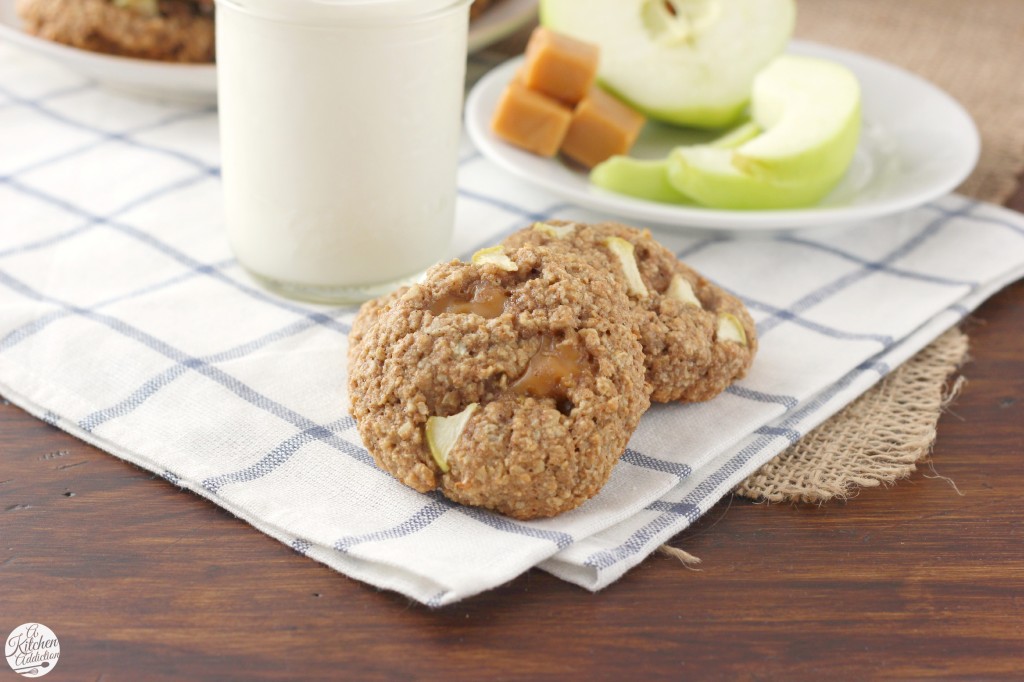 Thick, soft oatmeal cookies are full of tart apple pieces and sweet, gooey caramel. (I used Granny Smith apples for a tart flavor, but any type of baking apple would work well.)
Cinnamon and nutmeg round out the flavor making the cookies taste almost like apple pie. And, since apple pie is my favorite, I had a hard time resisting these cookies!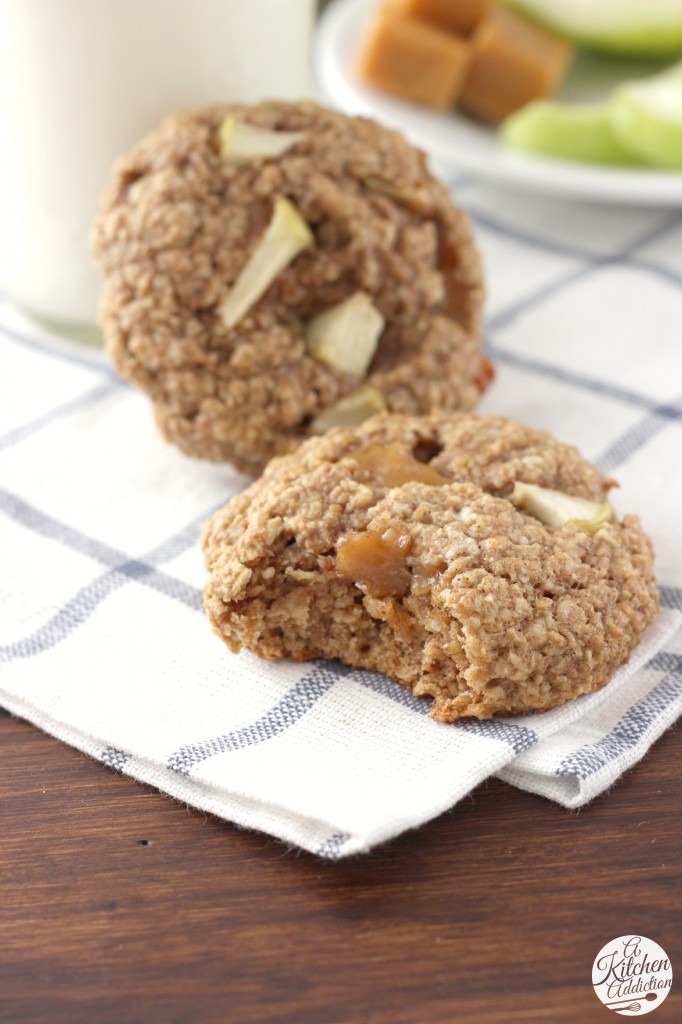 Fresh from the oven the caramel is gooey and the apple pieces are hot. Not eating the entire batch is probably the hardest part of this recipe!
Since these cookies are packed with whole wheat flour, oats, and apples, I think they would make a good breakfast or afternoon snack. . . that is if you have any left straight from the oven!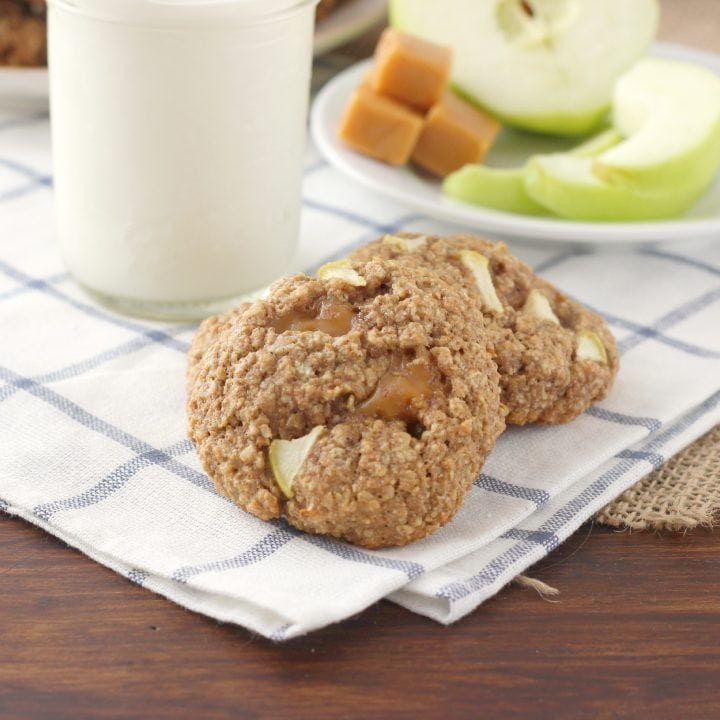 Caramel Apple Oatmeal Cookies
Ingredients
5 tbsp butter, softened
1/3 C brown sugar
1/4 C sugar or honey
3 tbsp non-fat plain yogurt
1 egg
1 tsp vanilla extract
3/4 C whole wheat flour
3/4 tsp cinnamon
1/2 tsp nutmeg
1/2 tsp baking soda
1/4 tsp salt
1 1/2 C quick oats
1/2 C apples, finely chopped
1/2 C soft caramels, roughly chopped
Instructions
Preheat oven to 350. Line a cookie sheet with a baking mat or parchment paper.
In the bowl of a stand mixer (or with an hand electric mixer), cream together butter and brown sugar. Add in honey, yogurt, egg, and vanilla extract. Beat until creamy.
In a separate bowl, whisk together flour, cinnamon, nutmeg, baking soda, and salt. Add dry ingredients to wet ingredients and mix until combined. Stir in oats until thoroughly combined. Stir in apples and caramels.
Drop by heaping tablespoon full onto prepared cookie sheet. Bake for 8-10 minutes or until edges turn light golden brown.
Remove to a wire rack to cool. Store in airtight container.
Recommended Products
As an Amazon Associate and member of other affiliate programs, I earn from qualifying purchases.