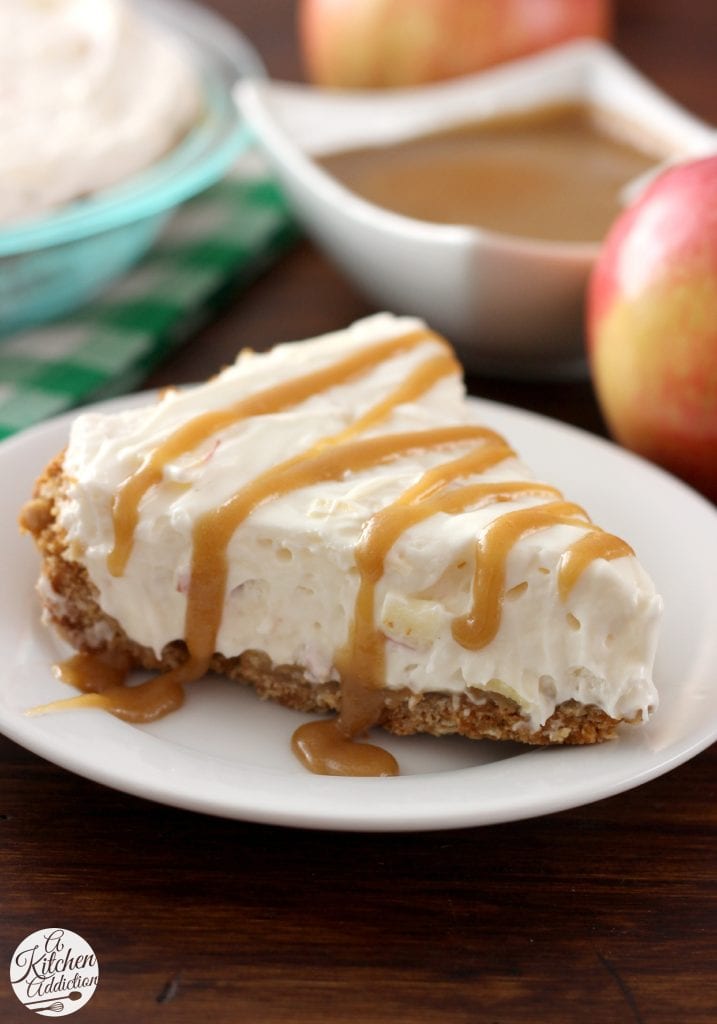 Caramel apple, maple apple, peanut butter apple. . .you name it, we've had it recently. Fall apples are starting to overtake our counters and fridge. We haven't even gone apple picking, and I've still managed to scoop up all kinds of varieties while at the store.
Fall apples have such a great flavor compared to apples any other time of year, so I try to enjoy them as much as possible. As you can imagine, we can't eat them all plain.
So, I have to get creative with ways to use them up other than apple crisp (though that isn't a bad thing!).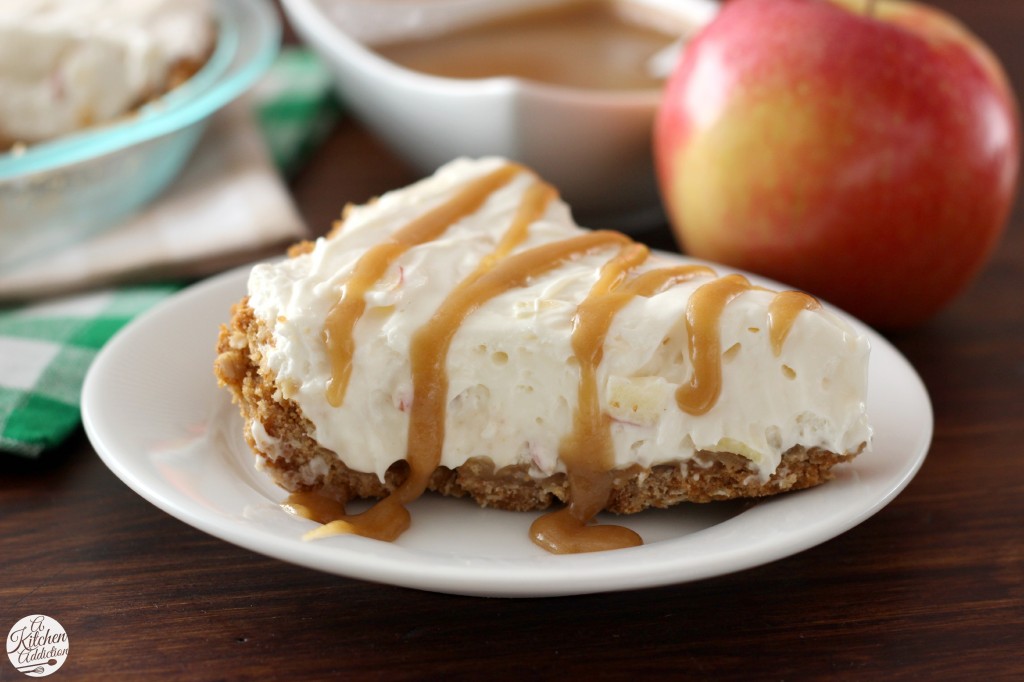 This caramel apple oatmeal cookie cheesecake pie was one way to showcase the apples that wasn't your ordinary pie or crisp. The cheesecake pie starts with a crust that tastes just like an oatmeal cookie. Chewy, nutty, and sweet. . .everything good about an oatmeal cookie.
The cheesecake base is light and fluffy with just the right balance between the tang of the cream cheese and the sweetness of the sugar. It's a no bake cheesecake which works well with the warm days we've been having as summer winds down.
Finely chopped apples are stirred in and their juices spread throughout the cheesecake as it sets up.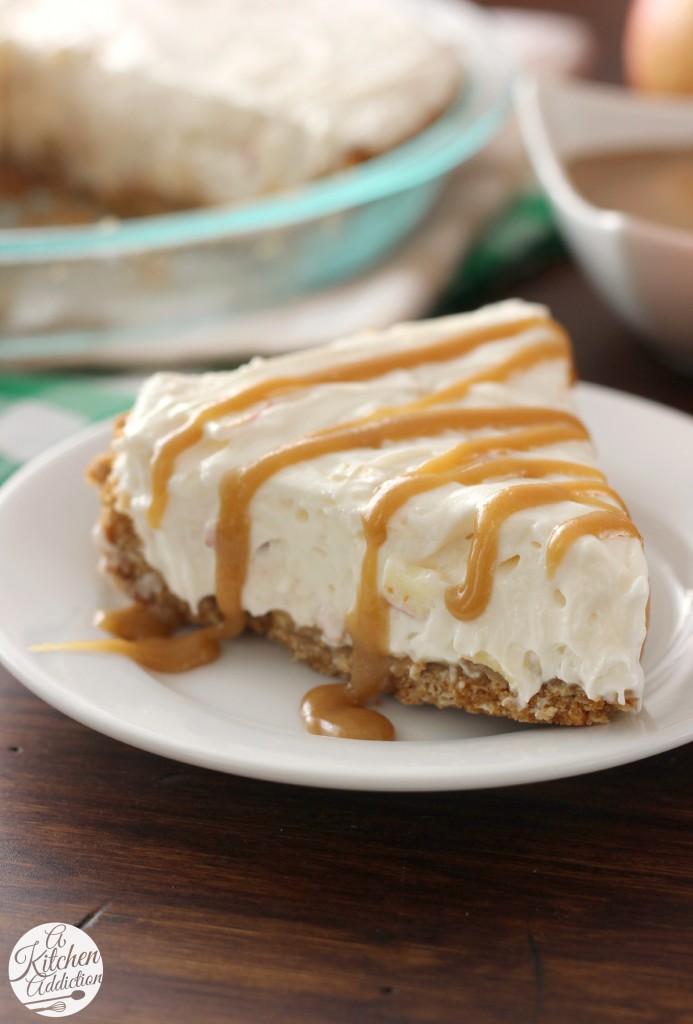 A homemade caramel layer is hidden between the oatmeal cookie crust and the cheesecake. Rich, buttery, and sweet, this caramel layer gives the cheesecake a light caramel apple flavor.
The caramel makes enough to have plenty left to drizzle either over the entire cheesecake or individual pieces right before serving and ties all of the flavors of the pie together. Or you can drizzle it on ice cream, in coffee, on pumpkin pancakes. . .it's good stuff!
I wouldn't judge if you skipped the cheesecake and went straight to the caramel!
Caramel Apple Oatmeal Cookie Cheesecake Pie
Author:
Ingredients
For the Crust
1 C graham cracker crumbs
1/2 C quick oats
3 tbsp brown sugar
1/8 tsp salt
1/4 C butter, melted
2 tsp vanilla extract
For the Caramel Layer
3/4 C brown sugar
1/3 C butter
1/3 C half & half or whipping cream
For the Cheesecake Filling
12 oz 1/3 of the fat cream cheese
1 C confectioner's sugar
1 tsp vanilla extract
1 C finely chopped apples
8 oz frozen whipped topping, thawed
Instructions
Preheat oven to 350. Lightly spray a 9 inch pie plate with non-stick cooking spray.
Stir together graham cracker crumbs, oats, brown sugar, salt, butter, and vanilla extract. Press into prepared pie plate.
Bake for 8 minutes or until light golden brown. Remove to a wire rack to cool.
While crust is baking, prepare caramel by bringing brown sugar, butter, and whipping cream to a boil over medium high heat. Stir occasionally to prevent scorching. Reduce heat to medium and boil for 8 minutes, stirring constantly to prevent scorching.
Remove from heat and stir for a couple of minutes to cool. Spread 1/3 cup of the caramel on top of pie crust. Place in refrigerator or allow to cool completely on the counter.
While cooling, prepare filling. Beat together cream cheese, confectioner's sugar, and vanilla extract until creamy. Stir in chopped apples. Gently fold in whipped topping.
Pour filling into cooled crust. Refrigerate for 4 hours or until set.
Drizzle with remaining caramel before serving. If caramel has set, warm up for a few seconds in the microwave and stir in another teaspoon of half & half or whipping cream.