How about a fun recipe to brighten up the middle of your week? After having such a beautiful day on Monday, we had a dreary, rainy day yesterday. So, it was time to make something cheery! These cupcakes are both light in texture and in calories, though you will hardly miss the extra calories. They are full of flavor and the frosting is airy with a hint of spice. They are sure to bring a smile!
Nice chunks of banana peaking through!
Finish it off with a Sprinkle of Cinnamon and Nutmeg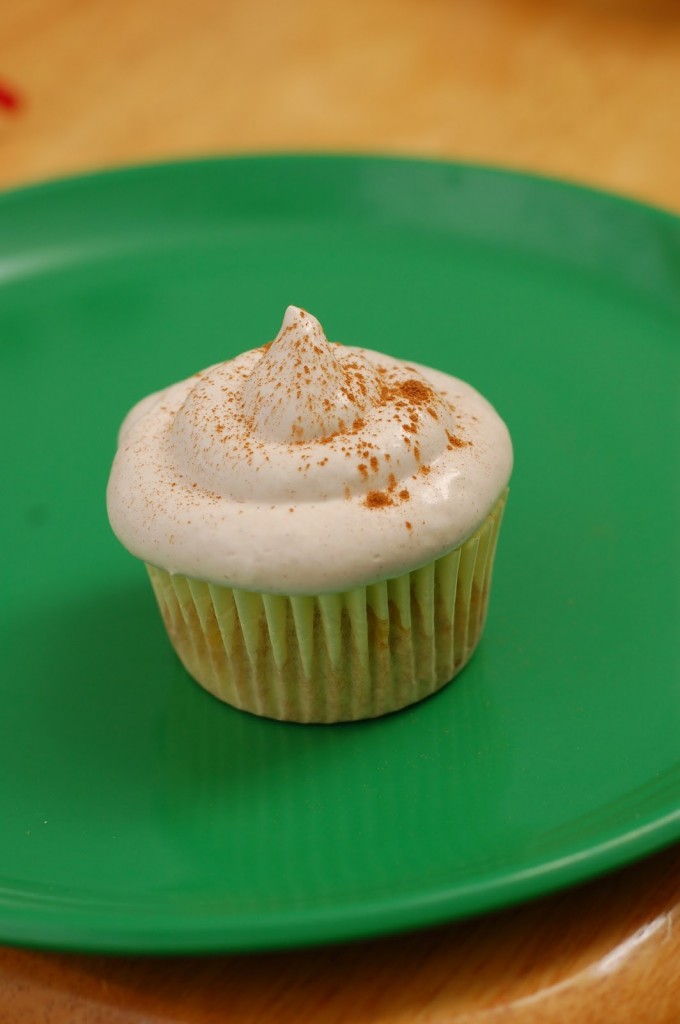 Banana Cupcakes with Honey-Cinnamon Cream Cheese Frosting Pin It
Yield: 24 cupcakes
Ingredients:
2 C all-purpose flour
3/4 C whole wheat flour
1 1/4 tsp baking powder
1 tsp baking soda
1/2 tsp salt
3/4 C plain low-fat yogurt
1 C sugar (or half sugar half honey)
3/4 C sugar substitute
1/2 tsp cinnamon
1/4 tsp nutmeg
2 tsp vanilla extract
2 eggs
1 1/2 C very ripe mashed bananas
1/2 C non-fat buttermilk
Frosting Ingredients:
1 8oz pkg 1/3 fat cream cheese, at room temperature!
1 8oz container low-fat Cool Whip, thawed
1 tbsp vanilla extract
1/2 tsp cinnamon
2 tbsp honey
Directions:
Preheat oven to 325. Line muffin tin with cupcake liners.
Sift into a medium-sized bowl the two flours, baking powder, baking soda, salt, cinnamon, and nutmeg.
In a bowl, beat together with a mixer, the sugars, yogurt, vanilla, and eggs until eggs get light and fluffy.
Stir in the bananas and buttermilk until well combined.
Slowly pour the flour mixture into the egg mixture and beat until just combined.
Fill cupcake liners about 2/3-3/4 of the way full and bake for 16-20 or until toothpick inserted into the center comes out clean.
Let cool in pan for 10 minutes before transferring the cupcakes to wire racks and allowing them to cool completely.
While the cupcakes are cooling, assemble the frosting. Beat the cream cheese with mixer until smooth and creamy. Mix in the vanilla, cinnamon, and honey until well combined.
Gently fold in the Cool Whip.
Put frosting in a gallon-sized bag and cut of the corner or use a pastry bag and frost the cupcakes. Sprinkle with cinnamon and nutmeg, if desired.