It's been awhile since I've posted "real" food! I know I said on Monday that all I've felt like eating lately is watermelon sorbet and fruit pops, but don't worry, there have been a few real meals consumed! One such meal is this grilled chicken with balsamic peppers.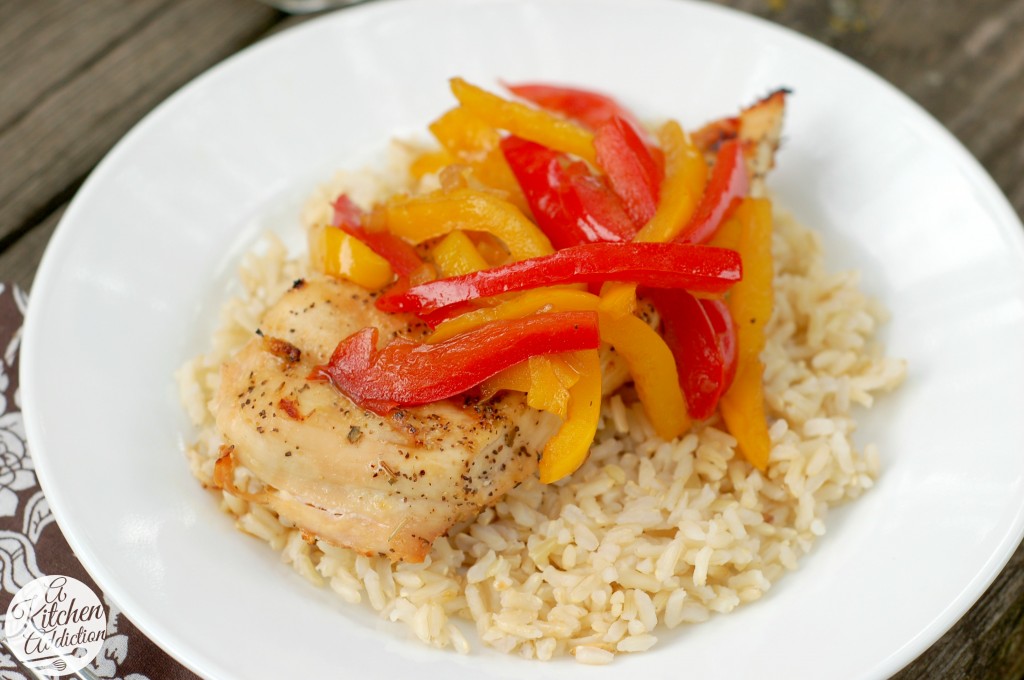 The grill has been our main source of cooking these last couple of weeks because of the heat, and I was starting to get tired of our usual dishes. So, when I saw a recipe for roasted chicken with balsamic bell peppers, I knew I wanted to switch things up a bit to make it compatible for grilling. No heating up the house required!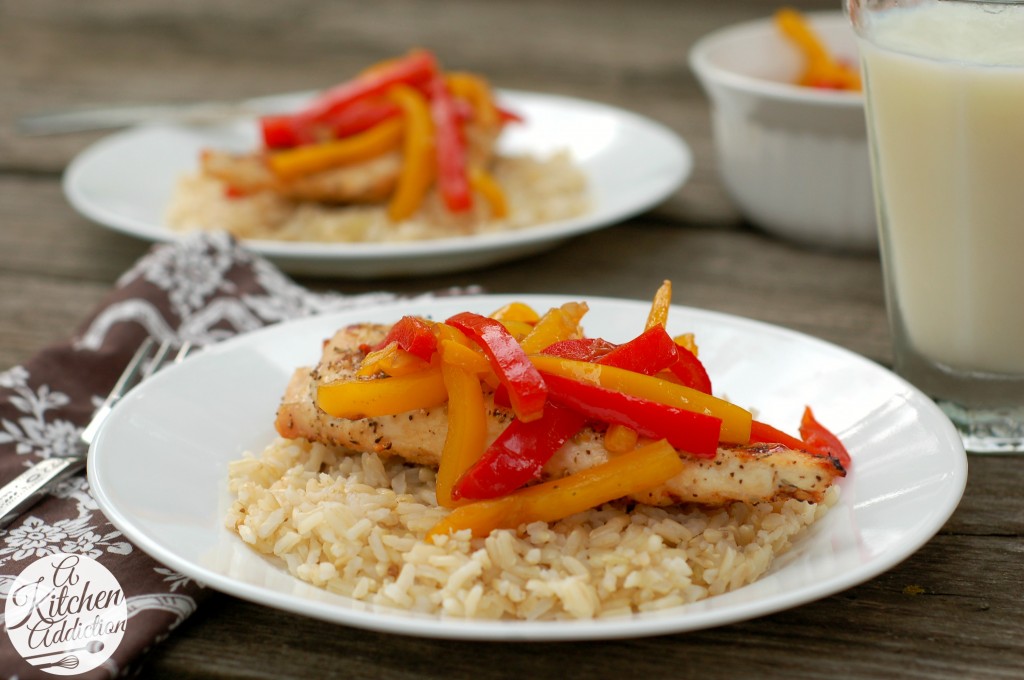 The balsamic glazed peppers are made on the stove top and can even be made ahead of time and reheated right before serving. Nice and easy! These peppers were just what I needed to mix up my usual grilled chicken routine. Bell peppers are sauteed with onion and seasoned with salt, pepper, and garlic powder. They are then cooked in chicken broth and balsamic vinegar to soak up full flavor. Scoop the peppers over freshly grilled chicken and you have a filling meal loaded with flavor that took you hardly any time to make!

Grilled Chicken with Balsamic Bell Peppers
Ingredients
1 lb boneless skinless chicken breasts, if pieces are large, you may want to cut them in half before grilling
¾ tsp salt, divided
¾ tsp freshly ground pepper, divided
¾ tsp garlic powder, divided
¼ tsp dried oregano
1 tbsp olive oil
1½ C yellow bell peppers, thinly sliced
1½ C red bell peppers, thinly sliced
⅓ C onion, finely chopped
1 C homemade or store bought chicken broth, reduced-sodium
1½ tbsp balsamic vinegar
Brown rice, potatoes, or orzo, optional for serving with chicken
Instructions
Heat grill to medium-high. Brush grate with olive oil.
Trim chicken breasts of excess fat. Pound chicken breasts to even thickness. Sprinkle with ½ teaspoon salt, ¼ teaspoon black pepper, ½ teaspoon garlic powder, and oregano.
Place chicken on grill and cook for 6 minutes. Flip chicken and cook for another 6 minutes or until internal temperature reaches 165.
To prepare balsamic bells peppers, add olive oil to a large skillet. Turn heat to medium-high and add peppers and chopped onion. Saute for 4 minutes or until onion turns translucent.
Stir in chicken broth and allow to simmer for 6-8 minutes, or until mixture reduces. (If you want a thick sauce, you may want to stir in a half tablespoon of flour.)
Stir in balsamic vinegar, and remaining salt, pepper, and garlic powder. Cook for 4 minutes or until peppers are tender and sauce has started to thicken.
Serve hot peppers over grilled chicken.
Consider serving with brown rice for a complete meal.
This recipe is slightly adapted from
Cooking Light
.